5 things we learned from Milan 1-2 Napoli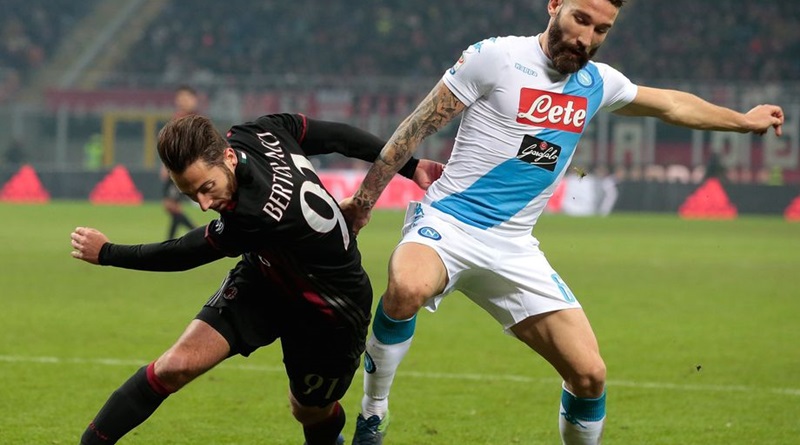 A quick-fire set of goals was enough to give Napoli all three points against AC Milan on Saturday evening.
The Partenopei arrived at the Stadio San Paolo with just one loss in their past 11 meetings with the Rossoneri and were looking to keep pace with the top two sides. Meanwhile, Vincenzo Montella's side have also been in good form this term and were on a three match unbeaten streak. Milan had come from two goals down against Torino to secure a draw, and again had to come from behind against the Granata to set up a Coppa Italia quarter-finals tie with Juventus next week.
However, third time was not a charm for the Diavolo, who again fell behind, but despite pulling one back, were unable to snatch a point. Although Milan still have a game in hand, they would have wanted to win this game to put some more distance between themselves, Atalanta, and cross-town rivals Inter. As for Napoli, Lazio's loss to Juve keep them firmly in third spot, tied with Roma until the Giallorossi play their tie with Cagliari to wrap up matchday 21.
So, what did we learn from this tie? Let's have a a look.
1. Milan should really focus on securing Europa League football for next season
With seven titles, only Real Madrid have won more Champions League trophies (11) than Milan. However, the Rossoneri are still clinging to old glories. Their last triumph was ten years ago. And their last Champions League appearance was during the 2013/2014 term where they really did not strike fear into any opponent's heart. It's a painful reality for such a proud and highly decorated club, but such is football. What they should do is just accept that they are no longer the team they once were and focus on just trying to secure Europa League football. Playing in the second tier isn't where they may want to be, but it's certainly better than no European football at all. After all, they were beaten to it by Sassuolo, a team who only made their Serie A debut in 2013 last time around.
Besides, Milan have to start from somewhere. Qualify for the Europa League group stages – which is something they can certainly do based on the solid season they're having – and then take it from there. This loss to Napoli should not impact them too much.
2. Napoli are not out of the title race just yet
Although Juventus also won their fixture – and have a game in hand – Napoli are not out of the title race just yet. The Partenopei finished second to Juventus last season and with many more games left to play, anything can happen between now and May. The Bianconeri are chasing an unprecedented sixth straight title, but they are certainly not unbeatable – especially on the road, as we have seen this term. Four points is certainly not a huge gap, and Napoli and Juventus have to play another match before the conclusion of this campaign. If they can keep playing the way they are and Juve have another slip-up here and there, the dynamic could certainly shift in their favor.
3. Milan need to stop relying on coming back after a poor start
This marked the third straight time that Milan had to come back from falling behind, and something had to give at some point. It may have worked against Torino, but Napoli are a far superior side. Montella's side have shown some great signs of improvement, but being comeback kings is not always going to work in their favor. They need to win games by dominating from start to finish, and not by playing badly, then scrambling to cover and pulling off a last-gasp comeback to snatch victory from the jaws of defeat.
Otherwise, all their hard work will come to naught and they could find themselves slipping back down the table.
4. Dries Mertens is arguably Napoli's player so far of the season

It seems like he came out of nowhere, but once he hit form, Dries Mertens hasn't looked back. First there was that flurry of goals that saw him vault up the Serie A scoring charts near the end of 2016. He grabbed eight in just three back-to-back games in December, which more than tripled his total from three to 11. Whilst he has slowed down a bit, he certainly continues to contribute, with two sublime assists early on to help Napoli race into a quick lead within the first ten minutes against Milan.
Still, with that in mind, the Belgian international needs to improve some aspects of his game. He could have had a potential hat-trick had he not missed at least three good chances that fell his way at the Stadio San Siro.
5. Milan must do everything they can to hang on to Gianluigi Donnarumma

At the ripe old age of 17, Gianluigi Donnarumma celebrated a huge milestone on Saturday. The tall youngster, who is not even old enough to drive a full-scale car in Italy, has made 50 Serie A appearances. Although he was unable to prevent his side from losing, he still put in an excellent shift and nearly grabbed what would have been an impressive equalizer had his header beaten his counterpart Pepe Reina in the last moments of the game. However, with outspoken agent Mino Raiola as his rep, and Milan's tenuous situation as to who their new owners will be, fans rightfully will be really concerned if the Rossoneri will be able to hang on to their most prized asset. After all, it was not too long ago that the club's board sold Thiago Silva and Zlatan Ibrahimovic to PSG in a deal that still has many supporters shaking their heads.