5 things we learned from Serie A MD 7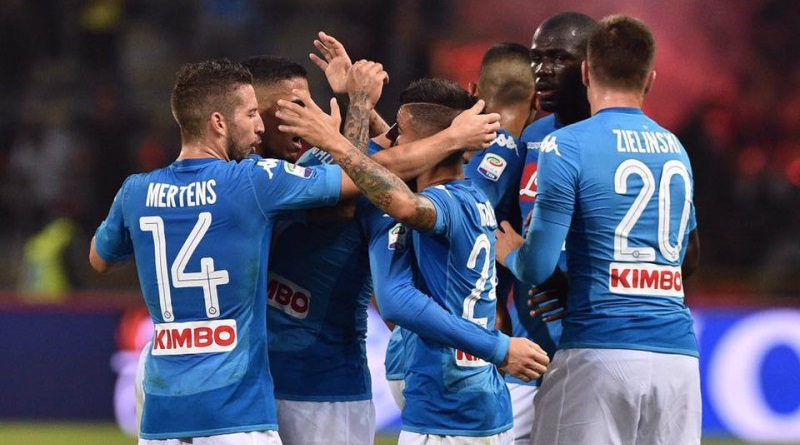 Another round of Serie A is now completed, but fans will have to wait a fortnight to see their favorite teams back in action. The reason? Yet another international hiatus, with many players featuring for their respective national sides for World Cup qualifiers.
This past weekend certainly didn't disappoint, and there were plenty of goals – and surprises in store – as a new leader has finally broken away from the chasing pack. Let's have a look at what went down on matchday seven of the 2017/2018 Serie A season.
1. Are record-breaking Napoli finally starting to look like real Scudetto contenders?
Thanks to their comprehensive 3-0 win over Cagliari, and Juventus's 2-2 draw with Atalanta, the Partenopei now stand alone on top of the standings.  Maurizio Sarri's men have a two point lead over the reigning champions, and whilst it's still early on in the season, that's an impressive achievement as in doing so they set a bunch of records.
Napoli are now on a 19 game unbeaten run in Serie A and are the first side in Serie A history to have won their first seven matches by scoring 25 goals. They will take on Roma after the international hiatus, but so far have passed a major test by dismantling Lazio, who certainly are no slouches themselves. The only question as to their ability to compete for the Scudetto will be how they manage their squad, specially with competing on multiple fronts, but at the same time, Napoli aren't expected to win the Champions League, unlike Juventus, who have made it to two finals in the past three seasons. At some point, they probably will just sacrifice that and focus on the league – so indeed, this really could be their season.
2. Inter will want to have a say about that Scudetto race, though
Meanwhile, Inter aren't competing in Europe, so the Nerazzurri are in a pretty comfortable spot to just focus on domestic affairs. Just look at Chelsea last season, who were able to turn their fortunes around under Antonio Conte and win the Premier League. Inter now have a new man on the bench, and so far, it's been pretty smooth sailing. The Nerazzurri were given a tougher time than expected by Benevento, who tried to park the bus but had to come out of their shell after they went 2-0 down and put in an impressive fight to try to claw their way back into game, but still hung on to clinch all three points. That still sees them keeping pace with the top two and now are tied with Juventus on points, just two behind Napoli.
3. Milan need to refocus their attention to European affairs
Milan fans were perhaps a bit too optimistic. After all, the team weren't really challenged at the start of the season. The Rossoneri have spent quite a bit of cash to improve the squad, and there's nothing wrong with that, but as the saying goes, Rome wasn't built in one day. It's going to take them some time. They've made a great start to life in the Europa League and perhaps they should put all their resources into going as far in that competition as possible – using Manchester United as a blueprint – to gain a spot back in the Champions League.
In terms of Serie A, they're not just there yet. Lazio showed them that, and so did Roma this past weekend. Their loss to Sampdoria definitely raised some major eyebrows, as that's a team they should beat, and against the Blucheriati, they shipped two sans reply. Not promising reading, then, ahead of their derby meeting with Inter after the international hiatus.
Some have also wondered whether the huge signing of Leo Bonucci was a wise one, but in all honesty, one defender can't win a team a Scudetto. Bonucci was aided by Giorgio Chiellini, Andrea Barzagli, and Gianluigi Buffon at Juventus and the other members of a strong cast at the Bianconeri. Here, at Milan he doesn't have that, but the Rossoneri do have a quality defender within their ranks. Just as they have made some other strong signings this summer, including Atalanta duo Franck Kessie and Andrea Conti, among others. It's just going to take them some time to get up and running, and whilst a top four finish may be tough, they are, again at least in European competition, unlike cross-town rivals Inter. They may need to re-focus their attention elsewhere.
4. Juventus are becoming a team of two parts
What does that mean exactly? Well at home in Serie A, they're unstoppable. On the road, not so much. All of their goals conceded are away from the Allianz Stadium. All five of them. Two of them were against Atalanta on Sunday. So, it seems like if you want to score against La Vecchia Signora, it's best to do it on your own home turf. Sassuolo got one, Genoa two. It's an odd conundrum, but it seems to be the order of the day so far for Allegri's side this season. There were some interesting calls, however. Juve could have won the game 3-1, were it not for VAR catching Stephan Lichtsteiner's elbow on Papu Gomez to rule out Mario Mandzukic's goal. Then, there was Paulo Dybala's missed spot-kick. In any case, Juve are yet to concede a goal on home turf this season but seem to suffer defensive collapses in their travels. That could cost them when it comes to playing teams like Roma, Inter, and Napoli, where valuable points dropped could heavily affect the Scudetto race.
5. Fiorentina are like a box of chocolates…
…because you never know what to expect. Really. They beat Verona 5-0. That's expected. They draw Atalanta 1-1. That's not a bad result. They lose 1-0 to Juventus. Not surprising. For starters, they were on the road, and they had to play with ten men. But then they lose 2-1 to Chievo. That's not a game they should have lost, especially as they went 1-0 up.
Unfortunately a couple of defensive errors cost them the game and they had nothing to show for it. Fiorentina a club who would surely aspire to feature in the Europa League, are in the bottom half of the table. Chievo, a club who have no ambition to feature in any European competition and just look for mid-table safety, are in the top half of the table. The Viola head into the international break winless in their last three, whilst the Flying Donkeys have won two on the trot.
With no calcio for two weeks, it will be very interesting to see if there are any changes between now and then, especially with Milan boss Vincenzo Montella's position reportedly under threat and Genoa boss Ivan Juric continues to be in the hot-seat. Until then, fans will have to wait till the next round. Benevento are still desperately chasing their first ever top flight win, whilst Genoa and Verona still sit in the relegation zone.