AC Milan vs Alessandria: Coppa Italia final beckons for Rossoneri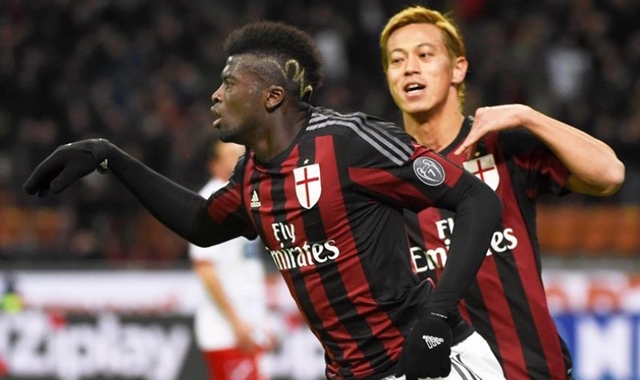 AC Milan will hope to seal their spot in this season's Coppa Italia final as they prepare to take on lower-tier side Alessandria at the Stadio San Siro this Tuesday.
A Mario Balotelli penalty was enough to decide the first leg of this tie between the Rossoneri and the minnows, and as such the hosts are just 90 minutes away from making their first final appearance in 13 seasons. Given that this is yet another season without European football for the Diavolo, the team's main focus has been to win the one trophy they have a shot at: the Coppa Italia.
With Juventus enjoying a period of dominance over the past few seasons, Milan have realized that their way back into continental competition will be to lift the domestic cup. And in the absence of other distractions, they have thrown all their efforts into at least securing this trophy. Should they win this season's Coppa Italia, it will be their first taste of silverware since winning the Supercoppa Italiana at the start of the 2011/2012 season.
Siniša Mihajlovic's side will be coming into this game having earned themselves a hard-fought 1-0 win over Torino, which now takes their unbeaten run to nine in Serie A since losing their opening game of 2016 to Bologna back in January. Unfortunately for the hosts, M'Baye Niang will be not available for this match. The young French striker was involved in a car accident after featuring in the victory the Granata and some reports have him potentially out for two months, meaning that Balotelli will be paired with Carlos Bacca with attack.
Still, despite the fact that their upcoming opponents feature in the third-tier, they have made it to this stage by sheer grit and determination, and as such, Milan will not be taking them too lightly.  Adding in their two Coppa Italia wins over Carpi and recently, Alessandria, and this solid run from the hosts extends to 11 across all competitions, something that they will hope to make a 12th Tuesday evening.
After all, although Alessandria are minnows, a small fish can still bite and cause havoc. To get to this stage, they have already defeated two Serie A sides – Palermo and Genoa – and Milan did not have it easy against them in the opening leg of this two-part series. In beating the Grifone, they became the first team from the third tier to reach the quarter-finals since Bari did so in the 1983/1984 edition, and set up their place at this juncture by defeating a fellow surprise package – Serie B outfit Spezia – in the following round.
Tuesday's visit will be their first to the San Siro in nearly eight decades. The last time they visited Milan – well before any of the players, coaches, and most fans were even born – the Grigi were thrashed 4-0. Also nicknamed L'Orso (the bear), Alessandria will be coming into this game having won just one match out of their past six across all competitions and lost their league match versus Bassano this past weekend. As such, expect coach Angelo Gregucci to adopt another ultra-defensive approach as they hope to frustrate their opponents and try to snatch a lucky goal on a counter-attack.
If 13 years since Milan's last participation in a Coppa Italia final seems like a long time, it certainly pales in comparison to Alessandria's experience, whose first – and only – appearance was nearly eighty years ago. On June 11, 1936, two teams – the Grigi and Torino took to the pitch, and after 90 minutes, the Granata were lifting the trophy, having cruised to a comfortable 5-1 win over their opponents.
Hence, whichever side makes it through Tuesday will be making their first appearance in quite some time. Will it be Milan or Alessandria? Tune in to find out.
MORE: You can watch AC Milan vs Alessandria live with FuboTV 24-hour game pass FREE.