AC Milan vs. Empoli: The second coming of Balotelli?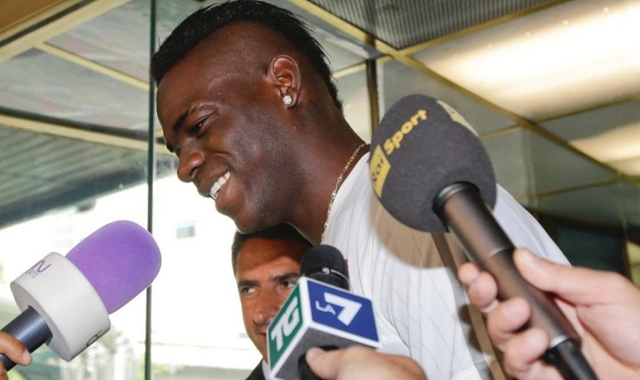 When Mario Balotelli was unloaded to Liverpool in a move that reeked of desperation on both sides, most AC Milan fans figured that they had seen the last of the mercurial attacker. Whilst his talents cannot be disputed, his prickly attitude at times manager to rub supporters – and even the club's own leadership – the wrong way. President Silvio Berlusconi, never one to mince his words, branded the then 24-year-old as a "rotten apple" and made no bones about his delight at removing him from his employee roster, despite him being the team's top goal-scorer at that time.
Well, flash forward one poor Premier League campaign at Anfield and the very same "rotten apple" is right back where he started in January 2013. Reportedly, the 25-year-old, who scored just one Premier League goal and four in all competitions during a nightmare season with the Reds, had to literally plead his case in front of new manager Sinisa Mihajlovic, who had worked with him during their time at Inter. The Serbian tactician, known as an uncompromising figure from his playing days, has now decided to take a gamble on him, and even better is the fact that should this Balotelli experiment fail to come to fruition, it will be at little harm done to the club – financially, at least.
In theory, it looks like a win-win situation for both player and club. Balotelli has been ostracized from the national team since Antonio Conte's arrival last summer and could use this not just to redeem himself, but also get a call-up in time for the EURO 2016 tournament. (Whilst Italy are currently in second behind group leaders Croatia, the Azzurri should, barring a shocking collapse, be one of the team participating in France next year). Meanwhile, Milan's fall from grace has been perturbing for followers, and after yet another horrible season, they are again without European football for this campaign.
The club have spent big this summer in an effort to secure at least a top-five finish, but Luiz Adriano and Carlos Bacca are unproven and untested in Serie A. Jeremy Menez, the team's top goalscorer last season, is still recovering from injury. His countryman, young French attacker M'Baye Niang has not earned the confidence of his manager, despite spending time on loan at Genoa last season. Alessio Cerci continues to confound and frustrate fans with his poor displays since returning to Italy after a disappointing half-term with Atletico Madrid. Finally, as for Alessandro Matri, the general consensus is the faster he parts the San Siro, the better it is for all.
Balotelli, on the other hand, has a proven track record with the Diavolo, having netted 30 times in 54 appearances, including 12 in just 13 league showings in his first half-term. His dozen goals proved vital in Milan securing a Champions League spot following Stephan El Shaarawy's brilliant performance during the first half of the campaign. And despite having to work under both Massimiliano Allegri and then Clarence Seedorf, the enigmatic striker nonetheless scored a career-high 18 goals. A happy and settled Balotelli has certainly shown what he can offer, and Mihajlovic will be hoping to succeed where numerous other managers have been frustrated – to fully harness his potential to help him grow into the player that he should be.
Milan's opening loss to Fiorentina, in which they were outplayed as the Viola earned a 2-0 win, clearly showed that, not surprisingly, the team are still a work in progress. Yet, give their pressing need to make amends after two consecutive poor campaigns, they will not be given much of a settling-in period as they prepare to welcome Empoli to the San Siro later today in a must-win game for the new manager. Despite the hosts enjoying the historical advantage, with twelve wins versus the visitors' two, the Azzurri have frustrated the Rossoneri in recent times, as their last two games ended in draws and their only two victories coincidentally came at Milan's home base, back in April 2003 and October 2007.
Like Milan, Empoli are also undergoing a period of change.
Maurizio Sarri, the man responsible for making sure they remained in Italian football's top flight for yet another season, opted to part ways and move south to Napoli. To add insult to injury, key players Mirko Valdifiori and Elseid Hysaj opted to follow their coach to the Partenopei and young promising defender Daniele Rugani is now with Juventus. And like Mihajlovic, Marco Giampaolo has had a rough start to his debut season, and the team have lost their last three matches, including a disappointing 3-1 reversal against Chievo on matchday one.
Empoli, who finished in 15th place last season were the team with the most draws – 18 – out of any of the other 20 sides, which, when fighting for survival makes the difference between a return to the second-tier and remaining in the top echelon. They will certainly be more than happy to hold out for draw, but a win at the San Siro – their third in their history – would obviously be absolutely fantastic. To be honest, although both teams are coming into the match following a loss, the onus is on Milan to earn all three points in front of their fans this evening.
Anything less, even a draw, will not feel like one point won, but rather a further two points dropped in a season that fans are hoping will be the turnaround following some dark and disappointing years at Milan.