AC Milan vs Roma: European ambitions at stake for Rossoneri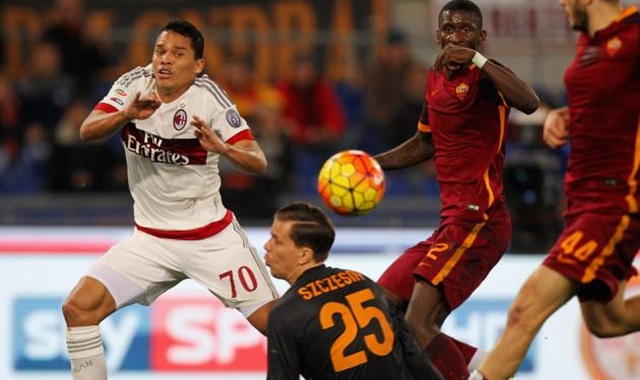 Both AC Milan and Roma will be keen on concluding the 2015/2016 Serie A campaign with a win as they clash at the Stadio San Siro on Saturday evening.
For AC Milan, the possibility of missing out on European football for a third consecutive season is not just something out of a bad dream. It is something that could become an unfortunate reality. At this point, the Rossoneri currently find themselves in seventh place.
And unless they beat Roma this weekend, they indeed will not even have a chance at trying their luck in the third qualifying rounds of the Europa League. Instead, Sassuolo, a team who only made their top flight debut in 2013, will have that opportunity.
The club's situation makes Sinisa Mihajlovic's dismissal by President Silvio Berlusconi look even more bizzarre. At the time of the Serbian tactican's sacking, AC Milan were in sixth place. Since Cristian Brocchi's arrival, they have slipped to seventh. They also have suffered embarrassing defeats to bottom feeders Hellas Verona and had to settle for awful draws with sides like Carpi and Frosinone.
Mind you, those two teams are making their top flight debut this season. Under Mihajlovic they managed to make it to their first Coppa Italia final in 13 seasons, which in theory gives them another route into Europe.
Should they not beat Roma, AC Milan could have a shot at the Europa League. That is, if they can beat Juventus in this season's Coppa Italia final. The Bianconeri just so happen to be the reigning champions. To date, they have only lost once in Serie A since the start of this year. And Massimiliano Allegri's men also clinched their fifth consecutive Scudetto with a couple of rounds to spare.
Furthermore, they also already beat the Diavolo twice this season and for all intents and purposes, do not look likely to be denied a chance to make it back-to-back domestic doubles this campaign.  Suffice it to say, AC Milan really have found themselves between a rock and a hard place. In terms of personnel, Brocchi, whose future certainly is up in the air, will definitely be without the services of Luca Antonelli, and both M'Baye Niang as well as Giacomo Bonaventura are in doubt.
Meanwhile, if Milan have unfortunately stumbled, Roma continue to flourish. The Giallorossi may not win the Scudetto, nor the Coppa Italia, nor any silverware this season for that matter. However, they at least will have a good chance at featuring in the Champions League – albeit it looks likely they will have to navigate their way through the dreaded play-off rounds.
That is, unless they beat the Rossoneri and somehow Frosinone manage to beat (or at least draw) Napoli. Based on the two sides' current form, one of these game's outcomes looks more likely than the other, and most likely one already has figured out which one. Still, fans did see an already-relegated Verona beat Juventus, so there may be some hope for Frosinone after all!
Luciano Spalletti's side truly have managed to turn their fortunes around. The wheels really had started to come off in the last weeks of Rudi Garcia's reign, leading fans to wonder if there was going to be any end to their freefall. In arrived a former manager, and just like that, things started to pick up.
One truly must wonder where Roma would be now had Spalletti been around to work his magic from the start from the season. With four wins out of their past five games and save from a loss to Juventus, the Lupi have been an entirely different side since the midway point of the season.
With the exception of experienced midfielder Seydou Keita, who is struggling with an ankle injury, Spalletti should have a full strength squad available. One player to keep an eye on will be Stephan El Shaarawy. The 23-year-old will be facing his former club AC Milan for the first time since leaving for Monaco and then arriving at Roma on loan.
So, will Milan manage to salvage a win – and a European football spot? Or will Roma crush their European dreams, just as they did for Napoli's Scudetto ambitions?
MORE: You can watch AC Milan vs Roma live with FuboTV 24-hour game pass FREE.