Is Angel the answer to United's prayers?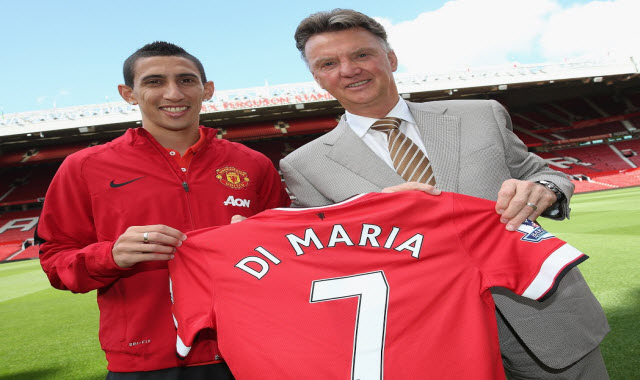 Manchester United suffered utter humiliation in midweek when they were dumped out of the League Cup 4-0 by Milton Keynes Dons.
The competition has been much maligned in recent years with the big Premiership clubs content to field weaker teams. Despite this, United were still expected to account for a team from League 1. Instead, they were well and truly thrashed as Louis van Gaal struggles to get to grips with the enormity of the task facing him at Old Trafford.
The transfer window is rapidly approaching its closure and United have smashed the English record transfer fee in acquiring Argentina International Angel Di Maria for £59.7 million. The player is not so well known to United fans but scored 22 and created 59 goals during his 124 appearances for Real Madrid. He was named as man of the match in the Champions League final last season and also scored a vital goal for Argentina in the World Cup this summer.
As an attacking midfielder, Di Maria has been in competition with the likes of Bale and Ronaldo for places at Real, often being asked to play in a wider role. Last season he made 27 appearances in the famous white strip, scoring four times and creating seventeen. At the age of 26, he is in the prime of his career and forms an exciting link up with former Chelsea star Juan Mata. The Spaniard has only shown flashes of the form that made him so popular at Stamford Bridge, although he did score at Sunderland last week in a 1-1 draw.
Van Gaal has already issued a warning to supporters not to expect Di Maria to work wonders. The former Dutch boss seemed relatively untroubled by the shock midweek defeat and was happy to oblige supporters with autographs after the game. His laid-back attitude may not instantly win over the more impatient United fans that are used to success at the highest level.
Van Gaal has already been criticised in the media for employing a 3-5-2 formation with his players seemingly at a loss to follow his instructions. He is intent on building a team that fits the philosophy of the club and sees Di Maria as another vital step in the right direction.
The Argentine has been handed the famous number 7 shirt most often associated with George Best, David Beckham and Cristiano Ronaldo. United fans could see their new star in action as early as this weekend for the Premier League fixture at Burnley.