Ante Ćorić and Croatia's Euro 2016 Squad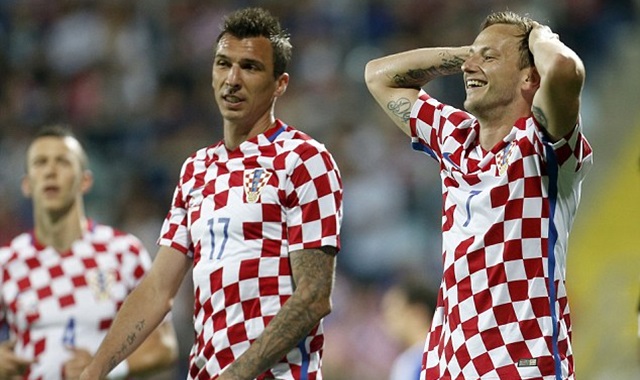 One of the great things about the European Championships is the ability to see smaller nations with top-notch teams get the type of attention they might otherwise lack and players who are literally some of the best in Europe but may not be on the best club sides also garner such attention. With the exception of the year 2000, Croatia has been included in the Euro for twenty years and has been a stand-out team for its region. Currently, there is a degree of controversy over the team: Ante Čačić became the new manager when he replaced Niko Kovač less than a year ago and not all fans are on board with this change, plus problems with hooliganism have made the qualifying matches difficult and Croatia's internal policing of hooligans seems grossly inadequate. After racist chants and comments by fans at a Euro qualifier against Italy in Split at Stadion Poljud, the UEFA imposed a hefty fine on Croatia plus the mandate that any further qualifiers at Poljud would be played devoid of fans.
Though Croatia appealed the decision, the UEFA retained their verdict—a blow to Croatian pride in that the unwritten message appeared to be that Croatia cannot control its own fans.
With all this providing background, Croatia understandably wishes to go to France with its players and team in the spotlight and not its problems. Part of the valid reason to be excited about the current squad is young Ante Ćorić, the nineteen year-old attacking midfielder who plays for Dinamo Zagreb and is considered one of the most-exciting of possible Croatian transfer market players. Alongside twenty year-old Marko Rog, Ćorić was placed on the squad by Čačić and Alen Halilović was left off, to the surprise of many given that Halilović, who is also nineteen, has had the most high-profile career of the Croatian youngsters, including becoming at age sixteen the youngest Croatian footballer ever to debut for the national team.
Čačić defended the exclusion of Halilović on the grounds that he wanted to reward Rog and Ćorić for their stellar performances in the lead-up to the Euro and also alluded to Halilović possibly finding it difficult to play in a situation where he would not see as much playing time and not be the star of the show. The latter concern would seem trivial were it not for the fact that both Halilović and Ćorić are attacking midfielders and Croatia's best-known player and greatest hope for success in France, thirty year-old Luka Modrić, is as well. Thus the Croatian midfield is exceptionally strong but the playing style Čačić has instituted has not fully made forceful use of these strengths. With regard to Ćorić and Rog, both play for Dinamo Zagreb currently so they have come up through the club together and play together constantly. They also appear to be fast friends off the pitch, whereas Halilović went to FC Barcelona in April of 2014 and then was loaned out to Spanish club Sporting Gijón.
While it is not uncommon to see top-flight clubs like Barça loan out young or new talent, there has been some concern that Halilović did not perform up to Barça's expectations if they so quickly sent a costly transfer elsewhere. Moreover, part of the deal for Halilović was to get his talented younger brother Dino for their youth academy and this arrangement seemed not to work out very well, probably because Dino was sixteen at the time of the move (and is now eighteen) and came to the academy late. Dino, like his older brother, is also an attacking midfielder and a Dinamo Zagreb youth side product. The younger Halilović played for the Croatian national team in the UEFA Under-Seventeen Championship in Bulgaria in 2015 as did several other promising young Croatian players. Most of them were also products of Dinamo Zagreb's academy system, with twelve of the current players on the U-17 squad also at Dinamo and some others, Dino included, products of the club's academy though now at other clubs (Italy's Udinese in Dino's case).
Through and through, Dinamo can and does produce midfielders. Ćorić and Rog are superb examples of this trend, but obviously both Halilovićs are as well, and other young players abound who came up through the Dinamo youth ranks and have the Dinamo midfielder edge. Čačić had a very tough call in selecting which ones he wanted to send to France, and while Modrić, is a bona fide superstar and plays for Real Madrid, one of the best clubs in the world, he isn't the sort to offer a lot of on-the-pitch leadership. Liverpool defender Dejan Lovren has the skills, experience, and attitude to be such a leader but ironically his attitude has also caused him to lock horns with Čačić and supposedly his teammates as well and thus he has been left off the team for France.
Ćorić and Rog are young and do not offer the leadership qualities some might think would be foremost on the coach's mind while had Alen Halilović been brought along, he would have some such experience from playing at a very high level in previous national team engagements as well as his short tenure with Barça. Yet Ćorić and Rog are explosive players, known for their speed, quick turns, and rapid action. They may not be looked to for acute on-field leadership, but given the need they can direct play. Ćorić especially shines in difficult circumstances and under pressure. Another good reason for his inclusion on the team was that he won the 2015 Nada godine, or "Hope of the Year" award given by the Croatian newspaper Večernji list. The award is widely considered an accurate marker of a young player's potential in football as well as a high honor. Euro 2016 may be the best of chances to see if Ćorić indeed will live up to those hopes, and in a sense his coach is betting a great deal on the fact he will do so.
Croatia's first match in Euro 2016 is against Turkey, Sunday 12 June at 9:00 in Paris.