Arsenal has feeling to be Optimistic despite Shaky start to their New Premier League Campaign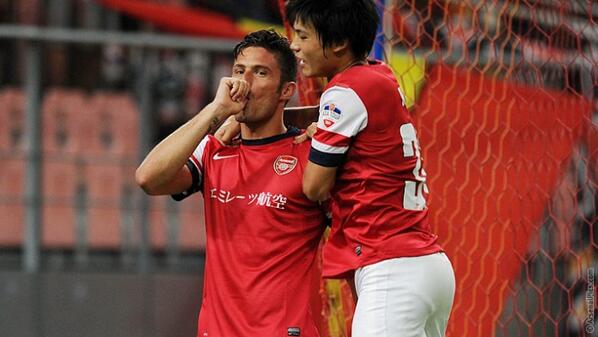 Arsenal disappointing 3-1 loss to Aston Villa in their opening Premier League game was greeted with much frustration and the fans was prompt in expressing their fears of another roller coaster season ahead. The team recovers and responded well in their midweek Champions League match against Turkish side Fenerbache in Istanbul winning 3-0 in a convincing fashion.
Amid all the disappointment surrounding the lost to Villa, Arsene Wenger and Arsenal can be optimistic given the start to the new season by French forward Oliver Giroud. The 26-year-old striker has netted a goal in every game he played so far this season which is as good as you can get to the start of any new campaign.
If that's not enough to convince you that the former Montpellier front man is up for the challenge just check out the time at which he scored in the Premier League this season. All of his goals came within the first fifteen minute of the first half of the games he played, which shows he's taking less time to settle in matches. This gives the striker tremendous advantage over his opponent and partly contributed to his success.
Another player who has shown some improvement in his game is Welch player Aaron Ramsey. The 22-year-old midfielder has been nothing short of impressive this season linking up play in the opponent final third for Arsenal and at the other end providing cover for his defenders. His improvement has already paid off with a goal in the Champions League showing he's up to the challenge on the big stage also.
In today London Derby against Fulham at Graven Cottage he was again instrumental in the midfield for his team going forward. It was his initial shot provided the opening goal of the game for an Oliver Giroud easy finish from close range.  If Ramsey can keep up this sort of consistency while chipping in a goal or two when the team needs it, this will add to the overall consistency of the midfield which will result in better overall performances and result by the team.
Today's win may have silenced the doubters for now but not forever. To ensure they're silenced for the long haul it will take a combined effort by the team throughout the season and small individual performances like the likes of Aaron, Oliver Giroud, Lucas Podolski and more for the current campaign to be a successful and doubt free.
Photo Credit: @OliverGiroud