Arsenal vs Barcelona: Gunners hoping Petr Cech can frustrate Lionel Messi…again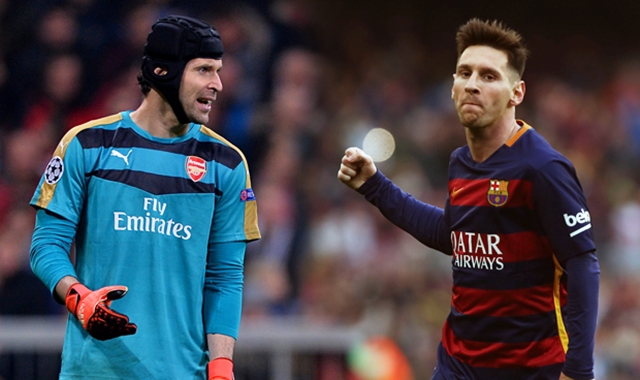 Arsenal will face a tough examination as they welcome reigning Champions League winners Barcelona to the Emirates on Tuesday evening.
The round of 16 has long been Arsene Wenger's Waterloo; since the 2009/2010 season, the Gunners have not been able to get past this juncture in European competition. Certainly, the London giants have not exactly been "lucky" when it has come to their draws as in three out of their past five campaigns they have had to face Barcelona and Bayern Munich two seasons in a row.
However, they have received some more favorable opponents. For starters, in the 2011/2012 term, Arsenal managed to avoid perennial favorites such as the Blaugrana, die Roten, or Real Madrid and were paired with AC Milan. Although the Rossoneri have won this competition seven times – only second to Real Madrid's now-total of ten – they have not been regarded among Europe's elite since winning their last title in 2007. But a 4-0 loss at the San Siro could not be mitigated by a 3-0 win in London, and last season, they were matched up against Monaco. Again, Arsenal, gifted with an easier opponent were unable to take advantage and shockingly lost the first leg – at home – 3-1, rendering their 2-0 win on the road a moot point.
And now again, they will face the Blaugrana, the very team every one had wanted to avoid. And who can blame them? Boasting the best attacking trio in Europe in Lionel Messi, Luis Suarez, and Neymar, Luis Enrique's side have picked up exactly where they left off following their impressive Treble-winning campaign last season. They currently enjoy a comfortable eight-point gap over Atletico Madrid in La Liga, destroyed Valencia to secure a spot in the Copa del Rey finals, and cruised through their Champions League group stage without much fuss.
Although the La Liga powerhouse were not at their best this past weekend against relegation candidates Las Palmas, Barcelona showed why they deserve to be recognized as the best team in Spain – and perhaps even Europe – as they were able to grind out a 2-1 win. Certainly, their opponents' poor finishing skills aided in their success, but three points are three points, and barring a catastrophic collapse, the Blaugrana are looking pretty solid to retain their La Liga crown this season.
Meanwhile, Arsenal did not give their fans a confidence boost as they were held to a frustrating scoreless stalemate by Championship side Hull, thus forcing a dreaded replay for the reigning FA Cup holders. Gunners supporters will hope that that poor result was just a sign that the players were already thinking ahead to their European clash coming up on the horizon and not indicative of what to expect; but then again, the line-up Wenger will be using will include key players like Petr Cech, Mesut Ozil, and Alexis Sanchez and Olivier Giroud will start from the beginning instead of coming off the bench as a sub.
The French tactician will be heavily relying on his experienced shot-stopped Cech, both for the Czech international's obvious skills and his impressive record against five-time Ballon d'Or winner Messi. The Argentinian superstar has scored countless goals against some of the best keepers in Europe, including stars like Manuel Neuer, Gianluigi Buffon, and Iker Casillas (during his heyday and before his rapid decline), but has never managed to net against Cech any of their past meetings. Yes, that's right: Messi will be facing Cech for yet another time tomorrow, and Arsenal fans will hope that the ex-Chelsea man will again manage to thwart the man that strikes fear into defenses all around the world – not to mention, of course, the other two members of this potent attacking trio, Neymar and Luis Suarez.
In terms of personnel for both Arsenal and Barcelona, Wenger will still be without the services of Tomas Rosicky, Jack Wilshere, Mikel Arteta and Santi Cazorla, and Gabriel; meanwhile his opponent on the tactician's bench will only be missing Rafinha due to injury. And as per Barcelona's goal-keeper rotation schedule, Claudio Bravo will make way for Marc-Andre ter Stegen in between the sticks – fans will remember that he was in charge last season during their Champions League final against Juventus in Berlin.
With the return leg taking place at Camp Nou – a site of nightmares for many teams around Europe – will Arsenal be able to at least give their fans some hope with a good performance in London? Or will a rampant Barcelona end this tie well before the rematch in Spain next month?
If Messi is the one that strikes the most fear into Gunners supporters' hearts,here's a startling stat: Suarez alone (as per ESPN FC) has scored 44 goals across all competitions. Or 41, if one drops the three netted during the International Champions Cup. Arsenal, as a team have accumulated 41 in the 2015/2016 Premier League season so far, so whatever numbers one wants to use, it is still a staggering fact indeed.
Hence to be brutally honest, it looks like Gunners fans will have to endure yet another season of disappointment at this stage and will have to already start thinking – and hoping – for a better draw during the 2016/2017 campaign.
MORE: Need matchday tickets? Get all your UEFA Champions League matchday tickets from Guaranteetickets.