Atlético Madrid vs Barcelona: Tricky test ahead for Blaugrana?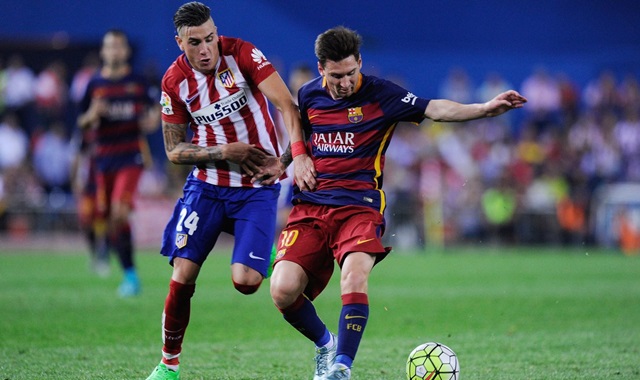 Barcelona will have to quickly move on from a poor result this weekend as they take on Atletico Madrid at the Estadio Vicente Calderón in the Champions League quarter-finals this Wednesday.
What a difference the span of one week can make, starting at the start of this month. Both Atletico Madrid and Barcelona were in La Liga action on either side of last week's Champions League tie. However, their experiences could not be any more vastly different. Diego Simeone's men arrived at Camp Nou having cruised to a comfortable 5-1 win over Real Betis in a match that certainly attracted viewers, but nowhere as many as the fiesta that would take place later on April 2nd.
El Clasico, whether one actively follows Barcelona, Real Madrid, or even La Liga in general or not, is the football match not to miss for any fan worldwide. And this season's second edition, just like the first, certainly did not disappoint. With  former players Zinedine Zidane and Luis Enrique facing off for the first time as coaches, the backdrop was set for a very interesting clash at Camp Nou.
Barcelona, thanks to their impressive 39-game unbeaten streak were viewed as the favorites, especially considering they were also playing at home. And when Zidane's side were reduced to ten thanks to another moment of incredible daftness by the always volatile Sergio Ramos, many figured it would be rolling on 40 by the time the final whistle was blown. Well, the Blaugrana – and the home fans – were handed a rude shock as Real Madrid defeated them 2-1 with who else but Cristiano Ronaldo grabbing the game winner, and suddenly, the all conquering Catalan side began to appear not so unbeatable after all.
Certainly, that is what Atletico Madrid thought when they arrived at the Camp Nou for part one of their quarter-finals tie. Diego Simeone is no stranger to Lionel Messi and his colleagues, having being on the losing end in each of their last seven games across all competitions, but it was Los Rojiblancos to take the lead courtesy of Fernando Torres.
Unfortunately, the Spanish international went from hero to zero in ten minutes as he was sent off, leaving his side with a man down and not surprisingly, Barcelona were able to claw their way back to a 2-1 victory. The win, as some observed, was not without controversy as many felt that Luis Suarez, who scored the brace, should have been sent off for his antics, but managed to remain on the pitch for the entire match.
Now coming into the second leg, Barcelona might hold a slight advantage, but it will be Atletico Madrid who will be brimming with confidence and ready for a fight. Los Rojiblancos earned another relatively comfortable win this weekend, defeating Espanyol 3-1 on the road. At the same time, the Blaugrana were suffering back-to-back league defeats for the first time all season, with Real Sociedad the newest side to snatch three points off Luis Enrique's side. This now sees Barcelona's once seemingly insurmountable ten point gap cut to a less comfortable four (or three for Real Madrid).
Well, the domestic title race will have to wait until this weekend, as Barcelona also have their Champions League trophy to defend. No team since AC Milan back in 1989 and 1990 has ever won back-to-back titles and at the start of this campaign, many had predicted that the Blaugrana would be the side to achieve this. However, their dip in form cannot be ignored, and Barcelona fans will hope that the trip to Madrid this Wednesday will see a return to the swaggering side that conquered Spain and Europe en route to their second – and history-making – Treble last season.
As for Atletico Madrid, they have been quite impressive in the Champions League over the past couple of seasons. In 2014 and 2015, they featured in the final and quarter-finals respectively, but were thwarted each time by city rivals Real Madrid. Simeone's men will certainly be itching to face them yet again in European competition, and it would indeed be interesting if they managed to beat both Barcelona and Real Madrid en route to their second final in three seasons.
But first, they will have to overcome a long and frustrating record against a familiar opponent that extends back to nearly exactly two years ago. April 9, 2014 was the last time Atletico Madrid defeated the Blaugrana, and so far this season it has been the same old song: Atleti score first, then Barcelona score twice. In addition, Simeone's side have had trouble keeping cool heads – in two out of their past three meetings, Los Rojiblancos have finished the game with at least one man sent off.
So, will fans see a repeat of the 2013/2014 season, in which Atletico Madrid overpowered the Blaugrana en route to the finals? Or will Barcelona rebound after another difficult weekend in La Liga with a European victory?
MORE: Need matchday tickets? Get all your UEFA Champions League matchday tickets from Guaranteetickets.