Balotelli future in doubt after penalty debacle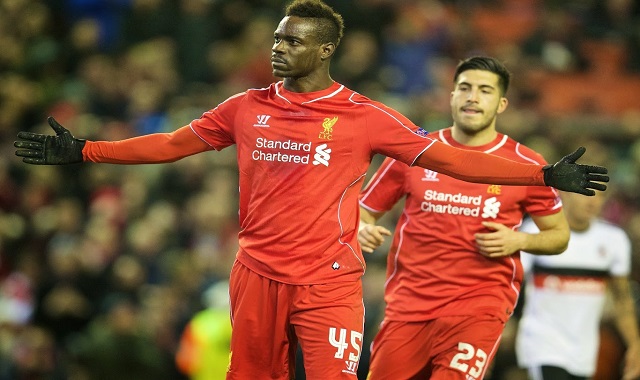 Mario Balotelli landed himself in further controversy by taking the penalty kick from designated penalty-taker Jordan Henderson in Liverpool's 1-0 win over Besiktas in the Europa League on Thursday.
The Italian was slammed by Liverpool captain Steven Gerrard who accused him of showing "disrespect" for going against the manager's plans. When Balotelli grabbed the ball and stepped up for the kick, surprise was clearly etched on the face of Jordan Henderson. Daniel Sturridge appeared to encourage Henderson to take charge of the situation but he was brushed away by Balotelli who duly converted the spot-kick.
The celebrations were muted and you can only wonder what the reaction would have been had Balotelli missed. That is exactly what happened to Everton's Kevin Mirallas recently after he had stepped up ahead of Leighton Baines. He jumped the queue to take a penalty in a Premier League game against West Brom only to miss, the game eventually ending in a draw.
Everton boss Roberto Martinez refused to criticize the player in public and suggested that there were mitigating circumstances. Mirallas had hoped to be able to celebrate by revealing a t-shirt dedicated to Belgium under-21 International Junior Malanda who had been killed in a recent car crash.
Balotelli, has looked like a £16 million misfit since joining the Reds from AC Milan in the summer. He was brought in by Brendan Rodgers to fill the void left by Luis Suarez but has been a peripheral figure at Anfield this season. Rodgers was dismissive of reporters when questioned on the penalty incident and preferred to concentrate on the fact that he scored and that Liverpool have a 1-0 advantage going into the second leg. His comments were echoed by defender Martin Skrtel while Balotelli himself also attempt to diffuse the situation by thanking Henderson for letting him take the penalty.
Balotelli has always been a controversial figure and many questioned the wisdom of bringing him to Anfield. The statistics make poor reading with only four goals in all competitions. He scored his first Premiership goal in the recent 3-2 win over Tottenham. He has only started eight league games for Liverpool and come on as a substitute five times. There is already speculation that he will return to Italy at the end of the season. The penalty incident will have done little to endear him to Liverpool supporters and few would be sorry to see him go.