Barcelona vs Arsenal: Blaugrana look to finish off the Gunners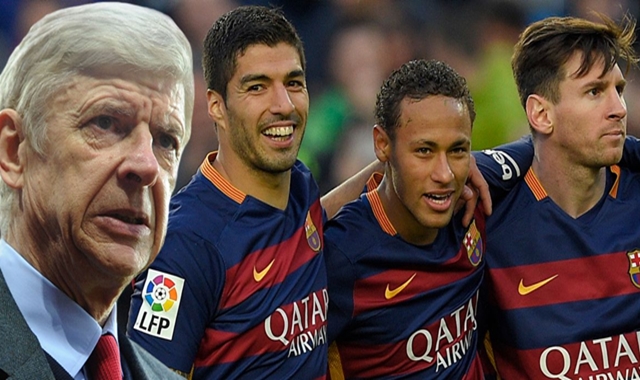 Barcelona will be expected to finish off Arsenal in the second leg of their Champions League round of 16 tie at Camp Nou this Wednesday.
The Catalan powerhouse already come into this game with a massive two goal advantage, which makes an already difficult task for the Gunners even closer to a "mission impossible". Nonetheless, there are still 90 minutes remaining in this tie, and as any fan knows, shock upsets are not entirely out of the ordinary in the world's most popular spot.
However, the traveling support will not be too pleased with Arsenal's performance this past weekend. Arsene Wenger's men had a golden opportunity to progress in the FA Cup – which, realistically represents their only chance at silverware – but the reigning champions were shockingly dumped out 2-1 by an hungry and determined Watford side.
As a result, London giants will arrive at Camp Nou both devoid of confidence, and due to an unfortunate injury to Petr Cech earlier this month, they will not have their first choice goalkeeper available, either. Sadly enough, as things stand, Arsenal are set to finish this season empty-handed. They are currently eight points off the title pace, and look unlikely to catch surprise packages Leicester City unless if the Foxes suffer a heart-breaking meltdown with just nine games remaining. And as they prepare for their Champions League round of 16 second leg, they are in a similar situation to Roma, who also conceded two at home.
However, were it not for their horrible finishing, the Giallorossi actually could have become the first team to successfully overturn a two-goal home loss in the first leg. Real Madrid were quite poor, and even their most devoted fan will have to admit that the 10-time Champions League winners were well below their usual illustrious standards. That will not be the case for Arsenal, who will be facing a Barcelona side that are ruthlessly in-form and cruised to a comfortable 6-0 win over Getafe as the Gunners were laboring against Watford this past weekend.
To further illustrate the gulf between these two sides: just as Wenger's side are eight points behind, Luis Enrique's men are the exact same number of points ahead of second-placed Atletico Madrid and a  very comfortable twelve in front of arch-rivals Real Madrid.
The Blaugrana are in pole contention to successfully defend their La Liga title, and should have no trouble retaining the Copa del Rey, too. And in terms of the Champions League, the current holders certainly have an excellent shot at becoming the first team to win back to back Champions League titles in the current format. The last team to achieve this overall was AC Milan back in 1989 and 1990, during a time that the Rossoneri were really regarded as one of the best sides on the continent.
Barcelona will be coming into this game having racked up an impressive 37 match unbeaten streak that has seen them score an eye-popping 117 goals – yes, that's 117 – and concede a measly 20. Although they will be missing star defender Gerard Pique due to suspension, Wednesday's hosts have more than enough quality available to finish off the floundering Gunners and book their spot in the quarter-finals.
Out of the past ten Champions Leagues, Barcelona have won four. They are only one of two sides yet to lose a game in this season's Champions League and Luis Enrique has won all nine European matches at the Camp Nou since taking over last season. Should he – as expected – make it ten on Wednesday, it will set a new club record for Barcelona.
In order to progress, Arsenal will have to score at least twice whilst preventing Barcelona from scoring. To put it bluntly, even the most idealistic Gunners fan knows they will need all the luck they can get. Over the past 12 campaigns, only one team has managed to score two or more goals and keep a clean sheet at the Camp Nou: Bayern Munich. The Bavarian giants thrashed the Blaugrana 3-0 on the night (and a shocking 7-0 on aggregate) back in May 2013. And as we all know, die Roten – then under the leadership of Jupp Heynckes – went on to beat Borussia Dortmund in a historic all-German final at Wembley later that month.
So are Arsenal facing a "mission impossible"? Absolutely. In addition to Cech, Wenger will be without the services of Santi Cazorla, Aaron Ramsey, Alex Oxlade Chamberlain, Mikel Arteta, Jack Wilshere, and Tomas Rosicky, making an already insurmountable task even more daunting – if that is even possible.
Last week was a terrible one for Chelsea fans, who were first dumped out of the Champions League and then the FA Cup. If there were any Arsenal supporters laughing at the Blues' misfortune, well, they will surely regret it now as they will be facing the same thing come Wednesday.
Had they done what was expected and beaten Watford – a team that despite being quite impressive this term, were featuring in the Championship last season – most people who follow Arsenal might have been able to swallow being dumped out of the Champions League by Barcelona. But now, there is not even the FA Cup to dream of. It will indeed be a case of damage control at the Camp Nou – both for the club and the increasingly under-fire Wenger – as another English powerhouse's European adventure is set to come to an unfortunate end.
As for Barcelona, it will be very interesting to see who they will face in the quarter-finals. Could we see a repeat of them taking on PSG? Les Parisiens fans and quite a few neutrals will hope not. Or is a tie with Real Madrid on the cards? That would indeed be interesting, but quite a few people would prefer to see that later on in this tournament.
Whoever their opponents will be, one thing is certain: No side will be rubbing their hands in glee at facing Barcelona, who could possibly become the first team ever to win back-to-back Trebles at the end of this season.
MORE: Need matchday tickets? Get all your UEFA Champions League matchday tickets from Guaranteetickets.