Barcelona vs Atlético Madrid: Los Rojiblancos hope to stun the Blaugrana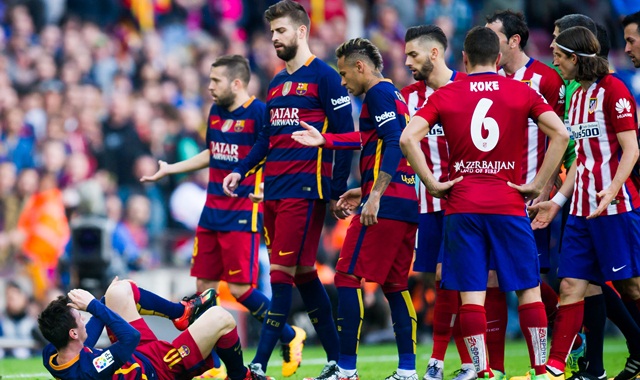 Barcelona will have to shake off their loss in El Clasico as they prepare to welcome another Madrid-based side – Atletico Madrid – to Camp Nou on Tuesday.
The Blaugrana saw an impressive 39-match unbeaten streak snapped as they fell to a surprise 2-1 defeat to arch-rivals Real Madrid this past weekend. Given that Luis Enrique's side had humiliated the capital giants 4-0 in the first Clasico of the season, the reigning La Liga champions were expected to get the job done at Camp Nou.
However, the international break appears to have taken quite a toll on star trio Lionel Messi, Neymar, and Luis Suarez – who was guilty of some awful misses – who were all unable to have any impact on the match. As the famed "MSN" attack floundered, Real Madrid's "BBC" flourished. Were it not for a dubious discounted goal by Gareth Bale, all three members of this trio – Bale, Karim Benzema, and Cristiano Ronaldo – would have been on the score-sheet for the first time in a Clasico tie.
It is always aggravating to lose, but even more painful if it is a bitter rival – who grabbed the match-winner despite being a man down. Still, Barcelona remain on top of La Liga and are in a good position to successfully defend that title. There is also the Copa del Rey final against Sevilla next month, which they are again, viewed as heavy favorites to defend as well. The Champions League, however, is a whole other matter entirely. For starters, no side has been able to win back to back European titles since AC Milan did so in 1989 and 1990, and that was before the new format came out in 1992.
Secondly, Lady Luck did not smile on Barcelona this season. Although they were able to see off Arsenal in the round of 16, the Gunners certainly were not the easiest opponent they have gotten. Next up, of course, is Atletico Madrid, who have shown over the past few seasons that they can hold their own against both Barcelona and Real Madrid. To put things in context, Blaugrana fans would not have been as worried if their team had been paired with perhaps Wolfsburg or Benfica, despite both being solid sides in their own right.
From an Atleti perspective, Diego Simeone's men certainly are not jumping for joy at being paired for Barcelona, either. This will be the third straight season the 2014 La Liga winners have had to play against a fellow Spanish side in the Champions League. And the teams they have had to face? Barcelona, followed by Real Madrid, and now Barcelona again. However, during the 2013/2014 term, which was their first ever meeting, Atletico Madrid successfully – and to the surprise of most observers – dumped Lionel Messi and his colleagues out of the competition at the quarter-finals stage. They would then, as we all know, go on to face Real Madrid in the finals, where they were ultimately defeated 4-1.
Speaking of defeating Barcelona, here is an interesting little tidbit: since 2007, any team that has beaten Barcelona has booked their spot in the Champions League final. This dates back to Liverpool in the 2006/2007 edition, when the Reds knocked the Blaugrana out in the round of 16. One caveat, however: this does not guarantee, of course, a win in that final.
Still, as Bayern Munich, Chelsea, and Inter all beat Barcelona in the semi's en route to lifting the trophy, and Atletico themselves did so in the quarter-finals en route to finishing as runners-up, their odds of making it to the final at San Siro appear to be pretty good.
Both Barcelona and Atletico Madrid will be welcoming a key player back into the fold for this match, further bolstering their defensive options. Gerard Pique, who was banned for their last match against Arsenal, is now eligible to feature, and Diego Godin has reportedly recovered from a hamstring complaint and will likely make his return to the starting XI.
In La Liga, Barcelona have the second best attack, with 87 goals scored. Atletico Madrid have the best defense, with 15 conceded. Antoine Griezmann continues to impress in his second season in a Rojiblancos kit, with 19 goals, and we are all aware of the achievements of Lionel Messi, Luis Suarez, and Neymar.
This will definitely be one of the most interesting clashes of this season's Champions League, and unfortunately, as is the case with any two-legged tie, one of these two top Spanish sides will be ending their European campaign.
MORE: Need matchday tickets? Get all your UEFA Champions League matchday tickets from Guaranteetickets.