Barcelona vs Real Madrid: What better way to re-start La Liga than El Clasico?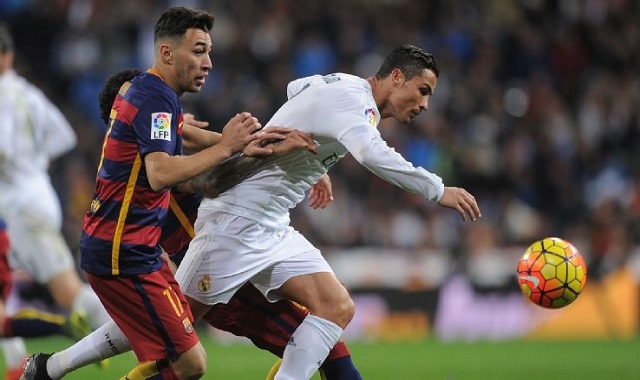 All eyes will be on Barcelona and Real Madrid this weekend as the two perpetual rivals clash at Camp Nou on Saturday evening.
The Blaugrana will be coming into this game with a ten point lead over the visitors. As such, this match could effectively decide who will be crowned champions of La Liga this May. Having humiliated Real Madrid 4-0 earlier this season, Luis Enrique's side have the opportunity to complete a "double" against their bitter rivals for the first time since the 2013/2014  term.
During that campaign, Barcelona defeated Real Madrid 2-1 at Camp Nou in October 2013, with Neymar grabbing his first Clasico goal. In March 2014, a Lionel Messi hat-trick was enough to give the Blaugrana a 4-3 victory; however, that match was marred by controversy and on-pitch strife. Then again, when is a Clasico game not surrounded by plenty of tension, even before kick-off?
Speaking of tension, there will be plenty of it, as the two men on the tactician's bench certainly are no friends. To make things even more interesting, Luis Enrique and Zinedine Zidane are no strangers to the simmering hostility between Barcelona and Real Madrid. Why? Well, a quick look back to a bit over ten years ago will reveal the reason. Both have featured in a Clasico match, and in one such meeting, the former French and Spanish internationals were not afraid to mix it up a bit – just take a trip over to YouTube to catch clips of their scuffle if you are too young to remember.
Luis Enrique is also another interesting character when it comes to Clasico matches as he has had the chance to feature for both sides. Yes, that is correct. Barcelona's current manager once played for Real Madrid before making the switch to Camp Nou, and not surprisingly, it caused quite a bit of controversy at that time. There will also be an element of sadness at Camp Nou following the passing of Barcelona icon Johan Cruyff last month from lung cancer at the age of 68, and tributes have been pouring in ever since.
Cruyff, as any Barcelona fan will know was the man responsible for winning the club their first ever European title during the 1991/1992 season by beating Serie A side Sampdoria 1-0 in extra time. He was also instrumental in establishing two things long associated with the Blaugrana: their youth academy and style of play, known as La Masia and, of course, "tiki-taka".
Sentimental nostalgia aside, this match will be pitting the two players who have turned the Ballon d'Or into a two-man race – Lionel Messi and Cristiano Ronaldo – against each other. And you cannot have a blockbuster film without a great supporting cast: Luis Suarez and Neymar versus Karim Benzema and Gareth Bale. Andres Iniesta, Ivan Rakitic, and Sergio Busquets pitted against players like Toni Kroos and Luka Modric. In goal will be Claudio Bravo and Keylor Navas, two of the best shot-stoppers certainly in South America, and definitely in Europe's big leagues.
Saturday, April 2nd will be the 231st competitive match between Barcelona and Real Madrid. As for the head to head record, it's Real Madrid who has the slight advantage, with 92 wins versus Barcelona's 91. In terms of personnel, the visitors have no injury concerns of note. The hosts, however have some concerns about Jordi Alba, who is struggling with an ankle injury, but the Spanish international should be fit to feature this weekend. Other absentees for Barcelona will be Jeremy Mathieu and Adriano, but neither of these players are regular fixtures in the starting XI, so as far as observers are concerned, Luis Enrique has pretty much a full-strength squad available for this game.
Barcelona will be coming into this game having strung together 23 La Liga games without defeat. Will they make it a 24th, and more important, pull even with Real Madrid on 92 Clasico wins? Or will Zidane guide the capital giants to victory in his first-ever Clasico match as a coach?
Whether one follows Barcelona or Real Madrid, or even La Liga at all, this will be one surely not to miss as viewers will be treated to one of the most entertaining "derby" clashes on the planet this Saturday.
MORE: You can watch Barcelona vs Real Madrid live with FuboTV 24-hour game pass FREE.