Bayern Munich 5-1 Arsenal: 4 things we learned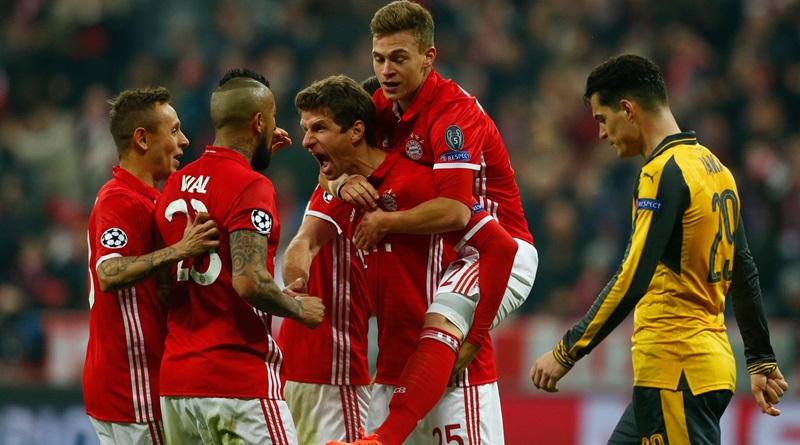 On Wednesday, Bayern Munich took on Arsenal. For the third time since 2013, die Roten were paired with the Gunners in the Champions League. The prior two times, it was the Bavarians to get through to the next round, and this time around, the same was expected.
Bayern have not been at their very best under Carlo Ancelotti. Since the start of 2017, they have struggled to keep clean sheets and despite keeping one against Wolfsburg and Ingolstadt, it was far from an assured performance. In fact, in the tie with the relegation candidates, die Roten needed two late, late goals to save themselves from an embarrassing draw.
That predictably has seen Carlo Ancelotti facing his fair share of criticism. In fact, many had claimed that Bayern are not the side they used to be and had lost some of that "fear factor".
Well, after tonight's showing, they may want to reconsider. Here's what we learned from their 5-1 demolition of Arsenal, which pretty much has them already booking a spot in the quarter-finals.
1. Thiago Alcantara is shaping up to be a true gem in the middle of the park
Pep Guardiola brought him in from Barcelona, despite getting Mario Gotze as well. And the Spanish tactician has been proven right in his determination to bring in his fellow Blaugrana alum. The Spanish international has been quite excellent all season and tonight was his night. Not only did he grab two goals, but completed over 90 per cent of his passes and even a few tackles to take control of proceedings in the middle of the park as Bayern asserted their dominance during an excellent second-half showing.
2. Why wasn't Olivier Giroud introduced sooner?
Giroud may be prone to some bad decision making at times in front of goal, but overall he's a pretty solid striker. The big Frenchman, however, simply can't nail down a spot in the starting XI. And that is to Arsenal's detriment. Arsene Wenger keeps him on the bench, then throws him on with 15, 20 minutes remaining in a desperate attempt to turn things around. And 99.999 per cent of the time, it has failed.
Arsenal were staring at a 4-1 deficit by the time that Wenger grudgingly introduced Giroud, and again, it backfired. For starters, keeping a highly experienced player on the bench will obviously marginalize him, such that by the time he is introduced, he has little motivation. Especially when his side are losing 4-1 on the road. Against Bayern Munich, mind you.
Why he wasn't introduced from the start – or perhaps in the second half when the game was tied 1-1 is a question that Wenger, and only Wenger, will be able to answer.
3. No Laurent Koscielny = big problems for Arsenal
It's no coincidence that as soon as Laurent Koscielny went off injured, things began to go horribly wrong for Arsenal. They lost their anchor in defense, and they became like a ship adrift. Bayern plundered two goals just minutes after the French international hobbled off, and it was downhill from there. Fans will hope that the experienced center back will be back sooner rather than later, as it has been nothing short of an awful week for Arsenal fans.
4. Unfortunately, Arsenal cannot count on Mesut Ozil
On his day, Mesut Ozil is arguably one of the finest playmakers in the business. Unfortunately, that's if he's on his day. When Ozil is off, he's off. And this season has seen a rather disturbing trend of him being more off than on. Arsenal cannot rely in the German international to carry the side and may need to consider looking at other options. For when he's not on top of his game, he becomes like an invisible passenger, leaving the Gunners with ten men as he can't contribute offensively or defensively.
Some players, when the going gets tough, never give up. They will fight till the end. Ozil, however, is just not that warrior type of persona and never will be.
So all in all, Arsenal are facing yet another elimination whilst Bayern are en route to figuring out their next opponent in the quarter-finals. Along with Real Madrid and PSG, they have one foot firmly into the elite eight. Who will be the next to make a huge headway when the next batch of round of 16 fixtures kicks off next week?