Bayern Munich vs Juventus: La Vecchia Signora hope to stop die Roten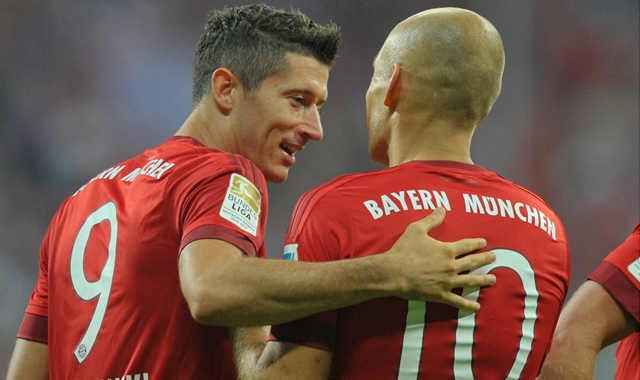 Bayern Munich could be in for a tough test as they prepare to welcome Juventus to the Allianz Arena this Wednesday for part two of their titanic European clash.
Die Roten thought they were cruising to a quarter-finals berth after scoring twice in Turin, and it all appeared to be a bad case of déjà vu for Bianconeri supporters. However, La Vecchia Signora showed it's really not over until the final whistle blows and staged an impressive fightback to even the scores. Thanks to debut European goals from Paulo Dybala and Stefano Sturaro, Massimiliano Allegri's side remain unbeaten at Juventus Stadium across all competitions this season.
Still, Juventus – who impressed most by making it to last season's Champions League final – will be coming into this game having conceded two goals. To put it simply, even if the Bianconeri manage to keep die Roten from scoring, they will need to find a way past Manuel Neuer. Otherwise, a 0-0 draw will be enough to see Pep Guardiola's men into the quarter-finals.
READ ALSO: Barcelona vs Arsenal: Blaugrana look to finish off the Gunners
The onus, then, will be on the visitors to win the game, something that, given Bayern Munich's excellent home record, will be easier said than done. For starters, the hosts easily cruised to three wins out of three in the group stages, outscoring their opponents 14 to 1. In addition, they have won their past three home games against Italian opposition, and in their prior 20 European games, have only failed to win twice when drawing the first leg on the road. The only exceptions were when they drew Liverpool twice but lost on away goals in the 1980/1981 season and AC Milan, who beat them at the Allianz Arena 2-0 after a 2-2 draw in the 2006/2007 quarter-finals – and went on to eventually lift the trophy.
Guardiola, who is in his final term with the Bavarian giants, has enjoyed domestic success, but has been twice thwarted on the European stage. Ironically, one of these teams was his former side Barcelona, who dumped them out in the semi-finals last season, and in 2014, they were shockingly embarrassed 5-0 on aggregate by Real Madrid.
So given this, although Bayern do have that away goal advantage, they will still be under pressure to produce tonight as the Spanish tactician hopes to depart Munich on the highest note possible: by winning a Treble.
It will be an interesting game for both Arturo Vidal and Mario Mandzukic, and Allegri will be happy that the Croatian attacker has shaken off an injury in order to  . As for the Chilean star, Vidal will surely be relishing another opportunity to face off versus the same teammates with whom he established himself as one of the best midfielders in Europe.
Facing one's ex club aside, both Allegri and Guardiola will be coming into this match missing some key personnel. For the Italian manager, Giorgio Chiellini reportedly has not recovered in time, meaning that he will have to re-shuffle his options at the back. Given his importance as part of the famed Bianconeri defensive trio featuring Leonardo Bonucci and Andrea Barzagli, Chiellini's absence could not come at a more inopportune time.
This is especially bothersome considering that Juventus will have to try to contain Thomas Muller and Robert Lewandowski, who have scored a whopping 43 Bundesliga goals between them this season. In fact, prior to last month's match, Lewandowski alone had scored more Champions League goals than all of Juventus combined.
And Juve's injury woes get worse: both Paulo Dybala and Claudio Marchisio will not be making the trip after sustaining injuries in a training session on Monday. Any Bianconeri fan is certainly well aware of the contributions of both the young Argentinian attacker – who is the team's top goalscorer – as well as veteran midfielder Marchisio, who provides a steady presence in the middle of the park.
Meanwhile, Guardiola will have to make do without Jerome Boateng as well as Holger Badstuber, and Javi Martinez will not have fully worked his way back to full fitness for this match. Still, young defender Joshua Kimmich has been slowly growing into his role, and will be partnered in defense by a player very familiar with most of this Juventus team: former Roma defender Mehdi Benatia.
At the end of what should be an interesting 90 minutes of action, one of these European heavyweights will be out of European competition. Will it be Bayern Munich to say Auf Wiedersehen to the Champions League? Or will Juventus be the one having to say arrivederci to their continental ambitions this season?
MORE: Need matchday tickets? Get all your UEFA Champions League matchday tickets from Guaranteetickets.