Bayern Munich vs Werden Bremen: Die Roten seeking Klassiker final in DFB Pokal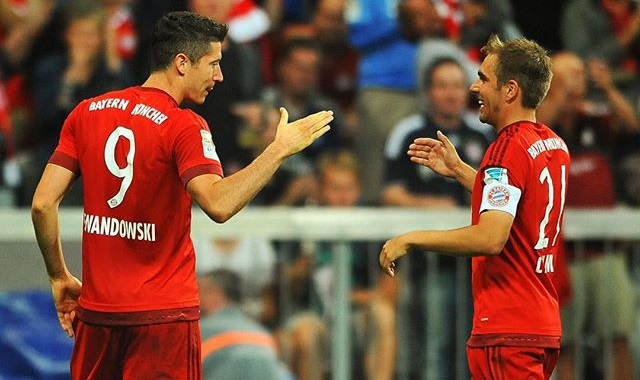 Bayern Munich will be hoping to book their spot in the DFB Pokal as they welcome Werder Bremen to the Allianz Arena on Tuesday evening.
Die Roten, who were knocked out by Borussia Dortmund in last season's edition, will be certainly relishing the opportunity to face die Schwarzgelben in this year's final. Of course, first, Bayern Munich will have to find a way past Werder Bremen, a team who are in danger of facing the drop to the second tier next season. Currently in 16th place, one can certainly bet that the visitors, who have been quite impressive in the Pokal, will be giving their all to make it to their first final appearance in six years.
Werder Bremen, to date, have won the Pokal a total of six times, whilst finishing as runners-up on four occasions. The last win for die Grün-Weißen was in 2009, when they defeated Bayer Leverkusen 1-0. Their last final appearance would come a year later, when they were crushed 4-0 by none other than Bayern Munich.
For all their struggles in the Bundesliga, Viktor Skrypnyk's men have fared pretty well in this competition. The winner, of course, will earn a spot in the Europa League, regardless of how they fare in the Bundesliga. So, in theory, should die Grün-Weißen win their first trophy in seven years, they could be featuring in continental competition – even as they battle to stay afloat in German football's top flight.
Of course, that is all hypothetical. Werder Bremen have not beaten Bayern Munich – in any competition – since September 20, 2008. On that day, they overpowered die Roten 5-2 at the Allianz Arena. And although the visitors will arrive in Munich with Claudio Pizarro back in action and with a confidence-boosting 3-2 win over Wolfsburg in hand, they will face a tall task to beat Bayern Munich this evening..
How tough a task? Well, Bayern are the all-time winners in the DFB-Pokal. They have won it 17 times, whilst finishing as runners-up on three other occasions. Pep Guardiola rotated his squad over the weekend, and they had no trouble handling Schalke as they cruised to an easy 3-0 win to stay on top of the Bundesliga table. Expect players like Franck Ribery and Thomas Muller to return to the starting XI for this must-win game, but Jerome Boateng, Arjen Robben, and Holger Badstuber are still out on the treatment table.
Although he continues to deny it. Guardiola is still hoping to cap off his final season in Munich with a treble. The Bundesliga title is already in the bag. The DFB-Pokal is also within grasp, as Bayern Munich are expected to get the job done against Werder Bremen today to set up a much-anticipated "Klassiker" final. The tricky one, of course, will be the Champions League, as Diego Simeone's Atletico Madrid are a very formidable opponent – as Barcelona found out last week.
But, first up, will be the task at hand – to book their spot in the DFB-Pokal final, a year after failing to do so. Will Bayern Munich take one step closer towards completing part two of their desired Treble this evening? Or will Werder Bremen, seemingly against all odds, spoil their plans?
MORE: Need matchday tickets? Get all your Bundesliga matchday tickets from Guaranteetickets.