Bayern Munich wary of United threat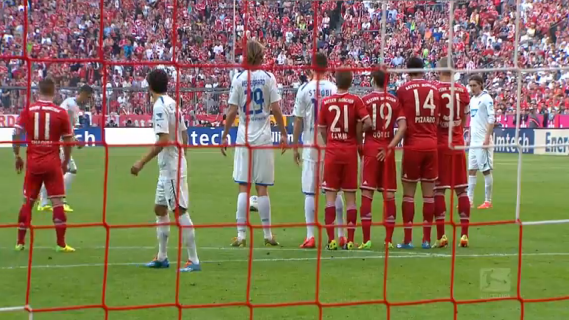 Manchester United's topsy-turvy season continued with a convincing 4-1 victory over Aston Villa in the Premier League at the weekend. Manager David Moyes must have been anxious when United conceded an early goal but Wayne Rooney came to his manager's rescue and a seventh home defeat of the season was averted.
Moyes may have been relieved by the Villa result but he will know that is only temporary as he prepares his side for the visit of holders Bayern Munich on Tuesday night. United came perilously close to exiting in the previous round when only a brilliant hat-trick from Robin van Persie spared their blushes against Olympiacos of Greece.
They slumped to a 2-0 defeat in the first leg but fought back to earn a place in the last eight. Moyes must have been disappointed by being drawn against the holders. The upside for United is that they go into the game as underdogs after a miserable campaign that sees them sitting only seventh in the Premier League table.
United were easily beaten by Manchester rivals City in midweek, a defeat that forced Moyes into admitting that they were simply no match for the title chasing light blues. A major concern for United is the absence of Van Persie through injury. With record signing Juan Mata cup-tied, they must look to Rooney to lead the side again as they bid to unsettle the Germans.
There has been plenty of talk of the need for drastic action in the transfer market for United this summer and there are echoes of Chelsea's 2012 victory in this campaign. The Blues sacked their manager in mid-season and many of their players were at the end of their contracts, yet they somehow beat Barcelona and Bayern Munich to lift the trophy. They are a team playing with a wounded pride and Bayern will be anxious not to take them too lightly.
The German side are hoping to become the first side to successfully defend the Champions League but there is some history between the two teams. Bayern have won three of the previous nine meetings with two going to United. However, one of those was the final in 1999 when the Red Devils struck twice in the closing moments to record an unlikely 2-1 victory.
Pep Guardiola will not expect his team to put the tie beyond United in the first leg and would probably take a draw. With the likes of Ribery and Robben, they are always likely to be a threat and it is difficult to see them failing to score against a frail United defence. The question is whether or not United can raise their game to compete against a better side, something they have failed to do all season domestically.