Belgium vs Italy: Reunion featuring Marc Wilmots and Antonio Conte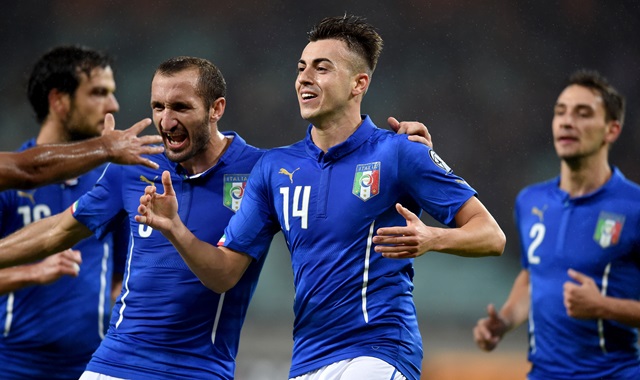 It's going to be a trip down memory lane as Italy and Belgium lock horns at the Stade de Lyon for their opening Euro 2016 tie on Monday evening.
16 years ago, the Azzurri and the Red Devils face off at Euro 2000. On one side was Marc Wilmots. On the other, Antonio Conte. That match finished as a 2-0 win for the Italians, who would go on to win their group with three wins out of three. Belgium, by contrast ended up in third, and thus saw their campaign come to an early end.
After over a decade on the outskirts of the international scene, Belgium are ready to make a big splash. There were some eyebrows raised when they surged to the top of the FIFA rankings, and coming into this tournament, they are presently ranked as the no. 2 side in the world. This puts them ahead of reigning World Cup champions Germany, defending Euro holders Spain, and their upcoming opponents, Italy – who finished as runners up at Euro 2012.
However, with players like Eden Hazard, Thibaut Courtois, Kevin De Bruyne, and Romelu Lukaku within their set-up, Belgium do have the personnel to cause any country major problems at this Euro tournament. That is, provided everything goes in sync, as Hazard and Courtois are coming off a very disappointing campaign with Chelsea, whilst Lukaku endured quite a bit of frustration with Everton.
Although Belgium have not beaten Italy since May 13, 1972, they will nonetheless be fancying their chances to end this long-standing hoodoo. For starters, the Azzurri are looking a bit light in midfield, with Claudio Marchisio and Marco Verratti missing out entirely due to injury, and despite this, there was no room for Andrea Pirlo. Secondly, Graziano Pelle is their top striker  in terms of goals scored, but has only five to his name.
It goes without saying that Conte's side will be relying on a collective effort as opposed to individual stars. There are some promising talents within the squad, including Roma's Stephan El Shaarawy who had an excellent season with the Giallorossi, and Napoli's Lorenzo Insigne, who also impressed with the Partenopei.
Yet, Italy's form has not been that impressive. Although they won their last two friendlies, they labored against Scotland and did not look that confident versus Finland. Still, as we have seen in the past, Italy are a very unpredictable side. Plus, even though their offense isn't going to set off any fireworks, they do boast one of the strongest defensive unit among any side in Europe. Juventus trio Giorgio Chiellini, Leonardo Bonucci, and Andrea Barzagli are well known to Serie A fans, and Gianluigi Buffon, despite his advancing years is still the best in the business.
Belgium, unfortunately, will not have defensive stalwart Vincent Kompany, with the 30 year old's injury woes still ongoing. Anyone who's watched Manchester City will know how much his leadership and guidance in the center of defense plays dividends for the Sky Blues, and his presence will be indeed missed by the Red Devils.
Besides the aforementioned midfield stars, Conte will have a full strength squad available for selection; Wilmots, on the other hand, will be waiting on the fitness update for Thomas Vermaelen.
Will Conte – who was on that Italian winning side at Euro 2000 – pick up another victory over Wilmots, this time as a manager? Or will Belgium finally end decades of disappointment against the Azzurri to start off their Euro challenge on a positive note?