Benfica vs Bayern Munich: Die Roten hope to clip Eagles' wings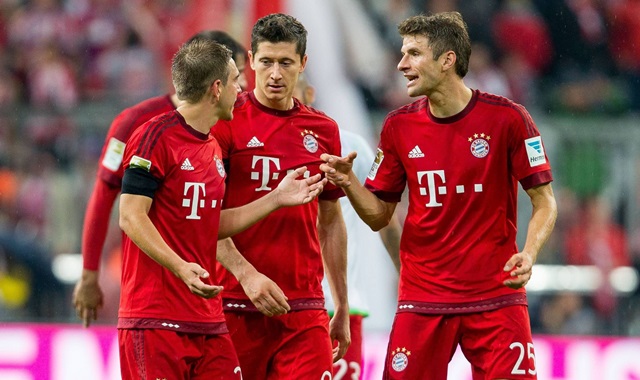 Bayern Munich could face a tough task as they travel to the Estádio da Luz to take on Benfica for part two of their Champions League quarter-finals tie on Wednesday.
Many had expected die Roten to cruise to a comfortable win over the Eagles in last week's first leg at the Allianz Arena, especially after Arturo Vidal grabbed an early goal. However, the Chilean's header turned out to be the only goal of that evening and as such, things are a lot more finely poised.
Bayern Munich are seeking to book their spot in the semi-finals for the fifth straight time. Benfica, by contrast, are hoping to make their first semi-finals appearance since 1990. The Eagles narrowly edged out Russian powerhouse Zenit to secure their place in the quarter-finals for the first time since 2012, and will be hoping to overcome their past hoodoo against die Roten for the first time in their fourth attempt.
Although Wednesday's hosts have a decent home record against German sides – with ten wins, seven draws, and two losses – this does not apply to featuring against Bayern Munich. The Bavarian giants have not only beaten Benfica in each and every single time of their past three meetings, but also have made it to the final. That definitely is a stat that would make any Bayern fan's ears perk up! So, are Pep Guardiola's men 90 minutes away from their first final appearance in three seasons?
READ ALSO: Atlético Madrid vs Barcelona: Tricky test ahead for Blaugrana?
Well, perhaps. After all, Benfica will be fighting against three prior bad results. However, Bayern Munich still will want to ignore that as Rui Vitoria's men have scored at least two goals in 12 out of their 19 home games, and they have only failed to score once at home. That was in a 3-0 defeat to fellow title rivals Sporting CP back on October 25th. Moreover, a 1-0 advantage is never guaranteed to see a side through to the next round, especially not at this stage in the competition.
And finally, under Guardiola, Bayern Munich have only won two out of their last eight European games away from home, whilst losing four.
Benfica, however, will have some major concerns, starting from their goalkeeper, with first choice shot-stopper Julio Cesar struggling with a thigh injury. In defense, Luisão is another major concern. And perhaps the most worrying of all – star striker Jonas, who is a contention for the Golden Boot, will be suspended. With 18 goals in 18 appearances across all competitions in 2016, his absence will naturally be a big blow for the Portuguese league leaders.
Meanwhile, Bayern Munich will arrive in Lisbon having picked up a 3-1 win over Stuttgart. This is notable as it is the first non 1-0 win for Guardiola's side in four games. And with goals from David Alaba and Douglas Costa, it meant that neither Robert Lewandowski nor Thomas Müller were on the score-sheet. This can be viewed as a positive thing, as it shows the depth of the squad, or a negative, as it marked the third straight match sans a goal for Bayern's top two goal-scorers.
Still, both Lewandowski and Müller did score in the 4-2 defeat of Juventus. In fact, it was their goals that forced the game to extra time, so their manager will be hoping that they can have a major impact in Wednesday's tie in Portugal. In terms of available personnel, Vidal, Lewandowski, Joshua Kimmich, and Juan Bernat are all one card away from a ban. Jerome Boateng, Holger Badstuber, and likely Arjen Robben as well as Mehdi Benatia will play no part as they are all still recovering from injury. This means that Guardiola again will have to make do with his improvised back-line that has seen Alaba feature as a center-back at times, and the Austrian international has performed admirably in that position despite his shorter stature.
All in all, the historical odds are firmly in favor of Bayern Munich. However, Benfica are not at this juncture by sheer luck, and this game is truly poised on a knife's edge, making for a very entertaining clash both for fans and neutrals alike.
MORE: Need matchday tickets? Get all your UEFA Champions League matchday tickets from Guaranteetickets.