Costa gives Chelsea a flying start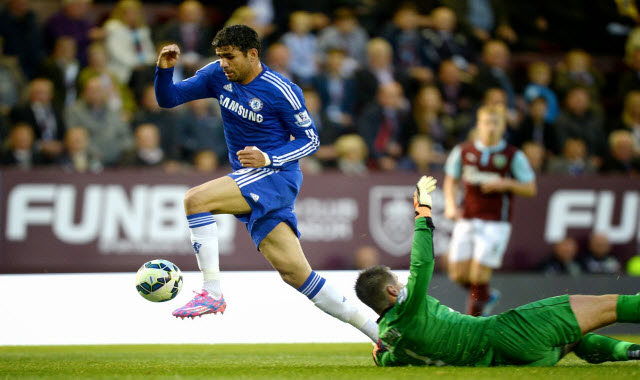 The impact of Diego Costa at Chelsea has been better than even the most optimistic of Blues fans had dared to hope. The Spain international completed his £32million move from Atletico Madrid despite a poor showing in the World Cup and has fired four goals in three games to take Chelsea to the top of the table.
Prior to his double-strike at Goodison Park in Chelsea's 6-3 victory, Costa had missed training for two days following an injury scare. The departure of Fernando Torres led Jose Mourinho to return to the transfer market to secure the signature of France International Loic Remy as cover for his main striker.
Costa also started last season in blistering form with ten goals in eight games, although he did end the campaign with hamstring problems. Mourinho was the most relaxed of all the top Premiership managers during the summer break with his deals secured early in the transfer window.
Such is his faith in his new front man that he has allowed Torres, Lukaku, Demba Ba and Eto'o to depart in quick succession. Veteran striker and Chelsea legend Didier Drogba has re-joined the ranks but is only expected to play the occasional substitutes role.
Mourinho is well known as something of a perfectionist so he will already have addressed the fact that Chelsea conceded three goals at Everton. While the spotlight has been on Costa and Cesc Fabregas, it is worth remembering that Mourinho recouped £50 million for David Luiz before the World Cup and brought in Felipe Luis. The Portuguese has also shown his ruthless streak in overseeing the end of the Chelsea careers of Frank Lampard and Ashley Cole.
Perhaps most controversially of all, he has taken the bold step of dropping Cech to the reserve goalkeeping position in favour of the younger Courtois. The speed with which he moved to snap up Remy for £10.5million suggests that he was not about to see his master plan wrecked at the first sign of injury. It seems as though he expected Torres to remain at Stamford Bridge but the Spaniard elected to take a two year loan deal for the rest of his contract at AC Milan.
As well as securing some of the best deals in the summer transfer market, Chelsea have also complied fully with the Financial Fair Play regulations. Midfielder Marco van Ginkel has joined Torres at the San Siro on a season-long loan as he continues his recovery from injury. Their next Premiership fixture is against the only team with a 100% record in the league, Welsh side Swansea. With a favourable draw in the Champions League, expectations are a lot higher at the Bridge than they were last season.