In cruise control: 4 things we learned from Bayern Munich vs. Rostov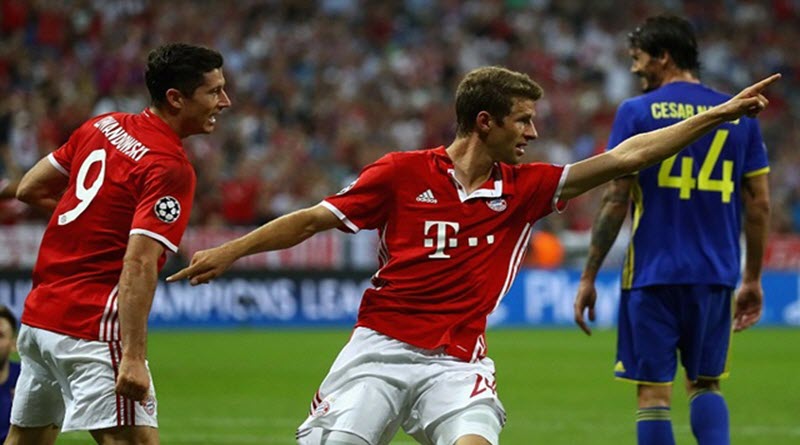 On Tuesday, Bayern Munich welcomed Rostov to the Allianz Arena for their opening Champions League group stage match. It was the first ever meeting between the Bundeliga titans and the Russian minnows. Not surprisingly, the match ended as a comfortable 5-0 win for die Roten, who have never lost to Russian opposition in the Champions League.
Rostov were not expected to get anything from this game. In fact, if they get out of their group, it will be a shock, and they're one of two sides making their first ever Champions League appearance.
So, with the result as predicted, what did we learn from the third-highest scoring match of matchday one?
A well-enforced squad
No Philipp Lahm. Or Xabi Alonso. Or Franck Ribery. None of these three players featured in Bayern's win on Tuesday evening. The reason? Not due to injury, but because Carlo Ancelotti wanted to rotate his squad. Not many teams in Europe could do that, and that is not including Jerome Boateng and Arjen Robben who are actually out due to injuries. And they still had no trouble cruising to an easy win here.
Of course, the Russian outfit are no Atletico Madrid, Barcelona, Juventus, Manchester City, or Real Madrid. Ancelotti obviously will not take on any of those sides with so many key men on the bench, but the fact that they have such a well-stacked squad to give stars like that a rest is just something that surely will make any team quiver in their boots.
The gaping divide between the haves and the have nots
Bayern Munich have featured in either a final or a semi final in each of the last four editions of the Champions League. By contrast, Rostov have made just ten European appearances in their entire history. Yes, Leicester City managed to hold off cash-rich sides like Manchester City, Chelsea, and Manchester United to win the Premier League last season. Atletico Madrid's triumph to win La Liga in 2014 is also equally impressive, but Los Rojiblancos still are far wealthier than tiny Rostov. Certainly, money does not always buy success.
But more often than not, it certainly does not hurt. There is going to be no Cinderella story in this season's Champions League, and frankly, the vast majority of fans are happy with that.
Is the "old" Thomas Muller back?
This summer's Euro tournament was nothing short of a shockingly bad one for the Bayern Munich ace. Muller appeared to be a total shadow of the player fans have come know for his sharp nose in front of goal, but he cut a frustrated figure throughout until Germany's elimination at the hands of France. From his missed spot-kick attempt during a penalty shootout with Italy, to fluffing his lines against France, to being nullified against Poland, the Bavarian native did not have a good time in France.
Well, he appears to have put that all behind him. The summer hiatus certainly has done him some good, as he scored a brace in a 3-0 win for Germany against Norway in World Cup qualifying and celebrated his 27th birthday with a well-taken goal to make it 2-0 versus Rostov. Let's hope that this will be the start of more good things for one of the most well-liked players in a Bayern kit.
Even the best strikers can hit a rough patch
Like Muller, Robert Lewandowski had a frustrating Euro tournament. Fatigue appeared to have caught up to the Polish star, who became the first player in nearly four decades to score 30 goals in one Bundesliga campaign. However, Lewandowski has now scored in all of Bayern Munich's fixtures since the DFL-Supercup. With a goal against Rostov, that total now rises to eight in four matches, including two back-to-back hat-tricks.
If that doesn't show that the best strikers can hit a rough patch occasionally, then it's hard to say what else does. Often overlooked because Bayern Munich, for whatever reason, doesn't garner the same attention as Barcelona and Real Madrid, Lewandowski more than continues to stake his claim as one of the top no. 9's in world football.
All in all, it has been a good season so far for Carlo Ancelotti's men. Five games, five wins, 20 scored, zero conceded. Yes, none of these teams really represented a "real" challenge for die Roten, but it's nonetheless an excellent start. Bayern Munich appear to be firmly in cruise control – something that will prove essential with tougher fixtures, including one with Atletico Madrid, coming up in the not too distant future.