Dortmund 1-0 Bayern: Der Klassiker finally goes to die Schwarzgelben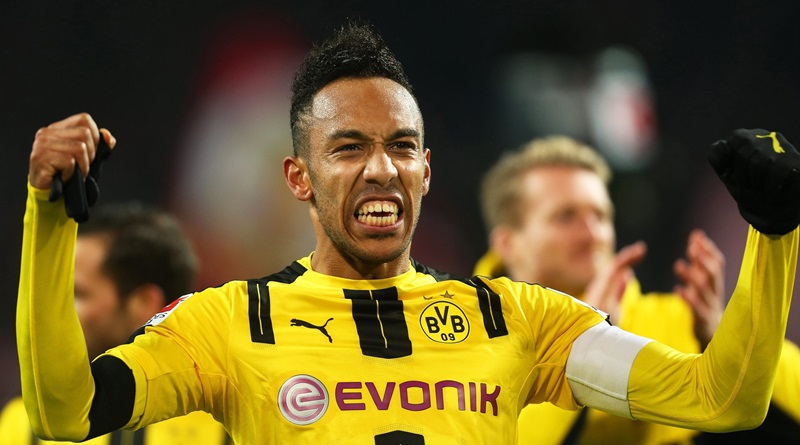 Saturday featured Borussia Dortmund versus Bayern Munich. Atletico Madrid taking on Real Madrid. Manchester United tussling with Arsenal. In short, it was a super Saturday of action for football fans around the world. And der Klassiker certainly did not disappoint. It certainly was not a high-scoring affair, but it was an intense tactical battle between the two top sides in Germany. More important it has now shaken things up a bit in the race for the Bundesliga title, with one team currently standing alone at the top of the table.
Was ist passiert?? (What happened)
Predictably, this was not a blow-out. After all, it's very rare to see Bayern Munich beaten more than a goal or two. And with a star shot-stopper like Manuel Neuer between the posts, that's no surprise. Coming into this game, both teams had quite a bit at stake. For Dortmund, die Schwarzgelben were on a 26-match unbeaten streak at home. The last team, of course, to depart Signal Iduna Park with all three points was none other than Bayern Munich back in April 2015. Meanwhile, for die Roten, they were just one of two teams yet to lose a game this season. In addition, Carlo Ancelotti's men had scored in their past 19 consecutive Bundesliga games. The last side to shut them out? Dortmund, who held them to a scoreless stalemate in March 2016.
The deciding moment took place in the 11th minute, when Pierre-Emerick Aubameyang and Mario Gotze combined well to produce what turned out to be the only goal of the game. It was a curious case of ex-teammate vs. ex-teammate as Gotze, who made his return to Dortmund after a less than successful spell at Bayern glided past ex-Dortmund skipper Mats Hummels to set up Aubameyang. And the Gabonese star made no mistake as he poked home his 12th goal of the season.
Predictably, Bayern really cranked things up a notch, especially in the second half as die Roten chased an equalizer, but Roman Burki was more than up to the task to deny Robert Lewandowski on more than one occasion. He was given a fright, however, when Xabi Alonso's long blast nearly made its way in, leaving him rooted to the spot – only to be denied by the woodwork. Overall, Dortmund largely tried to play it safe and protect their slender lead, but the overwhelming feeling was that a second insurance goal would have made life a lot easier.
Fortunately for them, they didn't need it. And unfortunately for Bayern Munich, they succumbed to their first ever league loss to Dortmund in nearly two years. It's also Carlo Ancelotti's second defeat in all competitions since taking over earlier this summer.
Man of the Match
Scoring the decisive goal in a huge derby clash arguably is always going to earn a player the MOTM award. And Dortmund's Aubameyang wins this hands down. The Gabonese international looked dangerous throughout and deservedly earned the decisive goal to give die Schwarzrelben a well-earned win over a rival who have frustrated them time and time again over the past few years.
Should have stayed home…biggest flop
Simply put, Thomas Muller really must be wondering what has gone wrong for him this season. Heading into this game, the World Cup winner had gone nearly 700 minutes sans a goal. That now will be approaching 800 by the time they square off against Bayer Leverkusen next week. Muller's first ever professional goals came against die Schwarzgelben back in 2009, but unfortunately, there was no such redemption for the German ace on Saturday. Normally, big games like this are where he pops up with a match-changer. Unfortunately, his goal-scoring touch appears to have deserted him. And it goes without saying that his manager – and Bayern fans – will hope he can find it sooner rather than later.
Tuchel vs. Ancelotti: they squared off
Both teams were missing a few notable faces. For the hosts, Marco Reus was denied the chance to make his long-awaited return with yet another injury set-back. The visitors were missing Arturo Vidal and Arjen Robben – who, like Reus, continues to struggle to stay fit. Tuchel opted to stick with a 3-1-4-2 formation featuring Adrian Ramos and Aubameyang up front, although this evolved to to a quasi back-five as Dortmund aimed to protect their slender lead. Meanwhile, Ancelotti lined up with 4-3-3 as he has done throughout the season, with Lewandowski flanked by Muller and Franck Ribery.
What does this mean for Dortmund…
This was exactly the resulted Dortmund needed. They now move into third, and have closed the gap on Bayern to just three points. After seasons of having to see die Roten romp to the title, die Schwarzgelben fans – and neutrals – will be hoping to see a much more interesting title race this time around. Tuchel's men have earned 21 points so far, which sees them level with Koln, Hoffenheim, and Hertha Berlin, but they have a slightly better goal differential. Recording a shut-out against Bayern, who have the second-best attack in the division could go a long ways down the line as this title race is expected to be a lot closer as we get into the later stages of the season.
…and Bayern?
As noted, this was Bayern's first loss in 20 games and their first of the current season. They now slip into second following RB Leipzig's shock comeback to beat Bayer Leverkusen 3-2. Yes, that's right: Leipzig, who were founded only back in 2009, are now on top of the Bundesliga, much to the certain annoyance of football purists worldwide. In any case die Roten will simply just have to dust themselves on and get on with it. No team has ever completed a Bundesliga campaign sans defeat, but they still are huge contenders to further write their names in history by making it a fifth straight crown this May.