England vs Iceland: The minnows challenge the Three Lions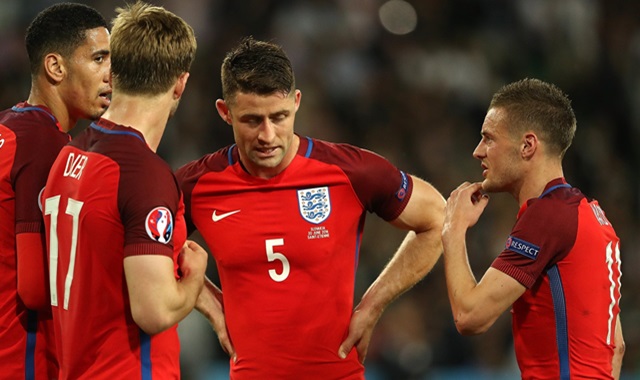 England will be already looking ahead to the quarter-finals as they take on minnows Iceland at the Stade de Nice on Monday evening.
Iceland arguably have been the Cinderella story of Euro 2016. Aptly nicknamed Strákarnir okkar (Our boys), the tiny nation impressed football fans worldwide just by qualifying for this tournament. But once in France, no one gave them much of a chance. Well, they did not just survive their quartet – which featured favorites Portugal and Austria. Rather, they dominated to finish second – behind Hungary. Meanwhile, Austria crashed out, whilst Portugal ultimately scraped by to seal third.
Simply put, Iceland have more than punched well above their weight. They are growing in confidence, especially after beating Austria and holding Portugal to a draw. Yes, they do park the bus, but unlike Northern Ireland, they are not afraid to venture forward and attack – as we saw against Portugal after falling behind. Lars Lagerback and Heimir Hallgrímsson have truly worked wonders with this side since taking over a couple of years ago. In fact, in 2013, they were in charge when Iceland were painfully close to qualifying for their first-ever World Cup.
Iceland, interestingly, have used the exact same starting XI for all three games. Only Spain has done likewise. However, unlike La Furia Roja, who are stacked with great options, Iceland's reason may be pretty straightforward: they simply don't have the talent. Fortunately for them, everyone is fit and available for this game as they hope ot take on another European powerhouse.
If Iceland have impressed, England are still trying to get up and running. The Three Lions have been solid, but not spectacular. To put it bluntly, Roy Hodgson's men have had it easy. Their Euro 2016 qualifying group – which they won all their games – featured teams like San Marino, Lithuania, Estonia, and Slovenia. Anyone who has watched football knows that San Marino is a free three – or six – points for any team who play them in a competitive fixture. And in friendlies, just look at how Croatia easily destroyed them 10-0; they're a perfect team to help pad a player's stats.
The grouping deities smiled on England yet again for this tournament. Group B was not the hardest quartet – not by any means. England, naturally, were expected to cruise through. But they didn't. They dropped two points against Russia in a game that they should have won easily. And despite beating Wales 2-1, they still looked far from convincing, and Hodgson took a lot of flack for his tactical decisions.
You'd think, then, he would get it right against Slovakia. Think again. England were unable to find a breakthrough against the Repre, who were more than happy to put men behind the ball and wait for their chances. They should expect much of the same on Monday – so fans will be hoping for a better formation and overall performance. So far, only Adam Lallana could be out for this match, but Hodgson still has some selection decisions.
For starters, who should lead the line? Jamie Vardy looked promising after coming on as a sub against Wales. But the Leicester City man was inefficient against the ultra-defensive Slovak side. Premier League's top goalscorer Harry Kane has been a shadow of himself. He's not alone. Robert Lewandowski topped the scoring charts in the Bundesliga, and has been firing blanks. And Zlatan Ibrahimovic, who won Ligue 1's top goalscorer prize, had a miserable tournament before Sweden crashed out.
And then there's the curious case of Wayne Rooney. The Manchester United star has been subdued so far and will be hoping to cement his place in the starting XI – although as a midfielder of sorts. In any case, will this be a straightforward win for England? Or will Iceland's "iceberg" trip them up? For one side, just getting this far is an achievement in itself. For the other, making it out of the group is the norm, and they are hoping to end their 50 year wait for glory this July.