Euro 2016: Belgium – Time for the golden generation to step up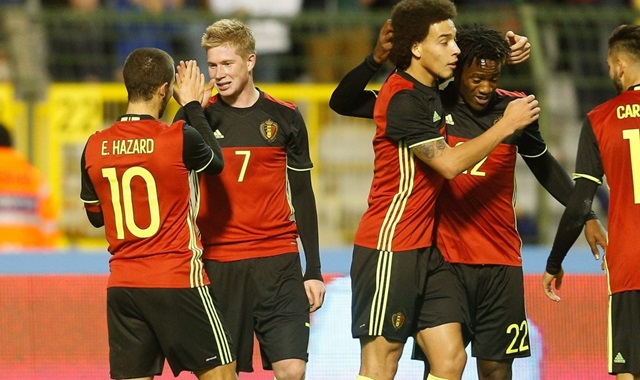 It goes without saying that there quite a few eyebrows raised when Belgium ousted Argentina and Germany to become the number one side in the world last November.
After all, Germany had won the 2014 World Cup, whilst Argentina had finished as runners-up at that year's Copa America. Belgium, meanwhile had not even reached the semi-finals of the World Cup or the last Euro tournament. In fact, they had not even featured in a Euro competition since 2000, when they were co-hosts with the Netherlands.
But there was something the Red Devils had going for them – the current crop of players within the squad. Belgium has had two "golden generations" so far in their history. The first was between the 1980's to the early 1990's. During that time they finished as runners-up at Euro 1980 and in fourth place at the 1986 World Cup.
And the second? That is now. With players like Eden Hazard, Thibaut Courtois, Kevin De Bruyne, Romelu Lukaku, and Vincent Kompany within their ranks, much is expected of Marc Wilmot's side. The Red Devils will be missing Kompany due to injury, but that has not lessened the expectations on this side. Their last Euro campaign ended in utter disaster, as they crashed out in the group stages and although they fared decently at the World Cup, there are some major questions as to whether this golden generation truly deserve the position as the no. 2 side in the world.
Obviously, Belgium will have to back that up with a good performance – starting from getting out of their group. With Sweden, Ireland, and Italy for company, it has been described as the toughest group at this tournament – even though they are sitting numerous places ahead of all their opponents.
And so far, not so good for Belgium as they dropped all three points against a vastly superior Azzurri side. The Red Devils may have the individual stars, but Italy showed that the power of the collective can trump solitary brilliance as they outplayed, outclassed, and outwitted their foes yet again – 16 days later.
So the question is: Will they be able to withstand the glare of the spotlight as they hope to back up their high ranking?
Well, they will not have a choice – they are the number two ranked side in the world, and as such, this golden generation must stand up and deliver. Failure to do so will spell nothing but disaster – especially considering that the 2018 World Cup is just looming ahead on the horizon.