Euro 2016: The "one-man" teams, part I – Poland and Wales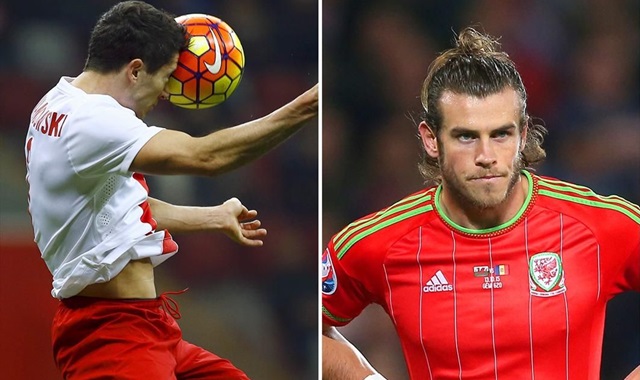 Although one team are making their Euro debut, whilst the other their third appearance, both Poland and Wales will be sharing a similar theme at Euro 2016.
After scoring a total of 33 goals in Euro 2016 qualifiers – the most out of any other team – Poland will be now hoping to finally clear the group stage hurdle that has thwarted them in their past two Euro tournaments. Led by Bayern Munich striker Robert Lewandowski, whose 13 goals are the joint-most by any player in Euro qualifying, the Białe Orły (The White Eagles), Adam Nawałka's men will be hoping to clear the group-stage hurdle for the first time.
Poland have enjoyed success at international level, but this was well before any of the players currently featuring were born. Back in the 1970 and 1980's they picked up a gold and silver medal during the 1972 and 1976 Olympics, and finished third during the 1974 and 1982 World Cups. The Euro championship, however, has been an entirely different story – as they did not feature until 2008, and 2012, as co-hosts, they experienced disappointment as they ended up finishing last in their group.
Arguably, the burden of carrying the team has been put on Lewandowski's shoulders. The 27-year-old is coming off one of his best seasons as he became the first player in 39 years to score 30 goals in a Bundesliga campaign, and not a day goes by that he's not linked with a major money move to Real Madrid. Whether that actually happens remains to be seen. However, one thing is certain: Poland will be counting on him to get them through a group containing Germany, Ukraine, and Northern Ireland.
Robert Lewandowski, who scored 13 goals in qualifying, will be eager on having a better Euro tournament after experiencing disappointment four years ago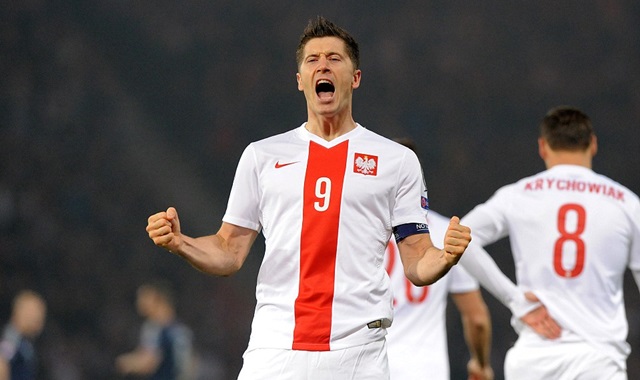 Meanwhile, debutants Wales will be also heavily relying on a star player: Gareth Bale. The ex-Tottenham man will arrive in France having picked up his second Champions League trophy in three seasons with Real Madrid. Like in 2014, he scored in the final – albeit this May in a spot-kick shootout. During qualifiers, Chris Coleman's men finished in an excellent second spot, with six wins, three draws, and just one surprise loss to Bosnia.
A look at their goal-scoring record, however, will indicate a worrying trend. For starters, Wales only scored 11 goals in qualifying. By contrast, group winners Belgium scored 24, whilst third-placed Bosnia netted 17. In fact, only Cyprus – who were the group's whipping boys – fared worse offensively, with just four goals.
And the player responsible for the overwhelming majority of the Dragons' goals? None other than Gareth Bale, who scored seven of them. More often than not, the Real Madrid star was the one to secure all three points for his team, which included an impressive win over Belgium. It goes without saying world's most expensive footballer will need to play a big role in Wales's debut Euro campaign if they want to get out of a group that includes tricky England, fellow debutants Slovakia, and Russia.
One man army: Gareth Bale single-handedly fired Wales to their first Euro tournament by netting seven out of his team's 11 goals during qualifying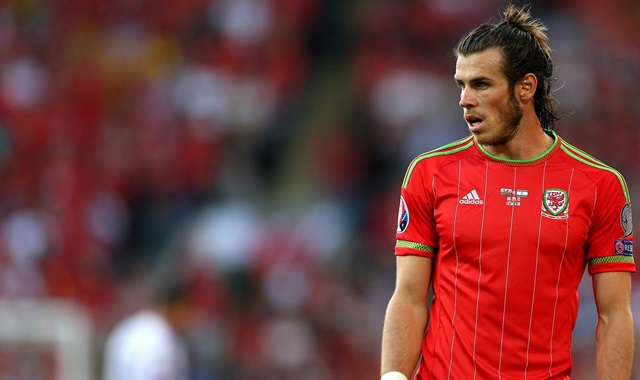 Both Poland and Wales, however, did not impress in their recent friendlies heading into this competition. Wales arrive in France having suffered a 3-0 drubbing by Sweden, whilst Poland were overpowered 2-1 by the Netherlands and were very disappointing in a scoreless draw with Lithuania.
It goes without saying that both Poland and Wales will need their respective talismen to shoulder the weight of their nations' expectations. Both Poland and Wales are in tricky groups, but do have a fighting chance at securing a spot in the knockout rounds; on paper at least, their toughest opponents look set to be Germany and England respectively.
Perhaps it may not be fair to both Poland and Wales to refer to them as a "one-man" team, but the stats don't lie: both Lewandowski and Bale will be the go-to men for their respective nations. Of course, they can't do it without the support of the "supporting cast", and it will be very interesting to see if they both are able to enter uncharted territory at the big event kicking off in less than 24 hours' time.