Euro 2016: Spain – La Furia Roja seeking a three-peat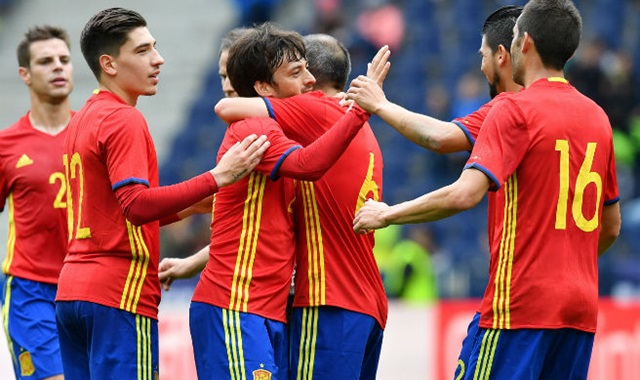 Reigning Euro champions Spain will be hoping to redeem themselves on the international stage as they chase an unprecedented third straight title at Euro 2016.
La Furia Roja come into this competition having won the last two editions. However, the memory of their embarrassingly poor World Cup performance has raised some questions as to whether Spain's time has now passed. And there will be several notable absentees from the Euro 2012-winning squad. Midfield maestro Xavi has opted to say adios to the international scene, as has veteran striker David Villa. And despite winning the Golden Boot last time, there was no room in Vicente del Bosque's squad for Fernando Torres.
In fact, there was little room for "pure" strikers in this current team – something that certainly has raised quite a few eyebrows. Sure, Spain's midfield alone will make most teams green with envy, with names like Sergio Busquets, Andres Iniesta, and Cesc Fabregas all world-class talents in their own right. However, there are some major sources for concern, starting from the man between the sticks.
Simply put, Iker Casillas is a shadow of himself, and his decline has been rather rapid and quite disconcerting. A move to Porto was supposed to revive his career, but the ex-Real Madrid man's high-profile blunders incurred the wrath of the Portuguese press and fans. Meanwhile, Manchester United's David De Gea had an excellent season with the Red Devils, leading supporters to clamor for him to be the no. 1 shot-stopper as Spain hope to successfully defend their title in France.
Although De Gea was in goal during Spain's final pre-Euro warm-up match – which they suffered a shock loss to Georgia – most certainly would feel a lot more comfortable with him minding the net versus the more experienced Casillas. However, del Bosque is expected to install his skipper as they take on Croatia, Turkey, and the Czech Republic.
Meanwhile,one won't find them sharing drinks anytime soon, but Sergio Ramos and Gerard Pique will be putting aside their differences in order to anchor Spain's defense. In front of them, of course, will be one of the strongest midfield outfits in world football, but up top is another source of concern. As noted before, Spain opted only to select two out and out strikers for this tournament: Alvaro Morata and Aritz Aduriz.
Both men are making their Euro bow, but are at very different stages in their careers. Aduriz's inclusion – at the age of 35 – stems from his impressive season with Athletic Bilbao. However, succeeding in La Liga and on the international front are two different things, and he is very inexperienced in competitions of this nature. Although he did net against Italy in a 1-1 draw, he was rather inefficient against Georgia, and considering that the Eastern European nation are no where near the levels of Turkey, Croatia, or the Czech Republic, this does not look promising.
As for Morata, he has proven to be quite solid for Juventus – although this season was a more difficult one for him – but is also inexperienced due to his young age. Furthermore, there are reports that he's struggling for fitness and the speculation surrounding his future could serve as a potential and unwanted distraction for the 23-year-old.
Of course, Spain do tend to eschew traditional no. 9's for their favored "false nine" formation. It certainly paid dividends at Euro 2012, as they cruised to a very comfortable 4-0 win over Italy in the final. However, there are doubts as to whether it will work this time around. A lot has changed since this tournament's last edition four years ago, and there are a whole slew of sides eager to knock Spain off their perch.
Indeed, there will be a whole crop of teams hoping to make sure it does not happen – hosts France, reigning World Cup champions Germany, dark horses Belgium, determined England, and numerous others.
The question is – will they be able to shake off any doubts following their World Cup disaster and make it a "three-peat" in France?