Fiorentina vs. AC Milan: It's showtime for Mihajlović and Sousa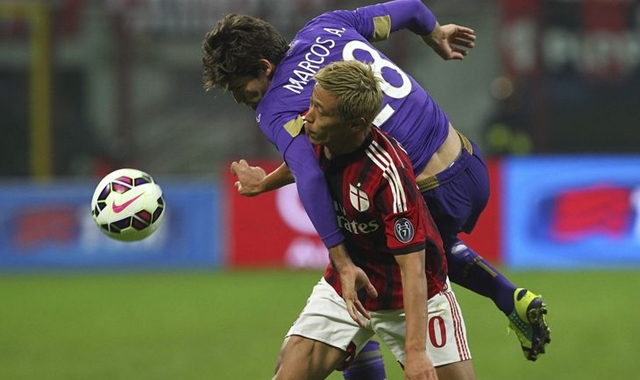 Despite failing to secure European football for the second straight season, there is nonetheless an air of optimism – albeit wary – among AC Milan fans. Just as in the previous campaign, another former Rossoneri star, Filippo Inzaghi was shown the exit, with Serbian tactician Siniša Mihajlović promptly being installed in his place. Unlike his predecessor, who was given a baptism by fire in his debut managerial season with a senior squad, Mihajlović arrives having already cut his teeth both in Serie A and internationally, with stints at Bologna, Catania, Fiorentina, the Serbian national team, and most recently Sampdoria.
Although Mihajlović has a wealth of experience, many Rossoneri supporters were initially quite skeptical about his appointment and not entirely because of his decent, but not overall spectacular winning percentage record. It's often said that one's words can come back to haunt them, and Milan's newest coach became the latest victim due to his declaration that he "would never manage Milan" during his tenure with bitter cross-town rivals Inter.  Nonetheless, he has made some headway towards redeeming himself by requesting some proven and rising players in all areas of the pitch. Last season Milan's back-line was more porous than a slice of Swiss cheese, with wins being turned into draws and draws becoming losses due to their inability to stop shipping goals. Their attack, whilst decent at times, was nothing really to be singing praises about.
As such, the Diavolo, now flush with new investments opted to splash the cash – to the tune of €80 million – to bring in players including young defender Alessio Romagnoli for €25 million, midfielder Andrea Bertolacci for €20 million and attackers Carlos Bacca and Luiz Adriano for €30 and €8 million respectively. Although the Rossoneri have been not shy – to the point of being embarrassing – in their attempts to woo Zlatan Ibrahimovic back to the San Siro, these fresh new additions will certainly be part of the new Milan's starting XI and should they jell quickly with their colleagues, fans can certainly be hopeful of at least a top-five finish come May.
Like Milan, Fiorentina, who finished in fourth place for the third straight time under Vincenzo Montella, have also undergone some drastic modifications this summer. The Viola now have a new man on the bench – Paulo Sousa – who is tasked with at least replicating – but ideally bettering – their same success to secure European football. They have, of course had some departures, but by far the most disappointing transactions for the Tuscan side were their failure to keep Neto after his contract expired and secure Mohamed Salah on an extended loan deal.
Some of their bruised ego may be assuaged with the return of Giuseppe Rossi and Federico Bernardeschi from injury and both, especially Rossi, who has unfairly had to spend quite a period on the sidelines due to knee issues, will be hungry and determined to show their worth. Should both manage to avoid any kind of injury re-lapse, they have the potential to form a strong striking duo that will certainly contribute to Fiorentina's success in their domestic and continental campaigns.
Both managers will be feeling the pressure in their debut games with their respective clubs and will be determined to naturally start off on a positive note. Historically, Fiorentina hold the advantage when it comes to matchday one games: out of the four played, the Viola have won two and drawn the other. They also will be seeking to mark their 2015/2016 campaign with a win to turn their three-match winning streak at the Stadio Artemio Franchi into four on the trot.