France vs Iceland: The hosts face off against the debutants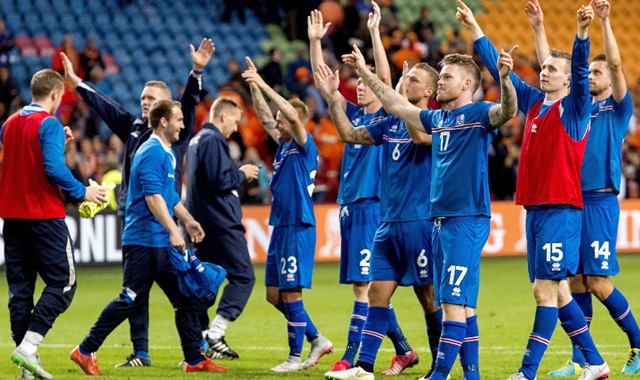 Euro 2016 hosts France will be on their guard as they take on plucky debutants Iceland at the Stade de France on Sunday evening.
Curiously enough, both France and Iceland come into this fixture off the back of a 2-1 win in their round of 16 ties. Even more fascinating, however, is who Les Bleus and Iceland, nicknamed Strákarnir okkar (Our Boys) played against.
England and Ireland. If one were not following the tournament, probably one would say France faced England and Iceland took on Ireland. Well, think again. It's actually the opposite. Yes, Iceland beat England, which is the latest shocker in what has been a fantastic competition for the new-boys. France, meanwhile, defeated Ireland, but it was far from a convincing performance.
In fact, Iceland have more than fared well. They have truly impressed and continue to punch well above their weight. With about 325,000 people in the entire nation, they are the smallest country ever to participate in an international tournament. They were painfully close to doing this at the World Cup, but were beaten by Croatia in the play-offs. Well, now, Croatia are out at the round of 16, and it's Iceland who have a shot at the semi-finals. It's truly interesting, indeed, what can happen in just two years' time.
So far, the minnows have yet to lose a match. They finished second in their group – whilst beating Austria and drawing Portugal. The English press, of course, were overly confident and smug – and it came back to haunt them as their superstar team suffered a humiliating 2-1 loss. Certainly, it will go down as the worst defeat for the Three Lions most fans have ever seen. No, it was not like the 7-0 awful beating Mexico suffered at the Copa America, but for England fans, it may as well be.
Six different players have scored all six goals, and they are one of just two sides to have scored in every single game. Wales, of course, is the other. Clean sheets, however, are something that are hard to come by, but they have managed to concede just one goal per game, thanks to a strong defensive outfit and their no. 1 man between the posts, Hannes Halldorsson.
Meanwhile, France had to come from behind to beat the Green Army, courtesy of a brace from Antoine Griezmann. Although Les Bleus have yet to lose, they have been far from impressive. They were not convincing against debutants Albania. Nor were they in top form against lowly Romania. And they then were unable to find a way past a rather disappointing and subdued Switzerland on matchday three.
The overwhelming concern for Didier Deschamps's side is how they will fare once they face some real opposition. And they will definitely get it in the semi-finals, with Germany awaiting them next. Unfortunately, for this game, key midfielder N'Golo Kante is out due to a ban, meaning that there will be a re-shuffle in the middle of the park. However, this gives Deschamps an opportunity to test out a new formation or personnel ahead of the match with Germany, and more important, Kante will be back in action for that game.
So, do Les Bleus have to fear the Vikings? Iceland did defeat another bigger European side – even though England are no where on the same level as Germany, Italy, Spain, and likely, France. Still, they will likely not make the same mistake as the Three Lions did and arrogantly dismiss their opponents, and there are several things to note ahead of this match.
For starters, both France and Iceland have six goals. However, France have taken over 40 more shots than Iceland to reach this total. Furthermore, the minnows have fired in just 27 crosses. Not surprisingly, this is the fewest of any side, but have picked up one assist. They are also the only side to have grabbed two assists via throw-ins. Just as Leicester City has Christian Fuchs, Iceland have Kari Arnason. France, obviously will need to keep an eye on him.
To date, Iceland have yet to beat France, with eight losses and three draws. But then again, they had never beaten England or Austria before this tournament. Both teams are out because of Iceland. They had also never beaten Portugal, and managed to draw them in their opening game.
It won't be easy, but if France has learned anything from England, it is underestimate Iceland at one's own peril. Expect the debutants to bring the game to the hosts, and even if they do lose, they will not go down without a good fight.