France vs Ireland: Les Bleus wary of vengeful Green Army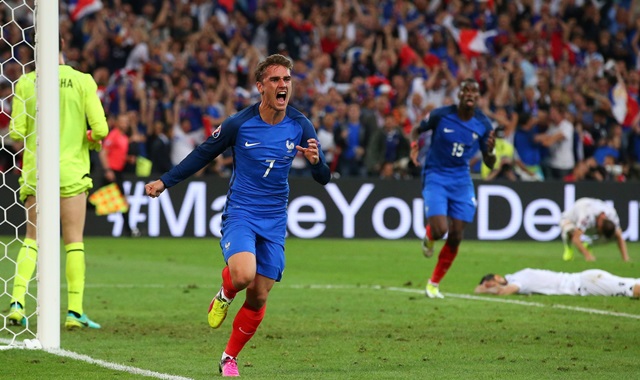 France will be hoping to inch closer towards the Euro 2016 final as they take on Ireland at the Stade de Lyon on Sunday afternoon.
For the third time, France are hosting the quadrennial tournament. And they have a chance to make it a second win on home soil. Furthermore, should Les Bleus win, they will join Spain and Germany on three titles. Didier Deschamps's men come into this round of 16 fixture with an unbeaten group stage campaign under their belts. However, France were far from impressive, and will need to improve as tougher opponents await on the horizon.
Arguably, France's best player so far has not been Antoine Griezmann or Paul Pogba. Rather, it has been Dimitri Payet. The West Ham man has been simply excellent in his debut Euro tournament, and literally has been carrying the team. With two goals and one assist, Payet has been involved in 75 per cent of France's goals.
And his goals have been the difference for his national side. It was his goal and assist – for Griezmann – that helped France finally break down Albania. Whilst he could not do the same in the 0-0 draw with Switzerland, he nonetheless has done enough to earn himself a consistent spot in Deschamps's starting XI, and fans will be hoping for him to be the difference yet again against Ireland this Sunday.
So far, so good for France. They will have everyone ready and available, and both Griezmann and Pogba – who were shockingly dropped for the first half against Albania – are expected to feature from the start. On paper, this appears like it's a straightforward win for the hosts. However, Ireland will have an extra impetus to try to get one over on their opponents. And as we all know, that is always an added incentive for any side.
Thanks to the new 24 team format, a slew of sides now have the chance to test their mettle in the knockout rounds. Ireland is one of them. The Green Army were never given a chance after being placed in a quartet with Italy, Belgium, and Sweden. Things did not start off well for Martin O'Neill's side as they had to settle for a 1-1 draw with Sweden. Then came a 3-0 heavy loss to Belgium, leaving them with just one point from two games.
So, by the time matchday three rolled around, Ireland's mission was simple: win or go home. Of course, this same mission was complicated by the fact they had to play Italy – a team well known for their defensive prowess. Furthermore, Antonio Conte's men had won their first two games, whilst scoring four and conceding zlich.
"Mission impossible" for Ireland? It certainly seemed like it. They had only beaten the Azzurri once – and that was back in June 1994. For large spells of the game, it appeared like it was game over for Ireland, as Conte's second-string side were more than happy just to frustrate them and earn a point.
Well, it's never truly over until the referee's whistle, and Norwich City's Robbie Brady wrote his name into the history books. The 24-year-old's late, late header was enough to win the match, and more important, send them into the knockout rounds for the first time ever. Like his tactical counterpart, O'Neill has pretty much a full-strength squad, with only Jonathan Walters – who has not featured since matchday one due to injury – being the only potential absentee.
Ireland will now have a chance to take this historical run further against France – a team that have caused them misery in the not-too-distant past.
The last time France and Ireland locked horns was in 2009. The stage was World Cup 2010 qualification, and Les Bleus' 2-1 aggregate win was marred by controversy. We all remember that Thierry Henry handball that set up William Gallas for the extra-time winner, and Irish fans certainly haven't forgotten, either.
Will the Green Army be able to exact revenge, though? Let's take a look at how they stack up. France, for starters, are virtually unstoppable at home. They've won 13 out of their last 15 fixtures, whilst drawing the other two. Second, Ireland will have to be wary of that late goal – as three of France's four have come after the 89th minute. But if anyone is expecting a blowout, be warned – there were just four goals in their last five matches.
Ireland have not beaten France since October 1981, when they edged them 3-2 in a World Cup qualifier. Since then, it's been three wins and two draws for Les Bleus. Based on these stats, it appears like advantage France, but if Ireland's last game was any indication, the hosts will want to be wary of a vengeful Green Army.