Freiburg vs Bayern Munich: Die Roten gets Bundesliga back underway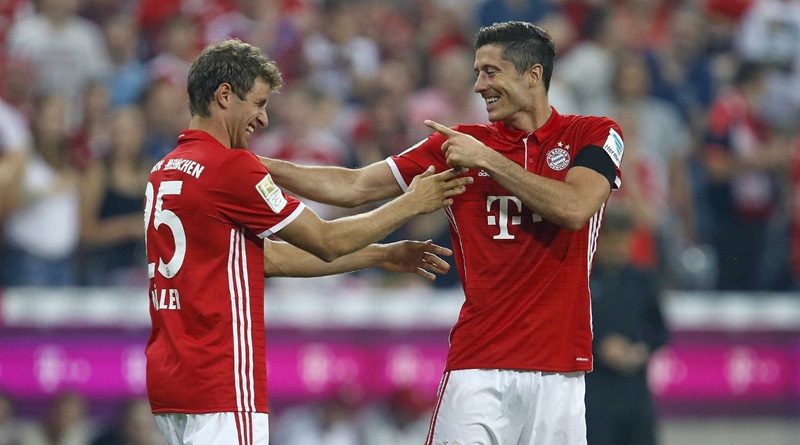 On Friday evening, Freiburg welcomed Bayern Munich to Schwarzwald-Stadion for the first Bundesliga game of 2017.
The hosts came into this game on a four match unbeaten streak. That included finishing 2016 with a 2-1 win over Ingolstadt to end the year in eighth place. Christian Streich's men also had a solid first half of the term on home turf, with five wins out of seven, and overall, having won seven games, had already equaled the total earned in the 2014/2015 season – when they were relegated. However, Freiburg had won just one out of their past 24 meetings with Bayern – albeit that was on matchday 33 in the 2014/2015 season, so that definitely gave their fans a spot of hope.
Meanwhile, die Roten had won their past five games, including thrashing this season's surprise leaders RB Leipzig to re-claim top spot on matchday 16. Carlo Ancelotti's side needed just one point to be one point to become this season's Herbstmeisterschaft (Winter champions) for the 22nd time in 52 top-flight appearances. And one can expect they were looking to achieve just that on Friday evening.
Was ist passiert?? (What happened)
Bayern were given a rude welcoming to 2017 as Freiburg took an early lead through Janik Haberer. Clearly, the effects from the Christmas break had not worn off as the visitors appeared to be rather sluggish, and in the past, die Roten have not always been at their very best at this juncture. In fact, two years ago, they suffered a 4-1 drubbing by Wolfsburg, which saw them ship as many goals in that one game as they had for the entire first half of the 2014/2015 season.
Unfortunately for Freiburg, this was not to be a repeat of January 2015. Their joy, in fact, was rather short-lived, as Robert Lewandowski pulled his side level with a well-taken acrobatic effort late in the first half. And the ex-Dortmund man came through yet again shortly before the end of game, linking up with Franck Ribery to fire home.
That makes it six on the trot for Ancelotti's squad and effectively crowns them Winter champions. More important than this merely ceremonial title, they ensured they stay ahead of Leipzig as the second half of the season gets underway.
Man of the Match
None other than Robert Lewandowski. The Polish international's brace was enough to secure all three points for die Roten and now puts him second in terms of all-time top foreign goal-scorers in the Bundesliga. However, with 135 goals, he has quite a ways to go to catch the legendary Claudio Pizarro, who has racked up 190…and counting.
Should have stayed home…biggest flop
Anyone can't help but feel sorry for Thomas Muller. It looks like it's going to be a long, difficult season for him and he surely will have been wishing he could have stayed home on Friday evening. The World Cup and Champions League winner appeared out of sorts and despite trying his utmost best to play as a sort of no. 10, he looked like a square peg in a round hole. Marginalized throughout, fans will obviously hope that 2017 will bring him better fortunes as his goal drought and struggles have now reached an alarming level.
Streich vs. Ancelotti: How they squared off

Streich opted to go with a 4-4-2, whilst Ancelotti went with a 4-5-1, featuring Muller in midfield and Lewandowski as the lone striker up front. However, fans will naturally hope to see the Italian tactician manage to get the best out of Muller and not rely too much on the Pole for goals, especially if Bayern want to be a real contender on the European stage this season.
What does this mean for Freiburg…

Whilst it was unfortunate to see their small unbeaten streak end, there's no need for Freiburg to panic just yet.  All they will have to do is just forget about this result and move on. There are plenty more games in store and if they play the way they did in the first half of the season, they surely should be able to manage to finish in the top half of the table, and as things stand now, are comfortably safe in the top flight for yet another term.
…and Bayern?

Winning your first game after a long break is a good thing. Winning on the road is even better. And coming from behind to do it is simply excellent. Bayern were far from their very best, but still managed to get a result. That's exactly what any champion needs to do, and if they can win by playing ugly, it is hard to find anyone that will be able to knock die Roten off their title perch. Sure, Leipzig may try – after all, they won their 2017 opener, too – but Bayern are simply in a class of their own.