Germany vs Slovakia: Will David manage to trouble Goliath??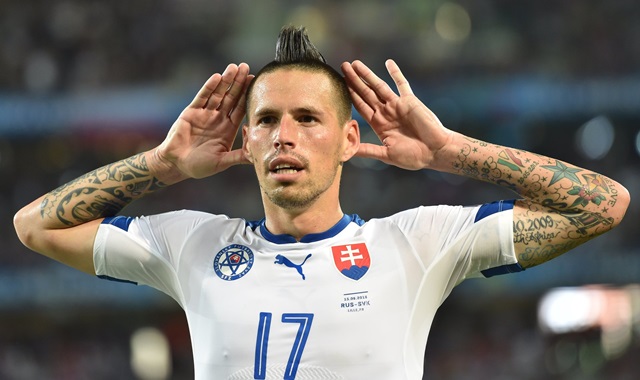 World champions Germany and debutants Slovakia will square off for the first time in a competitive fixture at the Stade Pierre Mauroy on Sunday evening.

Germany come into this match having topped their quartet. However, die Mannschaft did not cruise through as easily as expected. They beat Ukraine, 2-0, but looked far from confident. In fact, were it not for Jerome Boateng's goal-line clearance, Joachim Löw's men will have been in a tricky position. The Ukrainians surely would have parked the bus and tried to hold out for a draw – but fortunately, that did not happen.
Whilst keeping Robert Lewandowski quiet is always a good thing, Germany's normally potent attack was quite dull in the scoreless draw with Poland. Northern Ireland tried to hunker down and defend, which, despite losing, limited Germany to just one goal. The only reason they topped the group was due to a better goal difference, and German fans will be expecting a much-improved performance this Sunday.
In their past two games, Germany made a whopping 44 attempts on goal. They converted just once. Now, in all fairness, playing Northern Ireland is bound to frustrate any side. However, they will be facing another team that will park the bus. Slovakia used a 4-5-1 approach against England, and they definitely will do it again on Sunday.
Meanwhile, Slovakia have been solid in their debut Euro tournament. The Repre rebounded well after a 2-1 loss to Wales to beat Russia, and wrapped things up with a draw against England. Ján Kozák's side, of course, are definite beneficiaries of this new 24-team format. As the best placed third-placed team, Slovakia's run at Euro 2016 still rolls on – and they will trying to spring another upset against Germany.
Both coaches have a slew of players sitting on yellow cards – although Slovakia are far worse off. Vladimir Weiss, Jan Durica, Martin Škrtel, Viktor Pečovský, Juraj Kucka, Patrik Hrošovský, and Robert Mak all need to be very careful to avoid a possible ban. For Germany, Sami Khedira, Mesut Ozil, and Boateng – if he's fit enough to play – are all walking the suspension tightrope.
It goes without saying that this is one of the more lopsided ties of the round of 16. Germany are the overwhelming favorites, but can Slovakia cause any problems? Die Mannschaft have won seven out of their last ten meetings, whilst losing three. But one of those losses was as recent as this past May, when the Slovaks picked up a 3-1 win in a friendly. Still, it likely is nothing but a false dawn – Löw fielded a young, experimental, and second-choice line-up. There will be none of that this time around as Germany intend to move on and await either Italy or Spain in the quarter-finals.
Slovakia have done well, but it looks like their journey ends on Sunday at the Stade Pierre Mauroy. Nonetheless, in the Biblical tale, David slayed Goliath. Will we see the same happen in football when the minnows take on the big fish in less than 24 hours' time?