High School Soccer: Watching the next generation of soccer players development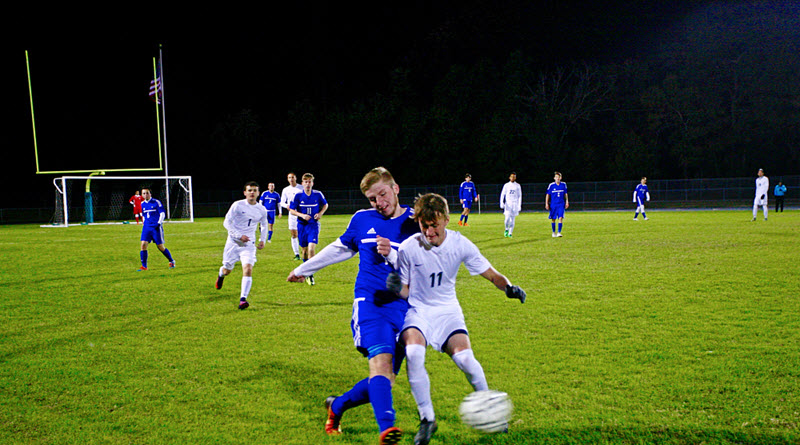 Not only the level but style of play at the pro level of most team ball sports is markedly different from that of lower levels, though you see at those levels—at high school, elite travel teams, even college in comparison to pro—the glimmers of possibility you find before athletes reach the pros can be inspiring, even mesmerizing.
This holds especially true with soccer. Having coached the sport and also covered it as a journalist, the fascinating thing to me about watching high school games is often seeing flashes of genius in play-making and incredible speed, effort, and talent on the part of individual athletes while on the other hand, seeing a lack of the cohesion that is necessary to reliably win games. It is not uncommon for me to see, in example, stunningly valiant efforts by players fail to materialize as goals because the savvy athlete's pass to a team-mate results in the team-mate attempting on goal too hastily without the coordination needed to get the ball in the goal. It isn't even always a case of an alert keeper on the opposing team stopping the goal, but often over-shooting high over the crossbar or too wide past the post. Of course, with young athletes between the ages of fourteen and eighteen, we expect these errors. It's part of the learning process and talent accounts for far less than effort in most cases.
Most of these kids have been playing soccer since the early youth levels however their time on their high school team may be scant, especially nowadays as club and travel team elite soccer is increasingly augmenting the soccer-playing experience for this age range. Many of these same young athletes are playing with a travel team outside of school and may have been in that program since middle school or even younger. Some of their team-mates may also be in the same program or even the same team, but forming a cohesive team at the school level is a challenge for coaches and players alike and overlaps what is being done elsewhere with the club/travel-team experience. As individual players are building their skills, so are their teams.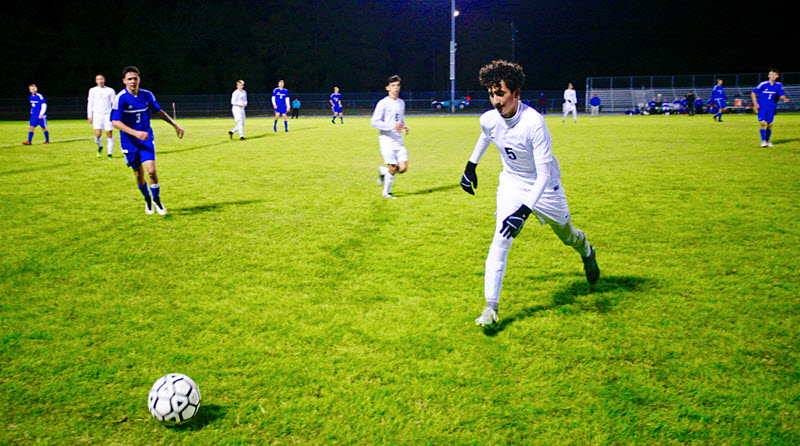 When you watch a high school soccer match, you're watching of course both the teams and the individual players. Most spectators, aside from parents and college recruiters, probably are more focused on the team as a cohesive whole but there is often a lot happening at the level of the individual player that can either run as a separate narrative to the trajectory of the team or a supporting leitmotif. It is both gratifying and frustrating to watch a hard-working and often very skilled player try his best while general failures of his team as a whole prevents his best efforts from translating to a goal scored or opposing goal prevented. In contrast, seeing a brilliant player supported by a cohesive team effort can prove right before your eyes everything the beautiful game is supposed to be—all the teamwork and rapid decision-making coming together.
Back this winter in the height of Florida's high school 2016-2017 soccer season I travelled to Lecanto, Florida to see one of the state's best and most talked-about high school players in action. Austin D'Anna, number seven on the Lecanto Panthers is a senior and has carried his varsity team forward with deft skill and determination as the team captain and a very vigorous striker. [Figure: AustinD'Anna] Across the world stage of soccer, it seems currently that attacking midfielders are the real playmakers and also the position so many brilliant young players have found their success at—Ante Ćorić, Alen Halilović, Martin Samuelsen, Martin Ødegaard all are attacking midfielders, all aged twenty (Halilović) or younger, and all at the onset of what look to become amazing pro careers. I also see young American club and high school players gravitating towards the midfield and see coaches aping the successful formulas for such play that clubs like Real Madrid have instituted. To learn a striker—a traditional striker, with textbook stunning goals, with the aggressive type of play we see still in Mexico or Italy to get the ball right up to the net—is making headlines in a rural Florida county deserved further inspection.
[ Click page numbers below to continue reading ]