High School Soccer: Watching the next generation of soccer players development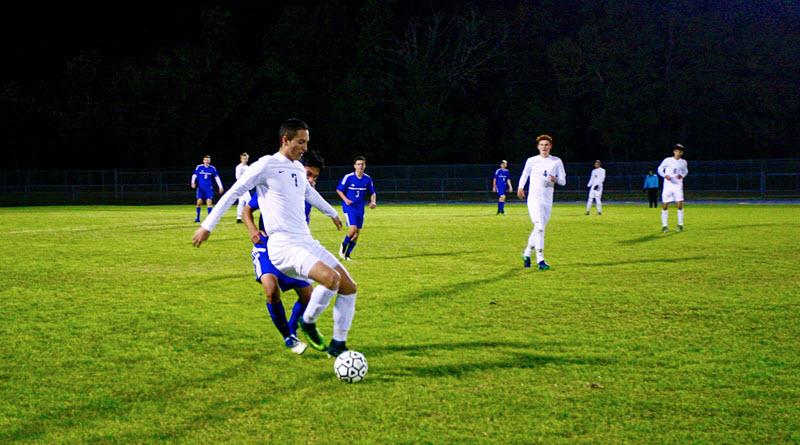 Physicality, speed, and skill in shooting could account for the ability to make goals when given the opportunity but just as YouTube is cluttered with plenty of kids who have immense skills in shooting—Unisport's corporate ambassador Joltter comes to mind—yet are not playing at the pro level, it takes far more on the field to win games or even to score goals than just a forward who is handy with the ball. As awesome as they are to watch, many of the cool tricks we see on YouTube of sinking the ball into the furtherest corners of the net or even spinning it into a trashcan or the like are just that: tricks. They attest to skill certainly but are set pieces often impossible to replicate in the frenzy of actual play, so any striker who is routinely scoring goal after goal is something else. He is an adept leader with a team behind him able to offer the necessary assists at the right time while defending its own goal in a cohesive way so its offense does not set up its defense for effective surprise attacks from the opposing team. I wanted to see if D'Anna was that guy.
Arriving at Lecanto's game against rival school Crystal River I immediately noticed several things: for one, Lecanto has heavily invested in its athletic facilities and while not a huge nor wealthy school it was clear athletics were a source of great pride for them. The spectator turn-out was fine but mostly parents, friends, and team-mates from the junior varsity team whose game had just concluded. The weather was for Florida downright chilly, probably in the high forties which is around the temperature where Floridians just don't know what to do, but they were hanging on. Hot chocolate was selling fast at the concessions stand, people were friendly. I spoke with a couple parents about the team and especially D'Anna to see what I could learn. For one thing, D'Anna was seriously committed to his sport, having spent summers in Spain and Italy at soccer camps to fine-tune his skills—an obvious outlay of money and time and dedication. What people emphasized over and over though was what a nice doggone nice kid he was though, that he never cursed and his Christian faith was his primary focus and guiding strength. He hoped to play in college or perhaps even professionally but was leaving options open. I wanted to set up an interview with D'Anna and his coach but decided against it because I knew whatever article I wrote I wanted to concern high school soccer as a game and not just one player—it wasn't to be a profile article or the like—yet D'Anna was the type of player who is illustrative of why more people should watch high school soccer, and however talented and hard-working he is, at some level his coach and team facilitated the environment he needed to succeed.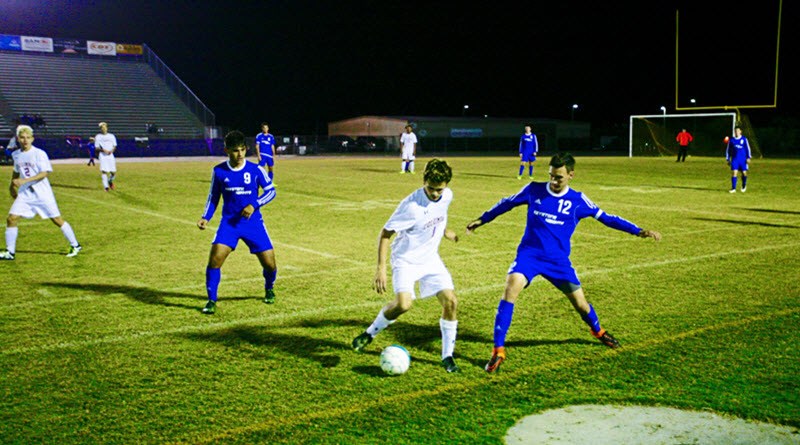 Watching the two varsity teams take to the field I immediately noticed several things. For one, Crystal River seemed skilled, alert, and overall evenly-matched to Lecanto but something wasn't quite coming together for them and it was speed. They were not getting to the ball in time, simple as that. And when they did get the ball, D'Anna or his team-mate Blake Briscoe [Figure: Blake Briscoe] were very adept at getting the ball back away from them. Briscoe was especially fast, moving into position with stunning speed and agility and deftly tackling. Briscoe didn't just play as a strong attacking midfielder but with the type of sensibility we hope for in a developing forward. Briscoe apparently is only a sophomore so he has time to develop in whatever way he desires, but he has classic contemporary attacking midfielder written all over him.
Again, even such solid athletes need a whole team working behind them for their efforts to come through, I cannot stress this enough. In contrast to the Lecanto vs Crystal River match which Lecanto won eight to nil, I saw Columbia High School (Lake City, Florida) play Keystone Heights and Columbia dominate that game despite Keystone having Jason Arzie, [Figure: Jason Arzie] a versatile and driven athlete who was competing at the same caliber of individual skill as D'Anna. The difference was the team's cohesion simply could not back his valiant efforts. Like Crystal River, they were not fast enough for one thing and in contrast, Columbia is very, very fast. They're also aggressive—in a good way. Columbia's captaincy was not at the same level of graciousness or constant attention D'Anna provides—he was always communicating with his team-mates as was their goalkeeper—however it was enough and a small cadre of players, the forwards and midfield of Columbia, instituted press after press to ensure they controlled the game. I use the term "cadre" here for a reason: Columbia's forwards/midfield act in cohesion and while they work together with the defense, the defense is primed to stay back—as defenders very often ought. Crystal River's defense would rush forward too often, and I saw this on the part of Lake Weir when they played West Port as well—the two Marion County, Florida schools ended with a tie due in good part to the inability of Lake Weir to piece together a consummate defense.
[ Click page numbers below to to continue reading ]