Inter vs. Atalanta: A chance at redemption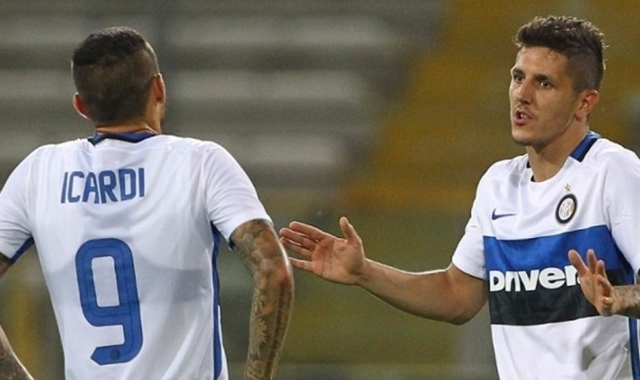 Believe it or not, it was only five years ago that Inter fans were celebrating their team's win over Bayern Munich in the 2010 Champions League final. And there was plenty to celebrate for as under the guidance of Jose Mourinho, the Nerazzurri became the first Italian side to clinch the much-sought after Treble. However, since reaching those heights, it has been a rough tumble back down to Earth for the blue-and-black side of Milan. In subsequent seasons, Inter not only failed to win another Scudetto, but also fell from grace in Europe. The 2010/2011 season saw them get to the Champions League quarter-finals, the next, the round of 16. The Europa League brought them no luck as they made it to the round of 16 in 2012/2013 and again in the 2014/2015 term. And the decline yet continues, as Roberto Mancini's men will not even play in Europe after finishing in eighth place last season.
Still, one small bit of consolation for Nerazzurri supporters is that their club still earned a higher spot than cross-town rivals AC Milan, who had to settle for a dismal tenth place. And like the Rossoneri, Inter will be keen on making the 2014/2015 season a distant memory as they try to push for a European – preferably the Champions League, of course – berth. As we all know, the domestic campaign is a marathon, not a sprint, and the first part of their journey will commence by taking on Atalanta in a "Nerazzurri Derby" this Sunday at the Giuseppe Meazza.
Like many of the other big teams, Inter have also undergone some changes, notably beating out Milan to the signature of young French midfielder Geoffrey Kondogbia for €28 million from Monaco. Other additions include South American defenders Miranda from Atletico (€3 million) and Jeison Murillo from Granada (€8 million). The disappointing return produced by then-Arsenal striker Lukas Podolski has not deterred them from again dipping into the Premier League to bolster their attack. However, unlike the German international, Manchester City's Stevan Jovetic will be a familiar face to Serie A followers due to his term with Fiorentina, and thus will be quite accustomed to the style of play in Italy.
Naturally, with new arrivals come some departures, with the club opting not to renew the contracts of defenders like Brazilian duo Jonathan and Felipe, as well as Argentina's Hugo Campagnaro. Former Bayern attacker Xherdan Shaqiri also was shown the door – despite reports of the Swiss international rejecting numerous transfers – with Stoke City forking over €17 million for his services. And finally, Croatian playmaker Mateo Kovacic has become the newest young rising star to join Real Madrid in a €35 million deal that seemingly came out of nowhere. But really, given Real's propensity of splashing cash left and right to add to their already overflowing-with-talent squad – regardless of it's really necessary or where the new guy will fit in – one should not entirely be surprised.
Fans will hope that pre-season will not be harbinger of things to come for Mancini's side this season, who lost six straight matches on the trot – all without scoring a single goal – until finally putting an end to their poor form by recording a win and draw in their most recent meetings with Athletic Bilbao and Greek outfit AEK Athens. Given that Atalanta barely escaped relegation by just three points, nothing short of a win against new coach Edy Reja's squad will suffice, especially considering that Inter have three wins and one draw from their four matchday one meetings with La Dea.
Still, like a bad piece of furniture or that embarrassing relative, Atalanta still continues to hang on to their place in Italian football's top flight. A big reason for their survival last season was their tendency to be perfectly happy to sit back, defend in numbers and play for a draw. One point here, one point there equals the difference between salvation and relegation, but for a team hoping to at least secure European football, it can be quite costly. Inter followers will be pleased, though, with this stat: Atalanta have won only one of their opening games on the road, a 6-2 thrashing of Bologna…back in 1949. Since then, they have lost a whopping 17 times and managed a draw in only six occasions.
All in all, after their disappointing showing last season, the onus is on Inter to get things right, and they will make a small step towards that objective by keeping up their unbeaten home record versus Atalanta later today.
"We're getting better," new signing Jovetic remarked following his new team's win over Athletic Bilbao, in which he and strike partner Mauro Icardi grabbed themselves a goal each.
As the saying goes, actions speak louder than words. After their disappointing season, the onus is on Inter to get things right. And they will make a small step towards achieving that by making sure their unbeaten home record versus Atalanta remains intact later today.