Juventus vs Inter: Derby d'Italia, part one…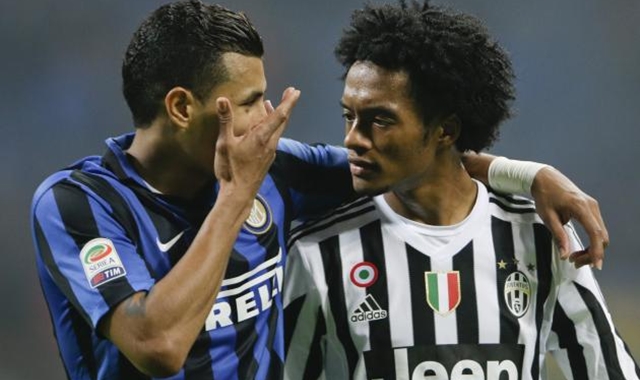 Juventus will take on Inter for the first of their two "Derby d'Italia" meetings this week this Sunday at Juventus Stadium.
The Bianconeri and the Nerazzurri will meet yet again in just a few days' time in the semi-finals of the Coppa Italia on March 2nd, in which the former hold a commanding 3-0 advantage. However, until then, first up on the menu will be an eagerly anticipated Serie A clash between two sides with a long and complicated history, especially dating back to the Calciopoli scandal that rocked Italian football in 2006.
Massimiliano Allegri's men will be coming into this match full of confidence after pulling off an impressive comeback against Bayern Munich during their round of 16 Champions League clash mid-week. Die Roten were well on their way to yet another win over Juventus in European action after racing into a 2-0 lead, and for Bianconeri fans it appeared to be yet another repeat of the 2012/2013 quarter-finals, which saw the Bavarian giants beat them both home and away en route to winning the trophy that May.
READ ALSO: Empoli vs Roma: The Giallorossi aim to make it a perfect six
However, it's really not over until La Vecchia Signora says so, and Juventus indeed have shown this season that they are a side not to be taken lightly. A late fight-back sparked by former Bayern striker Mario Mandzukic, who seemed especially keen on proving a point against his ex-coach Pep Guardiola set up Paulo Dybala for the young Argentinian international's debut Champions League goal, and the tall Croatian was again involved in the build-up for Stefano Sturaro's first European goal in the last 15 minutes of the second half. As such, there will be plenty to play for when the two sides clash again at the Allianz Arena next month, and before, when it seemed that Juve's Champions League campaign had ended before it even began, now Bianconeri fans can begin to hope again after their team made an impressive run to the finals last term.
But until then, next up on the agenda is Inter, a team with who Juventus drew 0-0 in their first meeting this season at the Giuseppe Meazza. Although the Bianconeri were unfortunate to see their 15 game winning streak snapped by drawing 0-0 with Bologna, they were not left to rue their chances as Napoli were unable to see off AC Milan and had to settle for a point with the Rossoneri. And given the form that the hosts have been as of late, one should certainly not count against them getting back to winning ways in this fixture.
They will be able to welcome back Giorgio Chiellini, who missed out for the matches against Napoli and Bayern, who will bring some needed stability to their impressive defense which has conceded just 15 goals this season, and are anchored by Gianluigi Buffon, whose eight clean sheets in 2016 are the most out of any shot-stopper playing in Europe's "Big 5" leagues. Alex Sandro is another player who will likely feature after making his return from injury, but the team will be missing key midfielder Claudio Marchisio for this match and their Coppa Italia tie in a few days' time after the Italian international was subbed off during the 2-2 draw against Bayern Munich,
RELATED: AC Milan vs Torino: The Diavolo seek further improvement
Meanwhile, Roberto Mancini's side are still struggling to find their footing in 2016. Although they will be arriving in Turin having defeated Sampdoria in their last Serie A fixture, Inter presently sit in a disappointing fifth place and are facing a tough battle to edge out both Roma and Fiorentina for third place and Italy's last Champions League berth. It is indeed quite discouraging for a side that, without any distractions of European football, were hoping to make a serious push for the Scudetto but have been in free-fall since the start of 2016 with no end in sight.
To date, the Nerazzurri have won just four of their games played so far since the beginning of this year and their once-feared back-line has been breached time and time again. Inter now have the third-strongest defense in the league after being taken over by both Juventus and Napoli, and following their Coppa Italia loss last month, Mancini's squad were only able to pick up a poor seven points from their subsequent five league games. In fact, out of their past quintet of matches, Inter have only been able to keep a clean sheet once – during a draw 1-0 win over Chievo – and shockingly conceded three against Hellas Verona – a team that has won only two matches – and to date, are the only side in Serie A to ship three against the struggling Gialloblu.
Mancini will be desperate for his side to start off this week by beating Juventus in Turin for the first time since November 2012, especially given that the second leg of their Coppa Italia semi-finals tie is coming up soon. However, the Bianconeri are not the same team that were floundering in the early part of this campaign, nor are the Nerazzurri the same team that were flourishing at that same juncture this term. Will Juventus rebound after a frustrating 0-0 draw last Friday with a resounding win later today? Or will Inter leave Turin with a win in hand for the first time in over three years?
MORE: You can watch Juventus vs Inter Milan live with FuboTV 24-hour game pass FREE.