Juventus vs Napoli: The Scudetto showdown is finally here!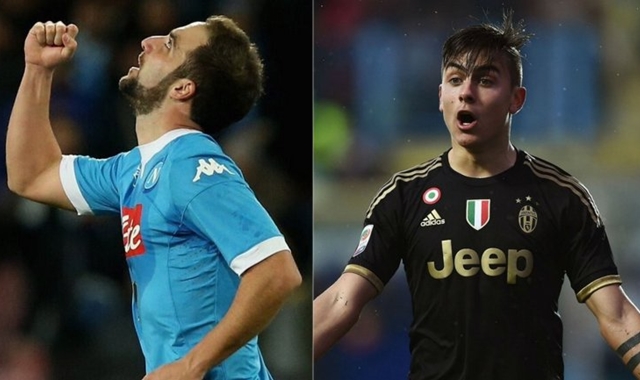 It's going to be a Super-Saturday for Serie A fans as they will be watching Juventus take on Napoli in a titanic clash at Juventus Stadium in Turin.
The last time the Bianconeri lost a match was a 1-0 reversal to Sassuolo on October 28th, and including their recent 2-0 victory over Frosinone, they have now won 14 consecutive matches. In doing so, they have now matched and surpassed the club record of 12 set under Antonio Conte's reign during the 2013/2014 season and are looking a far cry from the same side that were struggling just to break into the top ten earlier this campaign.
They did not find it easy against Frosinone, who are desperate to make their first ever season in Serie A a second one next term. But, with one eye on the big game against Napoli this weekend, Juventus knew that they needed all three points to keep within touching distance of the Partenopei. And thanks to goals from Paulo Dybala and Juan Cuadrado, they finally broke the brave resistance put up by the Canarini to keep up the pressure on their upcoming opponents, setting the perfect stage for this epic clash coming up in less than 48 hours' time.
At the start of this season, PaulPogba initially struggled under the pressure of wearing the famed no. 10 shirt, but now has finally settled in. The French international, who is expected to play an instrumental role with his national side at this summer's EURO tournament, has re-found his confidence and has contributed five goals and five assists thus far.
Meanwhile, Dybala has been rapidly proving that he was worth every euro since his arrival from Palermo last summer. With 13 goals and eight assists, he is only second to his countryman Gonzalo Higuain in the race for the Capocannoniere this season. Add both Pogba and Dybala's efforts and one will find that the young duo have directly involved in 31 out of the team's 45 goals this season.
Still, if we're going talk about their attack, we surely cannot afford to ignore their defense. Anchored by goalkeeper Gianluigi Buffon and organized by his Azzurri colleagues Leonardo Bonucci, Giorgio Chiellini, and Andrea Barzagli, Juventus have just conceded 15 so far and none in their past five league matches.
Unfortunately for the hosts, one member of their star defensive trio – Chiellini – has sustained an injury at the worst possible time; the experienced defender will not be available for this match, nor for their tough upcoming game against Bayern Munich in the Champions League next week.
Additional absentees for Allegri will also include Mario Mandzukic, Martin Caceres, and Kwadwo Asamoah, and Sami Khedira is still a doubt for this game.
Meanwhile, like La Vecchia Signora, Napoli will also be coming into this match having won their last match. Like the Bianconeri, the Partenopei had to deal with another Serie A debutant in Carpi. Like Juventus, Maurizio Sarri's men faced a side desperate for survival and as such "parked the bus" in their quest to salvage a draw. And finally, like their upcoming opponents, the Scudetto aspirants were eventually able to overpower the Biancorossi thanks to one of their star players, Gonzalo Higuain.
Higuain has scored 24 goals, whilst providing two assists. But, like Dybala, he has not been alone in leading Napoli's effort for their first Scudettto in 26 years. Local lad Lorenzo Insigne has been enjoying his best ever season to date, with an impressive ten goals and ten assists and if one's into stats and mathematics, Higuain and Insigne have accumulated 34 goals and 12 assists between them. Napoli, meanwhile, have scored a total of 53, the most of any of the teams in the league, and 46 have been due to the involvement of either Higuain or Insigne. Meanwhile, Kalidou Koulibaly and Pepe Reina have been highly instrumental in the team's much-improved defense this season, which has kept 11 clean sheets and conceded just 19 goals.
Saturday's attack will pit the strongest attack against the meanest defense in a mouth-watering clash between Scudetto contenders Juventus and Napoli. Who will emerge on top? Make sure you do not miss out on this one.
MORE: You can watch Juventus vs Napoli live with FuboTV 24-hour game pass FREE