Köln vs Bayern Munich: Hosts hope to pull off unlikely upset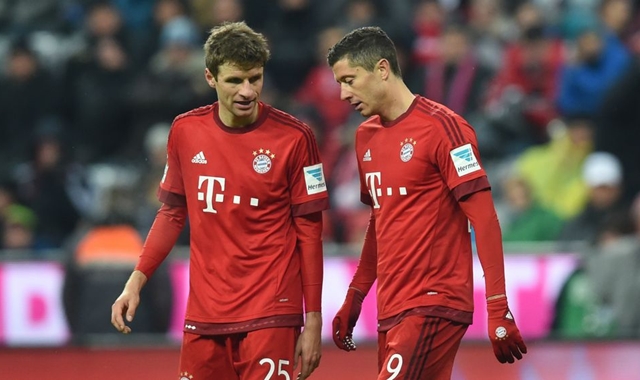 Köln will be hoping to pull off what would be a shock upset as they prepare to welcome Bundesliga leaders Bayern Munich to the RheinEnergieStadion on Saturday.
Die Geißböcke (the Billy Goats) finally managed to arrest a downward slide by picking up a hard-fought win over Hannover this past weekend; prior to that, Peter Stoger's side had earned just one point from their past four games. Although supporters may have felt a bit encouraged by the team finally earning a win, the visit of Bayern Munich could not possibly come at a worse time. Last round's victory against Hannover was only Köln's second since the start of 2016, and more disconcerting is their recent form versus the Bavarian powerhouse.
February 5, 2011 was the last time Köln managed to beat Bayern Munich – a 3-2 result on home turf. Since then, the hosts have lost each and every single one of their past five meetings against die Roten, and with their overall poor form since the start of this year, it looks highly unlikely that they will be able to avoid a sixth defeat this Saturday. still, they will be hoping that their visitors will have exhausted themselves after their midweek fixture as they seek to pull off a surprise win.
Given that they had to play a grueling 120 minutes against Juventus in their mid-week European tie, certainly, Bayern Munich's stars will be arriving in Cologne quite exhausted. It will be indeed interesting to see if and how Pep Guardiola opts to rotate his squad for this match, especially after their very difficult match-up with the Bianconeri just a few days ago. It indeed was one of the most entertaining round of 16 ties of this Champions League, and indeed, it is a real shame that the two giants did not clash at a later stage of this tournament.
In any case, die Roten managed to overpower the Bianconeri starting in the 73rd minute with a goal from Robert Lewandowski. Thomas Muller then broke Juventus fans' hearts by netting the late equalizer, and Bayern Munich would go on to score a total of four goals on the evening. Impressively, these four goals came in the span of less than 30 minutes, not an easy feat against a team like Juventus, who are renowned for their excellent defense.
By the time the dust had settled, the scores had been reversed in favor of the Bundesliga powerhouse, who would go on to win 4-2 on the night and 6-4 on aggregate. Next up on the menu for Bayern Munich will be another domestic champions – Benfica – but in all honesty, the Portuguese outfit should present a much easier opponent than Juventus. Still, that will not be until next month, and Guardiola will certainly hope to see his men finish this week on a high note in their final match prior to the international hiatus.
Although Bayern Munich hit a "rough patch" by their top notch standards, die Roten have certainly bounced back from a past difficult few rounds that saw them suffer a surprise reversal to Mainz and be frustrated in a scoreless stalemate in their Klassiker tie against Borussia Dortmund. However, with just five points separating them die Schwarzgelben – who have been quite impressive this season – this will not be a match that Guardiola will be taking lightly.
So, will Köln be able to nick a point – or perhaps more – off their weary visitors? Or will Bayern Munich easily dismiss them like they did in their 4-0 rout earlier this season? Tune in to find out.
MORE: Need matchday tickets? Get all your Bundesliga matchday tickets from Guaranteetickets.