Kurt Zouma stars in Chelsea Cup glory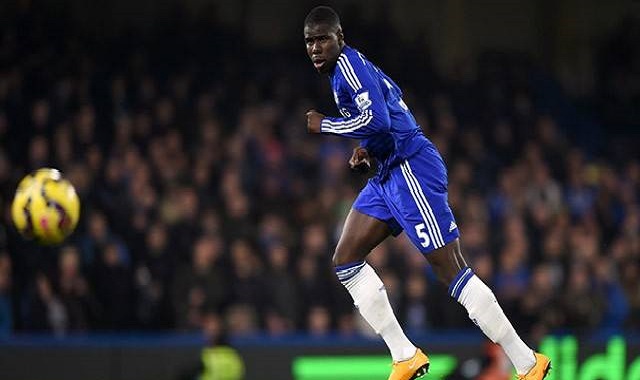 Jose Mourinho showed his tactical genius once again as Chelsea beat Tottenham 2-0 in the Capital One Cup Final at Wembley.
The Premiership leaders had been comprehensively beaten by Spurs at White Hart Lane on New Year's Day and were not about to let it happen again. With Nemanja Matic suspended after receiving his marching orders in the 1-1 draw with Burnley the previous weekend, Mourinho was forced to re-shuffle his midfield to combat the threat of Christian Eriksen.
Many pundits had focused on the way that Harry Kane had exposed the lack of pace in the Chelsea defense in the shock 5-3 defeat. Impressive young central defender Kurt Zouma was expected to take the place of Gary Cahill but Mourinho decided to employ the Frenchman in the holding role in place of Matic. The former St Etienne player has incredible pace and virtually eliminated Eriksen's attacking threat in a brilliant performance. He was signed last year on a five and a half year contract for a fee of around £18million but only had limited experience in the Blues' first team prior to the Cup final.
With one trophy safely tucked away, Mourinho will now focus on the remaining two targets for this season, the Premier League and the Champions League. Zouma impressed Mourinho sufficiently to keep his place in Wednesday's 1-0 victory at West Ham, a result that enabled Chelsea to retain a five-point lead over champions Man City in the Premiership title race. Zouma has even been compared to former Chelsea and France legend Marcel Desailly. He may not yet be as street-wise as his countryman but he is learning fast.
Matic served out the final game of his suspension that night and will be eligible to return when Chelsea face Paris St Germain in the Champions League next week. Chelsea scored a valuable away goal in the 1-1 draw in Paris and look the most likely of the three Premier League teams to reach the quarter-finals this year.
Arsenal crashed to a 3-1 home defeat by Monaco while Manchester City were lucky to escape with only a one-goal deficit against Barcelona. Lionel Messi uncharacteristically missed a late penalty and the resulting rebound which would surely have settled the tie. Chelsea eliminated PSG from the Champions League last season, overcoming a 3-1 defeat in the first leg by securing a 2-0 win at Stamford Bridge.