Lamela goal sparks Rabona craze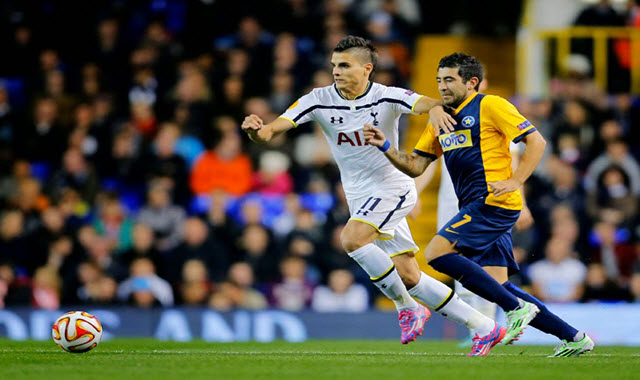 The Europa League may sometimes struggle to compete the Champions League in terms of quality but the match between Tottenham and Astera Tripoli produced a piece of skill fit for any footballing stage.
Tottenham's Erik Lamela scored a spectacular goal, executing the reverse kick known as the rabona to perfection. Lamela wrapped his left foot around his right leg to shoot home from 20 yards and send the White Hart Lane crowd wild with delight.
The Argentine has been at Tottenham for just over a year but has failed to secure a regular place in the starting line-up. He was signed for £30million from Roma and the goal illustrated what a tremendous talent he is. Spurs went on to win 5-1 and the goal has to be taken in context but Lamela hopes it can ignite his career at the London club. He also scored from a volley in the same match but all of the attention was on his "wonder goal".
The skill has been in the game for a while but is regarded more as a piece of trickery or even "showboating". Players have increasingly been bringing it into the game as a way to deceive or confuse defenders, slipping a through-ball to a player in an attacking position. Eden Hazard of Chelsea uses the technique quite frequently but has not produced anything as spectacular as a 20-yard goal.
Historically, the rabona can be traced back to Argentina in the late 1940's, although it was more often referred to as the "crossed-kick". Other famous exponents of the technique include Diego Maradona, Cristiano Ronaldo, Ronaldinho and Gianfranco Zola. André Ayew of Ghana scored a rabona goal for Olympique de Marseille against Stade de Reims in the French Ligue 1 from inside the six-yard box.
Lamela's goal will surely lead to a spate of players trying to emulate his achievement. The goal has already proved a smash-hit on You Tube with one clip attracting over 2 million views in 2 days. Youngsters will have been in the parks and recreation grounds trying to master the rabona this weekend. The rabona may only be a passing fad but Lamela will be hoping that it will lead to greater opportunities at Tottenham in the months ahead.
Spurs coach Mauricio Pochettino could not hide his delight at the goal which he rates as one of the finest pieces of skill that he has ever seen. White Hart Lane regulars will be eager to see much more of the Argentine this season, and not just in the Europa League.