Liverpool swoop for unsettled Milner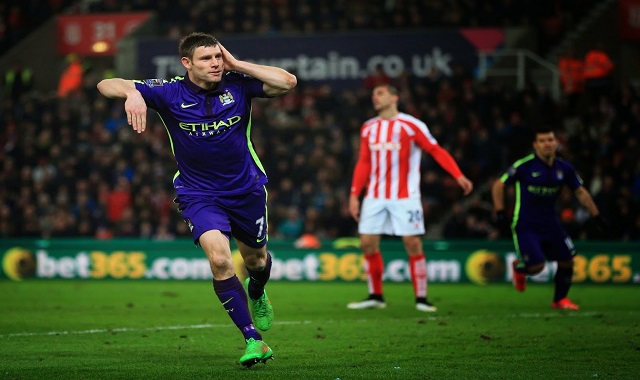 Liverpool have clinched a deal with Manchester City to sign England midfielder James Milner at the end of his contract at the Etihad Stadium in July.
The 29-year-old will move to Anfield on a free transfer and is seen as a direct replacement for Captain Steven Gerrard following his departure to America. Both clubs have been taking stock of a disappointing season and big changes are expected this summer.
Many felt that Brendan Rodgers was making a mistake in allowing Gerrard to leave after 17 years at the club. He was given a fine send-off by supporters in his final three games against Chelsea, Crystal Palace and West Brom. Unfortunately, Liverpool's form disintegrated in the last two matches with Gerrard scoring a consolation goal in a 6-1 mauling at The Hawthorns.
Milner has won 53 caps for the national team and brings stability and experience to the Liverpool midfield following Gerrard's departure. He has previously played for Aston Villa and Newcastle but could not be guaranteed regular first-team football at City. It is believed that he was offered a more lucrative contract to remain at the Etihad but Milner was not happy with just 18 league starts last season under Manuel Pellegrini.
He will also be able to play in his favored central role whereas Pellegrini tended to use him as an all-purpose utility man. Milner even battled manfully as a striker this season when the club was struck by an injury crisis over Christmas. The move and the motivation behind provides a stark contrast with the on-going negotiations with Raheem Sterling at Anfield.
Sterling reportedly turned down a contract worth £100,000 a week with the 20-year-old apparently believing that he could be the target for bigger clubs than Liverpool. Sterling became hot property in 2013-14 when forming well in behind Suarez and Sturridge. He has struggled with injury since and managed only one goal in his last fifteen appearances for the club.
The signing of Mario Balotelli proved misguided while Rickie Lambert and Fabio Borini managed only four league goals between them. Speculation that Rodgers was in danger of losing his job was brushed aside at the end of the season but he will have to do a lot better in the transfer market this summer. Signing Milner on a free transfer is a big feather in his cap but it will be a major surprise if there aren't bigger names on his wish list.