Liverpool vs Borussia Dortmund: The "Klopp derby", part two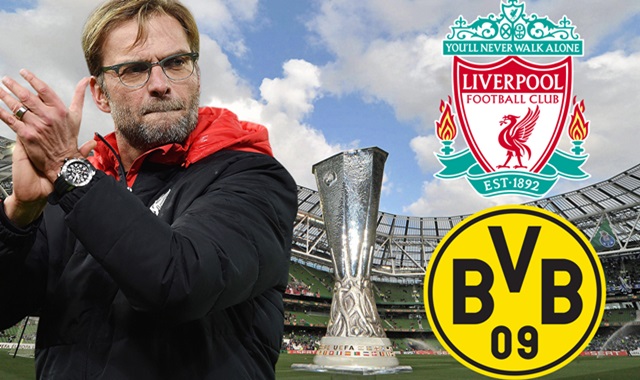 Liverpool will be counting on their impressive home record to hold true as they prepare to take on Borussia Dortmund at Anfield in Europa League action this Thursday.
The much-anticipated tie between the Reds and die Schwarzgelben – dubbed the "Klopp Derby" thanks to the Jurgen Klopp connection – did not disappoint last week. Having finished as a one-all draw, both Liverpool and Borussia Dortmund will have everything to play for at Anfield as both vie for a coveted spot in this season's quarter-finals. However, it's the hosts who hold an advantage, courtesy of a vital away goal from Belgian youngster Divock Origi.
How significant is this advantage, though? Well, for starters, Liverpool's track record when scoring on the road has been excellent. Out of their past 12 European ties in which they drew the first leg away from home, the Reds have progressed to the next round on 11 occasions. The only exception was against Scottish powerhouse Celtic during the 2002/2003 UEFA Cup (now known as the Europa League).
Furthermore, here is another stat that will please Liverpool fans: the Reds are unbeaten at home in their past 15 matches versus Bundesliga sides, with 12 wins and three draws. Indeed, things are looking more and more promising for Liverpool, who presently sit in eighth place in the Premier League.
The hosts do have two games in hand, but the general feeling around Anfield is that European football for next season is not an absolute guarantee. However, winning the Europa League does grant a side a ticket into Europe – regardless of wherever they end up finishing in their domestic league. This will be the second tough tie to complete for Liverpool, who first had to see off Manchester United to arrive at this stage. They are also hoping to maintain their status as the only unbeaten side in this season's Europa League, with four wins and seven draws and should they avoid defeat on Thursday, they will set a new record for 12 games unbeaten in a single Europa League campaign.
Dortmund, of course, will certainly be hoping to spoil that record, whilst trying to overcome a hoodoo of their own. Die Schwarzgelben have not enjoyed the outcome of two-legged ties after drawing part one at home; in fact, in five out of six prior occasions, they were eliminated from European competition. Thomas Tuchel's side, however, have been quite impressive on the road, with five wins out of their seven away fixtures. 
Unlike Liverpool, the visitors are absolutely guaranteed continental football for next season. Whilst the title will remain in Munich for another term, Dortmund are comfortably in second and so will make a return to the Champions League – regardless of if they win this season's Europa League or not.
And let us not forget – the German side have yet to lose a match in 2016. That is not something many major teams – whether it is Barcelona, Bayern Munich, Manchester United, Juventus, or others – can boast about.
Of course, Tuchel, who is in his debut term with the 2013 Champions League finalists, would obviously want to clinch a European title during this current campaign. They have already dispatched one Premier League side – Tottenham – during the round of 16 – and will be eager to do so Thursday evening at Anfield.
In terms of personnel, Liverpool will be missing Danny Ings, Christian Benteke, Jordan Henderson, and Joe Gomez all due to injury, whilst only Neven Subotic is out for Dortmund.
MORE: Need matchday tickets? Get all your UEFA Europa League matchday tickets from Guaranteetickets.