Liverpool vs Manchester United: Titanic clash between two giants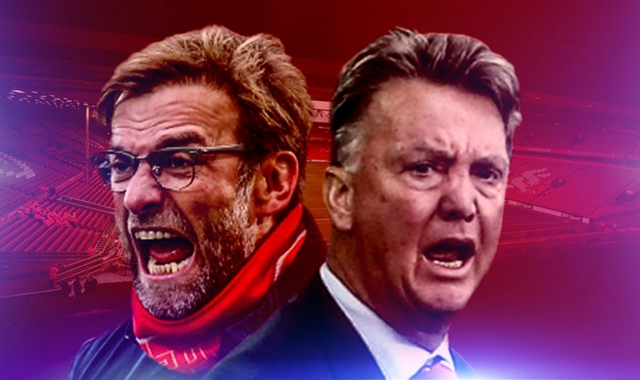 Two of Europe's biggest clubs will clash in a mouth-watering Europa League round of 16 tie as Liverpool welcjome Manchester United to Anfield on Thursday evening.
Surprisingly, given the long and bitter rivalry between two of England's most storied institutions, this will be the first time they are ever meeting in a European match. Indeed, it is a real shame that this fixture is not the one in the final as any battle between the Reds and the Red Devils is one fans and neutrals worldwide eagerly anticipate. But, unfortunately, at the end of this two-legged tie, either Jurgen Klopp's men or Louis Van Gaal's men will see their European ambitions come to an end.
Both Liverpool and Manchester United have not had impressive domestic campaigns and as a result, the Europa League will represent their only chance at making sure they feature in continental action next season. And if seeing the two most successful English clubs face off – with a whopping eight European cups between them – was not entertaining enough, the tactical match-up between Klopp and Van Gaal is an interesting story in itself.
Bundesliga fans will certainly be familiar with the heated battles between Klopp's Borussia Dortmund and Van Gaal's Bayern Munich a few seasons back, but Thursday's fixture will give the German and Dutch tacticians to meet on a much bigger stage. This will be the 195th meeting between two of the most widely-followed clubs on the planet and will have all the feelings of a derby clash. And interestingly, two English teams have not met in the Europa League since Liverpool and Tottenham squared off back in April 1973 (when the competition was known as the UEFA Cup).
So far this season, Manchester United have beaten Liverpool both home and away, but that perfect record against the Reds could come under major threat on Thursday evening. Klopp, clearly with one eye on this fixture, opted to rotate his squad for their weekend match versus Crystal Palace, meaning stars like Nathaniel Clyne, Daniel Sturridge and Philippe Coutinho will all likely return to the starting XI. And with the exception of Lucas Leiva, Klopp will pretty much a full-strength squad to choose from.
Van Gaal, on the other hand, will be facing a bit of a selection headache. Injuries have decimated the Red Devils and if one feels that they are seeing the squad numbers going up, but the average age of the starting line-up going down, don't worry – one is not seeing things. Without exaggerating, it seems like every week, Manchester United supporters have to become acquainted with a new name and face as Van Gaal has had to dip into the youth squad for resources with each passing injury.
Key senior members Wayne Rooney, Bastian Schweinsteiger, Ashley Young, Antonio Valencia,  Luke Shaw, and Phil Jones are all out of action, and Jesse Lingard will be suspended for this fixture. However, Marouane Fellaini could play some role after making the bench during the team's defeat to West Brom this past Sunday.
In what will be an entertaining two legged affair, who will draw first blood? Will Liverpool head to Old Trafford with a win in hand, having gotten some revenge for their two Premier League defeats this season? Or will Manchester United maintain their impressive European record against English opposition? To date, they have lost just one out of their past nine matches, whilst winning six and drawing two.
MORE: Need matchday tickets? Get all your UEFA Europa League matchday tickets from Guaranteetickets.