Manchester City vs PSG: Crunch clash awaits between City and Les Parisiens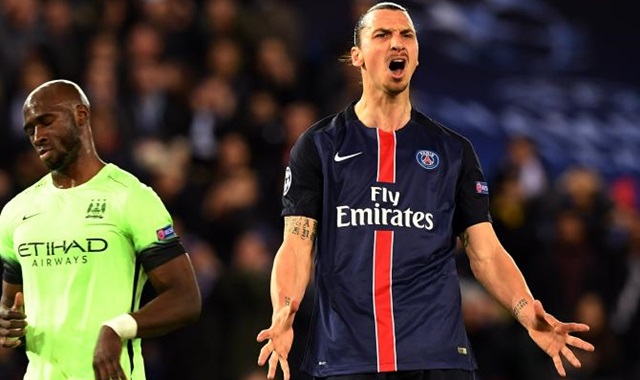 Manchester City will be hoping to take yet another step further in their historic Champions League campaign as they welcome PSG to the Etihad on Tuesday.
Manuel Pellegrini's men hold a slight advantage due to the two vital away goals they netted at the Parc des Princes. However, Les Parisiens have already proven that they can take on Premier League opposition on English soil. Having defeated Chelsea 2-1 at Stamford Bridge in the round of 16, this will mark the second consecutive trip to England for PSG, and they will be hoping it proves to be a successful one as they seek their first semi-finals appearance since 1995.
With this tie truly poised on a knife's edge, both Manchester City and PSG will be trying to swim against the tide as they each hope to secure a spot in the final four. For starters, the hosts, who are seeking their first ever Champions League semi-finals appearance, will certainly be well-aware of the negative trend surrounding Premier League versus Ligue 1 teams in knock-out ties.
Should Manchester City manage to dump Laurent Blanc's troops out of this competition, it will be the first time in four attempts that a Premier League side has prevailed against a Ligue 1 opponent. In the past three Champions League knockout ties, the French team has always eliminated their English foe.
PSG supporters, who surely were livid as Serge Aurier – who had been suspended due to his foul-mouthed tirade against his own coach and teammates – was responsible for City's equalizing goal, might be fancying their chances thanks to that historical record. However, they may not be so pleased about this next stat – which reads as quite promising for Manchester City: Only two out of 11 teams have made it to the next round after drawing the first leg 2-2 at home.
That is less than 20 per cent of teams. The last time this happened? Manchester United, in April 2009. The Red Devils ended up drawing 2-2 with Portuguese outfit Porto at Old Trafford, but powered past them 1-0 in the away fixture to dump them out at the quarter-finals berth. Two years prior to that, AC Milan – then in their heyday – were held to a two-all stalemate with Bayern Munich at the Stadio San Siro, but were able to defeat die Roten 2-0 at the Allianz Arena, also during the quarter-finals.
Curiously enough, both Manchester United and Milan made it to that season's Champions League final. So, does this mean that, should PSG get past Manchester City, Zlatan Ibrahimovic and his colleagues will be playing at the San Siro this May? As the French say, on verra – we will see. Both Pellegrini and Blanc will be missing several key players, albeit it's the French tactician who has been harder hit than his Chilean counterpart.
Although he reportedly trained with the team on Monday, captain Vincent Kompany has not recovered sufficiently enough from his calf problem to be risked for this game. Raheem Sterling is still out with a groin problem, but Sergio Aguero, who limped off during Manchester City's 2-1 win over West Brom this past Saturday, should still be fit to feature. PSG's situation is a bit more complicated. Both Blaise Matuidi and David Luiz will sit out due to a ban, whilst Javier Pastore and Marco Verratti are still struggling with injury and will likely not be able to participate.
Finally, a major concern for the visitors will be the fitness of first choice goalkeeper Kevin Trapp, especially after the German international was subbed out during their win over Guingamp.
This is one game that really could be decided in an instant. At its conclusion,  we could very well see an interesting quartet of, for instance, Manchester City, Barcelona, Bayern Munich, and – shockingly, perhaps – Wolfsburg. Or this fantastic four could be PSG, Atletico Madrid, Bayern Munich, and Real Madrid – should they fight back from their 2-0 deficit.
So, will it be PSG or Manchester City flying the French or English flag in the final four, alongside at least one Bundesliga and La Liga representative? Interestingly, both sides have the historical odds stacked against them, making this a widely unpredictable – and thus highly entertaining – clash in store for us at the Etihad this Tuesday.
MORE: Need matchday tickets? Get all your UEFA Champions League matchday tickets from Guaranteetickets.