One hit wonders and unwanted records: 5 notes from EPL matchday six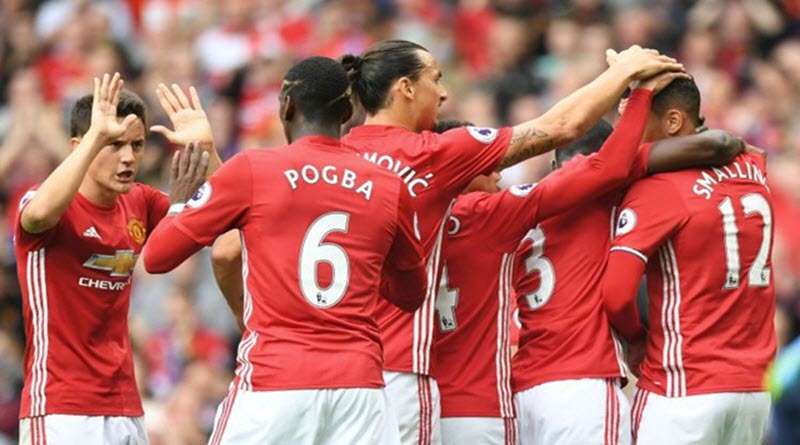 10 games, three days and now matchday six of the 2016/2017 Premier League has been committed to memory. There were, as always, plenty of thrills, spills, shocks, and, in this case, one long-awaited dab dance. Although it's still early in the nascent campaign, things are already starting to shape up in the league table. The last two seasons' champions succumbed to heavy defeats, coincidentally by a goal difference of three. And although we are nowhere near halfway through the season, one team has already begun to open a gap ahead of the chasing pack.
So what did observers learn from this round of action? Let's have a look.
1. Is Leicester City's Cinderella story over?
Last season, Claudio Ranieri's men pulled off the greatest upsets in sporting history by winning the Premier League title. It was nothing short of something seen only in Hollywood. In April 2015, the Foxes were battling for their survival. A year later, they were battling the likes of Arsenal, Tottenham, and Manchester City for the league crown. Immediately after, many of Europe's bigger clubs began to circle like vultures. And although they managed to keep key players like Jamie Vardy and Riyad Mahrez at King Power Stadium, N'Golo Kante couldn't resist the call of Chelsea.
The general consensus was that Leicester are a one hit wonder, who will struggle even to make the top six. Sure, they impressed in their debut Champions League campaign by thrashing Club Brugge 3-0. In all honesty, though, they have truly benefited from winning the Premier League. The Foxes have Porto and København for company – not exactly the toughest opponents out there. But they have lost three games already this term – equaling their total for the entire 2015/2016 season. There was that shock opening loss to Hull City, followed by humiliating 4-1 defeats to Liverpool and Manchester United, as well as somehow losing to Chelsea in the League Cup 4-2 (after leading 2-0).
Last weekend saw them absolutely walloped by a rampant Manchester United, who scored four goals in the first half. Ranieri, not surprisingly, opted to haul off both Vardy and Mahrez – especially seeing that it was a moot point. So is their Cinderella story already over? Currently in 12th, it looks like the answer to this could be leaning towards a "yes" – but if anyone is capable of a comeback, it's surely the wily Foxes.
2. Unwanted record and a rude awakening
Antonio Conte certainly knew he was in for a tough task when he took over at the helm of Chelsea. The Italian tactician, however, is no stranger to a challenge. When he became manager of Juventus, the Bianconeri were a floundering fallen giant. Calciopoli had come and gone, but La Vecchia Signora were truly struggling as the two Milan clubs had established themselves as the top outfits in Italy. By the time he left, Juventus were well en route to dominating Serie A, having won the past three Scudetti and set a record as the first Italian team to complete a season sans defeat.
However, the Premier League is no Serie A. There are arguably at least six sides that could theoretically challenge for the title. By contrast, in Italy, it's a lot less balanced once one gets out of the top two or three teams. So far, Conte's tenure has seen its fair share of ups and downs. There was an impressive 4-2 comeback against Leicester in the League Cup, but this was sandwiched between two defeats. The first, a 2-1 result to Liverpool was certainly discouraging, but not demoralizing. But losing 3-0 to bitter city rivals Arsenal surely will not leave anyone heading home with a smile on his face. It also marked the first such defeat for Chelsea since 2011. Conte, certainly, without the distraction of European competition, is keen on making Chelsea the top side in the league like he did with Juve. And he certainly has the tactical nous to do so – except it will just be a lot more difficult.
3. What on earth has gone awry for West Ham?
The Hammers have a brand new stadium, yet that certainly has not brought them better fortunes. Injuries, of course, have not helped Slaven Bilic's side one bit, but they still have the worst defensive record in the league. Dimitri Payet has struggled to achieve the same blistering form that helped him catch the eye of the likes of Barcelona. 16 goals in just six games mean that West Ham boast the worst defensive record in the league and they have lost their past four games. With three points, they sit in 18th spot and fans are surely hoping that Bilic can find that winning formula – sooner rather than later.
4. The problem isn't Pogba. It's how he's used…and will Mou learn from his Fellaini omission?
Manchester United set a new record this past summer when they paid Juventus over 100 million euros for Paul Pogba. The Bianconeri made out like bandits, considering that they got the French starlet for under a million back in 2012. With such a huge price tag comes huge expectations, and especially for the Red Devils, who are keen on reclaiming their spot in the top four after a difficult past few seasons.
Well, Pogba put in arguably a MOTM display against Leicester. And he even scored his first goal, which was even more fitting as the game was at Old Trafford, treating us all to his trademark dab dance. One key difference? The absence of Marouane Fellaini, who did not even make a cameo appearance. Not being stuck as a defensive mid coupled with the inclusion of the industrious Juan Mata gave Pogba free license to do what he does best, and unshackled, showed why he's viewed as one of the most talented young players on the planet. If only Jose Mourinho would use the win over Leicester as a blueprint for how to manage the highly-rated 23-year-old. But unfortunately, one knows that Fellaini will be back in the squad sooner rather than later.
5. Manchester City still cruising along…
Six games, six wins, and four points ahead of the chasing pack. Life's been pretty smooth sailing for Pep Guardiola in his debut season in England. The bookies had Man City as one of the major favorites to win the title in May, and their displays so far certainly look encouraging. Guardiola is clearly attempting to stamp his Barcelona-esque attributes on the squad – after all, that's why he brought in Claudio Bravo and shipped Joe Hart off to Torino. They have also been strolling along well in the Champions League as well, which is the one competition the club's wealthy owners hope Guardiola can bring to the Etihad this season.
Are they the clear favorites for the title? Absolutely. Of course, anything can happen between now and May. But they already appear to be a notch above the rest. So, provided they can keep it up, Guardiola just may be celebrating winning yet another major trophy in his first year – like he did at Barcelona and Bayern Munich.