How Orlando City Became a Fan Favorite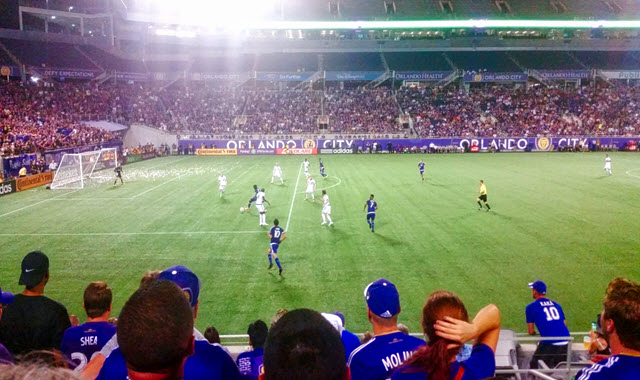 Orlando City, one of the newest clubs of MLS, set a record in its opening 2015 home match against New York City FC (also one of the newest clubs in the league). They literally "filled the bowl", or sold out the entire inventory of 60,000 seats available for the game. For the club and for MLS in general this was a huge triumph as television networks, advertisers and even stadia have long been doubtful of the actual selling power of soccer in America and have left the MLS on second-tier status for far too long. Obviously, this is now changing in part due to America's overall changing demographics and a generation that grew up with youth and high school soccer, but seeing a stadium as large as the mighty Citrus Bowl (now Camping World Stadium) filled to capacity was the type of singular event MLS needed to announce its equality with the NFL, NBA, and MLB. To see this with the first game of the inaugural season for both clubs certainly was even better than projected or even hoped for and a high testament to what soccer has become in America.
Orlando City was a gamble but also a highly-calculated risk for MLS. Unlike the teams of the NFL or NBA, the MLS does not have private, wealthy, owners owning each team but instead has league ownership of all teams, even though specific investors may take interest in specific teams. This distinction means two things unique in American pro sports: for one, the MLS can broker more uniformity by far across their teams and for another, the league itself has a massive stake in the direct success of each team, instead of just being the overseeing organization to ensure the whole program runs as it should. Therefore, any new expansion team passes a higher degree of scrutiny than probably such would for the NBA, in example. Orlando was a good bet, because the population of the Orlando area leans strongly latin and brings in a demographic passionate about soccer while Orlando also attracts scores of international tourists every day, including English, French, Germans and most of all Brazilians—all of whom come from cultures deeply involved in soccer. If Columbus, Ohio—admittedly an epicenter of grassroots, school-fueled soccer—can give us the Columbus Crew, what could a city with a large latin population and cosmopolitain tourist destination offer?
There were some catches, however. Orlando is somewhat fragmented, it is a geographically large, sprawling, city that runs into smaller communities many of them fiercely independent and with their own identities—so much so that Orange County in which Orlando resides and is the county seat of has its own county mayor to provide representation to the cities other than Orlando of Orange equal to that of the city mayor of Orlando itself. Would the city and really, the immediate region, unite behind an Orlando team? In addition, Orlando is hard on sports teams, a fair-weather friend one might even go as far as to say. The NBA's Orlando Magic once had a place of pride given their impressive successes and winning streaks but today this same team is dealing with mostly young players, no top-flight established marquee talent like a Kobe or LeBron, and a quickly rotating roster of head coaches. And the results show: most Magic games I've attended have ardent, supportive, fans but also plenty of empty, unsold, seats.
The only time you can bet on selling the majority of seats and at or above their average retail value is for when the Magic play a team like the Golden State Warriors or Oklahoma City Thunder with top talent everyone wants to see. Then it will cost you. A new soccer team would have do as well or better than an established basketball team, albeit one that could be better-performing. Moreover, the Orlando City would at times field games on the very same days at nearly the same time as the Orlando Magic and thus be in direct competition in selling tickets. Then there was the fact that unlike many mid-sized American cities, Orlando doesn't lack for things to do on the weekend: Disney's extensive parks, Universal's parks, several water theme parks, the list goes on and on at one of the world's top vacation destinations. Could a new team garner the necessary support in the midst of such competition?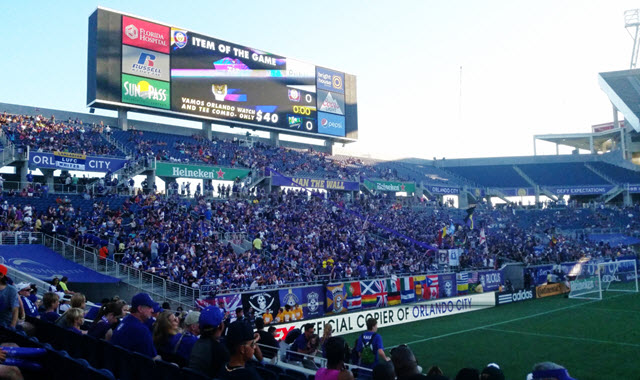 Orlando City was built to win, though, with the high stakes and competitive environment in mind. Kaká, the Brazilian attacking midfielder, was recruited from AC Milan, providing first-rate talent to the team. Kaká had always desired to play in the United States and now an opportunity to play at the level to which he was accustomed from his experience at Milan and Real Madrid had presented itself. Kaká was also the team's first Designated Player, taking advantage of the new MLS designated player rule which allows a team to sign players at agreements with a cash value higher than their listed salary cap, providing a channel for teams to acquire top talent from international sides and compete with the likes of the English Premier League or Spain's La Liga. Other major players followed with left back Brek Shea coming from England's Stoke City. Shea, an American native who came up through IMG Academy's well-regarded prep soccer program and then played with FC Dallas prior to Stoke, was exactly the type of player that the MLS needed to promote as the league increased in standing and visibility.
Would the MLS, even with high successes in numbers of fans attending games and television coverage, be seen as a league of international stars playing in America, or as proof that America's own soccer prowess had come of age and could carry a professional league? It had to be the latter over the former—the international stars like Kaká are essential and every major world soccer league has stars from foreign nations, one might even say that current the Premier League relies upon them too heavily, but given America's size it was imperative to show that Americans could play soccer with the best of them. Brek Shea and others "brought back" from the leagues abroad provided a home-coming of sorts and instilled pride in what American soccer had become.
On the fan side this trend was also apparent. While soccer at the professional level long had been marketed in America as an extension of youth soccer and with the concept that parents would become interested via taking their children who played soccer to see a pro-level game, in the 2010s the league began to realize instead that marketing to young adults was more astute. These people in their twenties and thirties attended sporting events and also grew up with soccer in a way their parents may not have—they in fact were the former soccer kids of the 1990s. They understood the game and might have been more involved in it as youth or high school players than with basketball or football, so a venue for pro soccer appealed to them.
The other aspect of these fans was that soccer could become a social activity for them: they would get their friends into the game and it would be something they could all do on weekend by attending games or watching them together on television. These fans also due to their relative youth and the fact they were not minding children at games might be more inclined to purchase beer at games and also might spend more on replica merchandise. This is not to suggest families are not also into MLS and especially with the case of Orlando City, at every game I've attended there has been a great mix of fans of all ages from young professionals to families with school-aged kids who themselves appear to just have come from one of their own games to older people.
Then there is the wall: Like clubs in other nations, Orlando City has its own "firms" or groups of ultra-supporters. Thankfully, unlike the infamous British firms of the 1970s, these are not at all linked to hooliganism. The Orlando City Ruckus and Iron Lion Firm "mans the wall" behind the southern goal, bringing the loud, festive, atmosphere of the super-fan to American soccer. Anyone who has ever seen a game at a leading club in Mexico, South America, or Europe will feel at home with the atmosphere promoted at Orlando City which is at once welcoming and jubilant for the fans and a bit intimidating to the opposing side.
Instead of having a lukewarm reception of just a cadre of core soccer fans at the games, Orlando City has proven itself as a model of how to bring out a whole community to games, and its sales have rivaled or outdone those of the Orlando Magic and paced well with not only the whole of the MLS but NBA, NFL, and MLB teams across the US and Canada. While the Citrus Bowl, now known as Camping World Stadium, has been Orlando City's home pitch the club is getting a brand-new, purpose-built, stadium which should enter service in 2017. The fans have already spoken as early as the inaugural match: nothing will be second-rate with this team, and they can only go further and higher.