Pellegrini rallies Malaga from financial crises to dreams of Champions League fortunes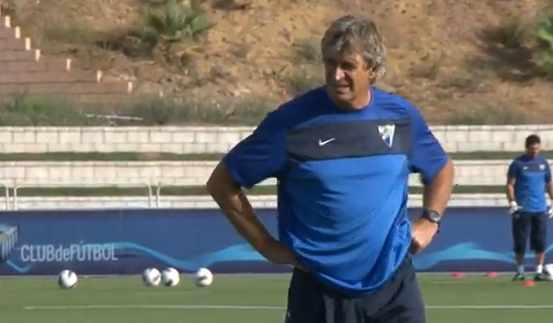 Spanish La Liga side Malaga will make their début in the Champions League this season, but it has taken a very strange journey for them to get there. After reigning supreme thanks to a large investment of money, the Malaga world came crashing down as they had to start the new season under a gloomy cloud of a financial crisis. Their dream appearance in the UEFA Champions League has now turned into more of a position of them just enjoying the adventure as opposed to them really looking forward to making a firm challenge to get out of the group.
After being purchased by the Qatari Royal Family, led by Sheikh Abdullah bin Nasser al-Thani, the immediate impact at the club was enormous. In the summer of 2011, they dipped heavily into the transfer market and ended up spending more than both Real Madrid of Barcelona. It was a new wave of optimism for Malaga and their immediate target after the influx of new talent, was to make it into the Champions League. That goal was achieved on the final day of the season when they rounded out with a win which was enough to see them into fourth place.
That finish meant that they had to face Greek side Panathinaikos in the play-off round to make it to the main draw, but the Spaniards battled their way though. That was a momentous step forward because over the summer of 2012, Malaga saw a crop of plays depart because of the rapidly increasing financial crises. Just twelve months after the injection of money, disinterested owners and a spiralling financial problems, including not paying players, the La Liga side were forced to sell. They shipped out their star signing Santi Cazorla for less than they had paid for him just twelve months ago.
The selling off of players cheap became a theme for Malaga, as Salomon Rondon and Joris Mathijsen also exited. Amid the furore of not paying their players, which included former Manchester United star Ruud van Nistelrooy (another summer departee), La Liga put a transfer ban on Malaga over missed payments back in January. Results starting deserting them, and morale had hit rock bottom. Because of the financial constraints, Malaga were pretty much silent in this summer's transfer window, and that fragile morale was decreased further when Chief Advisor Jose Carlos Perez died following a stroke. However, after such a miserable downturn in fortunes, miraculously, Malaga turned their fortunes around on the pitch, doing just enough to scrape into a Champions League place. They survived to make their dream.
But they are actually more than surviving. After being bought out by passionate locals, the Andalucians have managed to not only make it into the Champions League, they have opened the new La Liga season, unbeaten in three matches. Credit is fully down to the presence of former Real Madrid coach Manuel Pellegrini who has gotten the best out of what he has been left with. Despite the problems, Malaga have been left with an optimistic future, the players showing fight and Pellegrini having the savvy to and experience to gel, what could be seen as a disparate bunch, together. It has been a roller-coaster ride for Malaga over the past twelve months, could there be more thrills to come?