Poland vs. Portugal: Showdown between Lewandowski and CR7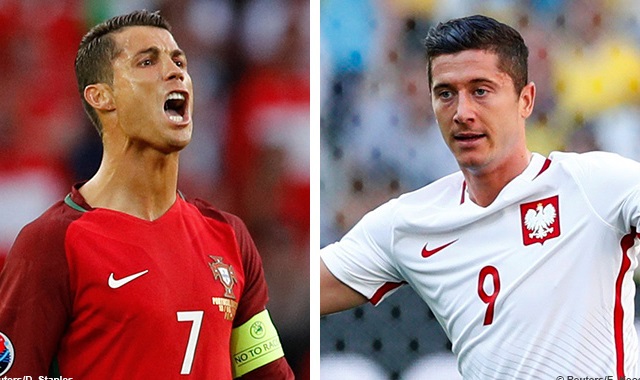 For the first time, Poland will lock horns with Portugal in a Euro quarter-finals on Thursday evening at the Stade Vélodrome.
Whilst Portugal are no strangers to going deep in Euro tournaments, Poland is an entirely different story altogether. The White Eagles have never cleared the group stage – until now. After finishing second in their group, Adam Nawalka's men showed their grit to convert all their spot-kicks to dispatch Switzerland on Saturday.
Meanwhile, Portugal also had to dig deep in their round of 16 tie. In a game that frustrated fans due to its lack of "real" action, it took until the 117th minute for them to find a breakthrough against Croatia.
It was heartbreak for Croatia, who had plenty of glit-edged chances, but squandered them. But for Portugal, it was a big sigh of relief for Fernando Santos – and Portuguese fans. And now, they turn their attention to a Polish side who will not go down without a fight. Although there will be 22 men on the pitch, all eyes will be focused on two players: Cristiano Ronaldo and Robert Lewandowski.
So, how have these two star players – and captains – fared so far? For Lewandowski, it's been a frustrating tournament. Despite running riot in the Bundesliga – and even in qualifiers – the Bayern Munich ace has yet to score, or assist, a goal thus far. Yes, his presence on the pitch helps to create chances for his colleagues, but he still is under pressure to find the back of the net in this game.
Cristiano Ronaldo, meanwhile, has not been at his very best. However, his two goals against Hungary did help Portugal avoid an early and humiliating exit. In addition, although he didn't score against Croatia, he was directly involved in the winning goal. Furthermore, he already has made history: as the first player to score in four Euro tournaments. He is on the cusp of setting another one, as well. With eight goals, he's just one behind Michel Platini's nine. And one can bet he'll surely be thinking of this ahead of Thursday's match.
In terms of personnel, Portugal have everyone available. Poland's no. 1 keeper, Wojciech Szczesny, is still in doubt. However, Swansea's Lukasz Fabianski has been so massive that it will be hard to displace him between the posts. Nawalka also welcomes young starlet Bartosz Kapustka after his ban.
Although Poland are the lowest scoring side in this round (4 goals), their defense has been impressive. Xherdan Shaqiri is the first player to score past them, and they will definitely make life difficult for CR7 and Portugal. However, they have never scored more than one goal in their past ten Euro matches. This may be a problem, as Portugal are unbeaten in their last 11 matches (eight wins, three draws). Then again, both teams will be coming into this game having played at least 120 minutes. It really will be interesting to see if this match will finish in regulation time.
Portugal are the only team to have made it to the quarter-finals since 1996. Thursday will be their sixth straight participation. And should they get through, it will be their fifth semis in seven Euro appearances.
So will the knockout debutants continue their historic run? Or will Portugal take one step closer to their first Euro finals since 2004? Certainly it will all depend on how everyone on the pitch does his job. But definitely, this will be a duel between two of the most in-form attackers in Europe: Lewandowski and CR7. And their team's chances of progression just may come down to how each skipper manages to guide the ship through what will could be a very tricky and tumultuous Thursday evening clash.