Portugal vs France: Epic battle between two sides chasing history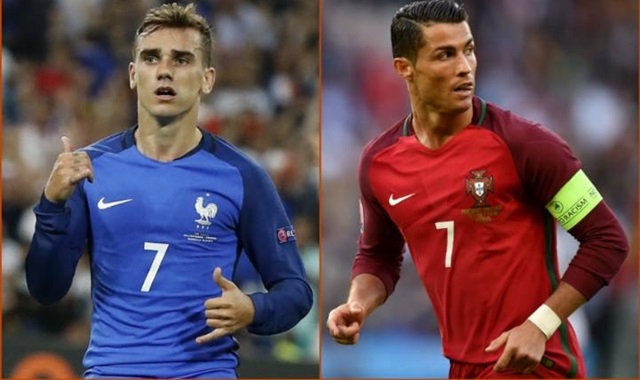 Euro 2016 hosts France will be seeking their third title as they take on Portugal in the final at the Stade de France on Sunday evening.
After a month of end-to-end action, 24 teams have now become two. And both France and Portugal are seeking to make history of their own. For Les Bleus, success at European competitions seems to come in sixteen's. In 1984, they won the title on home soil, before making it no. 2 in 2000.
So, if one's into patterns and that sort of thing, on July 10th, France will win their third Euro title. Should this happen, they will pull even with Germany and Spain, who also have three each. This is also the third time France are hosting the quadrennial tournament. And they potentially can become the first team since – well, they themselves – to win the title at home.
France's route to this juncture has been a very interesting one. Didier Deschamps's men were solid, but not spectacular in the group stages. Nonetheless, Les Bleus have been steadily improving. They started out sluggishly against Ireland, but Antoine Griezmann's second half heroics were enough to see them through. In the quarter-finals, they were penciled in to face England – except Iceland had other plans.
The minnows, predictably, were no match for Les Bleus as they were overpowered 5-2. Still, the critics remained. "France haven't been challenged", they continued to state.
That is, until Thursday's tie. Finally, France were presented with a "real" opponent. Germany had not been at their best, but die Mannschaft still held a psychological hold over Les Bleus.
For starters, they beat them 1-0 in their last competitive meeting. In fact, France had not beaten Germany since the 1958 World Cup, but to get to the final, they had to see a team that had repeatedly ended their tournament ambitions, decade after decade.
Well, Griezmann – who now has six goals – netted another brace to help France overcome their German hoodoo. Furthermore, Thursday's game marked the first time France had kept a clean sheet against die Mannschaft, and they will come into this final brimming with confidence.
Meanwhile, Portugal have divided opinion since the start of this competition. Some have even unfairly compared them to Greece, which given the wealth of talent Portugal possesses, is truly ridiculous to say the least. Yes, they did not impress in the group stages. Fernando Santos's men are beneficiaries of the expanded format, which allows third-placed sides to qualify.
Yes, they took nearly 120 minutes to muster a shot on goal in the round of 16. But it worked. Furthermore, Croatia, despite being the better side for spells of the game, only had themselves to blame for wasting opportunities. Yes, they had to beat Poland on spot-kicks in the quarter-finals. But Poland did the same thing to Switzerland in the round of 16. Germany did likewise to Italy in the quarter-finals.
Furthermore, Portugal deserve some credit for coming back to eventually win against Poland. Many teams would crumble after conceding so quickly, but they picked themselves up and got the job done.
In their semi-finals tie with Wales – a game that was billed as Cristiano Ronaldo vs. Gareth Bale – Portugal managed to do what no team so far have done: to shut down the Dragons. Up until the game, Wales had scored in every single one of their matches.
Portugal ended that run. Despite combative defender Pepe missing out, Santos's side still were able to frustrate Bale and his colleagues. Sure, some will say that Wales were weaker without Aaron Ramsey – and they were. Some will say that Portugal have benefited from the "weaker" side of the bracket – and they have.
But at the same time, it's not as if Croatia, Poland, and Wales are "easy" sides. They have players like Bale, Aaron Ramsey, Robert Lewandowski, and Luka Modric in their ranks. All four of these players feature for Europe's biggest clubs. Nonetheless, it took over 45 minutes for Portugal to assert themselves, but once they did, they didn't look back.
12 years ago, Cristiano Ronaldo was on the pitch as Portugal lost to Greece. He will definitely be there as he hopes to end his long wait for silverware with his national side – but it won't be easy. Having already set one record, he could break another one – Michel Platini's goal-scoring record – should he net on Sunday.
For starters, Portugal haven't beaten France in their past ten games. In addition, they will be taking on a team that has steadily improved and will have the full support of the home crowd to rally them on to victory.