Portugal vs Iceland: The minnows face off against CR7 and co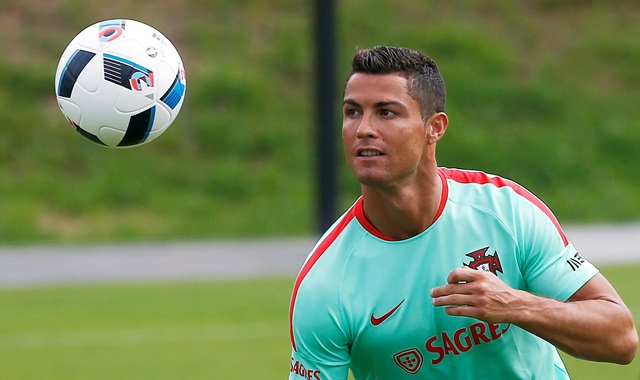 Portugal will be looking to start off their Euro 2016 off in the right way as they take on debutants Iceland at the Stade Geoffroy Guichard on Tuesday evening.
If this is not a David vs. Goliath clash, then at the very least, it comes pretty close to it. Although Portugal are not Germany, France, Italy, or Spain, they do boast one of the best players in the world. Unless if one has been living in a cave somewhere in the mountains, one will be naturally well aware of the sheer class of Cristiano Ronaldo. Just look back to that famous two-legged qualifier against Sweden, in a match that was best described as Cristiano versus Zlatan Ibrahimovic.
That series ended as Portugal 4-2 Sweden, or more like Cristiano 4-2 Zlatan. Single-handedly, he carried his side to the 2014 World Cup and possibly could have taken them to the first knockout rounds were it not for a niggling injury that kept him from reaching his very best. During qualifiers for this Euro, he, not surprisingly, was his team's top goalscorer, and fresh off clinching his second Champions League trophy in just three seasons, the 31-year-old superstar will be raring to be the hero for his nation at this summer's tournament.
For Cristiano Ronaldo, disappointment at Euro tournaments is not a foreign thing. Portugal were painfully close to winning it in 2004 when they were unfortunately beaten by a Greece side that epitomized the concept of "anti-football". Since then, Portugal have made it to the quarter-finals, and the semis in 2012. And whilst he is still in top form, he will be 35 years old by the time Euro 2020 rolls around, meaning that it's likely now or never for him to finally add some national silverware to his already-massive trophy haul from club level.
Already his team's all-time top goalscorer, CR7 will reach and surpass another milestone. With 126 caps, he is just one behind Luis Figo's 127 and will match this during Tuesday's tie against Iceland. And he could also become the first player to score in four different Euro championships, with 2 goals in 2004, 1 in 2008, and 3 in 2012.
Meanwhile, whilst most of the attention is deservedly on him, Fernando Santos will be relying on others to play their roles as the supporting cast, and one key member of this group – winger Ricardo Quaresma – is struggling with a muscular problem.
Quaresma was in inspired form during their last friendly. Yes, it was against Estonia, but providing two goals and the same number of assists will be certainly encouraging – especially for a team looking to shift some of the attacking responsibilities off Cristiano Ronaldo's shoulders.
As for Iceland – they are a historic side in themselves. Two years ago, they nearly became the smallest nation to qualify for a World Cup, only to be edged out by Croatia. This time, they will be the first country to participate at the EUROs with a total population of less than one million individuals. Nicknamed Strákarnir okkar (Our boys) they will have the full strength of their nation behind them as they hope to continue making history in their first ever major tournament.
As debutants, not much is expected of Iceland. That could work to their advantage, as they qualified for this tournament not through the play-offs, but by finishing just two points behind the Czech Republic in second. Along the way, they only lost twice, whilst beating the Netherlands both at home and away – all whilst not conceding a goal.
They are an interesting mix of old, wily veterans and young aspiring starlets. Eidur Gudjohnsen, who is his nation's all time top goalscorer is still within the squad at the ripe old age of 37, whilst Swansea's Gylfi Sigurdsson, who was his team's top contributor during qualifiers is one player who Iceland will be heavily counting on as they make their debut in the major international arena.
Portugal have been never knocked out in a group stage. They finished first in four of the six previous editions and finished twice in second. By contrast, winning a match – let alone getting out of their group – would be a massive achievement for Iceland, and history will be made when these two sides with opposing ambitions square off on Tuesday.